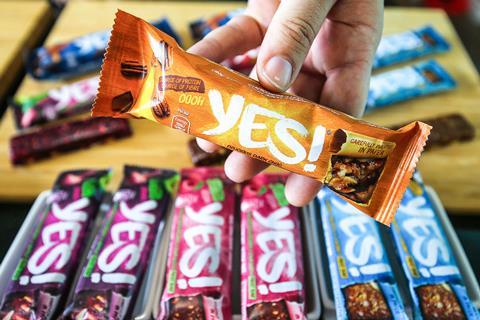 Nestlé is claiming a world-first for its latest sustainable packaging innovation, a 100% recyclable paper flow-wrap.
The product of around 10 months' development, the eco-wrapper had been "a significant project for Nestlé's global confectionery R&D centre in York" the supplier said. "A small team has worked independently and creatively to focus on finding the breakthrough required."
The chief challenge was creating paper resilient enough to withstand the high-speed flow-wrap process on existing production lines while ensuring it remained fully recyclable, Nestlé added. With the company wrapping up to 500-plus bars per minute, its process had until now been suitable only for plastic films and laminates.
The result will roll out from this month with a 'carefully wrapped in paper' message across Yes, the healthier snack bar brand that made its debut last September in plastic wrapping.
The new paper wrapper is cold-sealed with adhesive and has a polymer coating to maintain a nine-month shelf life. Both the glue and coating are 'washed away' in the same way ink is removed during the standard paper recycling process.
While the new wrapper was scalable, there were "a number of challenges" to overcome before it could be used across Nestlé's larger portfolio, the supplier said.
Nevertheless, the launch marked "a major step towards our commitment of 100% recyclable or reusable packaging by 2025" said Alexander von Maillot, Nestlé global head of confectionery. "We have pushed the boundaries massively."
It comes after Nestlé unveiled Nesquik All Natural in March – an instant chocolate milk drink with a simplified formulation and recyclable paper packaging. Made with five natural ingredients, it is packed in a pouch made from coated paper that is sustainably sourced and easily recycled.
All Natural was the first NPD to follow Nestlé's January announcement of a series of global actions for meeting its commitment to make all packaging recyclable or reusable within the next six years.
With a focus on avoiding plastic waste, the food and drink giant said it intended to phase out all plastics between 2020 and 2025 that were not recyclable or are hard to recycle.