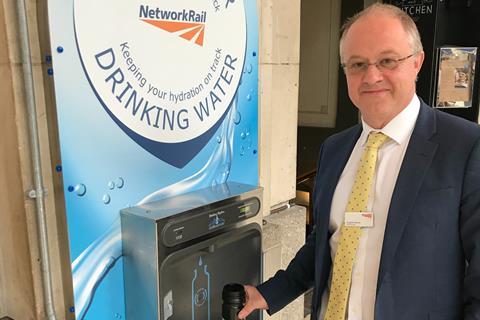 Network Rail has helped save the equivalent of one million plastic bottles ending up in landfill since introducing water fountains at its stations last year. The operator, which installed its first refill point at London's Charing Cross in February 2018 before rolling out the initiative to 19 of its large stations, said the action had helped prevent more than 100,000 water bottles ending up in landfill each month.

It plans to unveil a fountain at its final station in Leeds as part of wider refurbishment works later this year, and has now set a target of saving two million bottles by the end of 2019.

Andrew Haines, Network Rail chief executive, said the results showed that passengers "share our passion to reduce single-use plastic".

"I regularly use the water fountains when I'm on the go and I'm pleased to say we're making it even easier for people using our stations to refill their bottles too."

Earlier this month Network Rail launched sustainability seal of approval stickers for greener stores.

The "We don't use plastic cups and cutlery" and "We recycle our coffee grounds" designs were rolled out across the company's managed stations to help passengers shop more sustainably.

The company also reported a 4.4% rise in retail sales in the 2018 financial year across 18 stations.