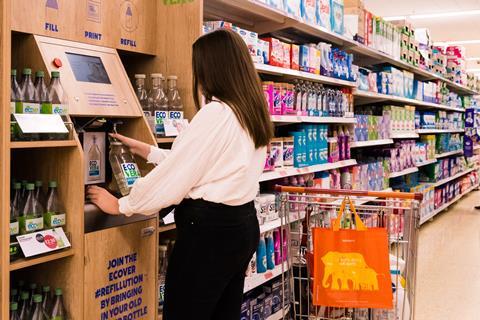 Sainsbury's is trailing dedicated washing-up liquid and laundry detergent refill points in partnership with eco-cleaning brand Ecover as the retailer continues efforts to reduce single-use plastic.
Customers in Sainsbury's Harringay superstore in north London will have the option to refill selected Ecover cleaning products using bottles that can be used up to 50 times.
The supermarket said the move had the potential to save more than a million tonnes of plastic a year.
The refill trial will be rolled out in a further 19 stores later this year, depending on customer feedback.
"Refillable packaging is just one initiative we plan to trial this year and goes to show how a small change can make a big difference," said a Sainsbury's spokeswoman.
"We look forward to hearing feedback from the trial with a view to rolling out more widely across the estate if successful."
The Ecover trial follows a commitment by Sainsbury's last month to invest £1bn in becoming carbon neutral by 2040, including measures on recycling, plastic packaging, carbon reduction and biodiversity.
The supermarket has also called on its suppliers to take more action and develop their own environmental goals over the coming years.
Tom Domen, global head of long-term innovation at Ecover, added: "As manufacturers, we believe we need to totally rethink plastic – how we make it, use it, re-use it and recycle it.
"At Ecover we want to challenge the idea of single-use packaging and our disposable culture. This partnership with Sainsbury's is an important step in kickstarting a 'refillution' in the UK and realising our goal of making refills more accessible for everyone."
Founded 40 years ago in Belgium, Ecover is today one of the largest producers of ecological washing and cleaning products in Europe. Its products are available in about 40 countries around the world.
The brand grew rapidly in the UK in 2019 in both the detergent and hand dishwash categories as consumers became more mindful of their plastic consumption and the future of the planet in general.
In a largely flat market, Ecover was the only brand to add significant value in the hand dishwash aisle, according to The Grocer's Top Products Survey 2019. It also grew sales in laundry detergent by 16% to £16m to become the eighth-biggest brand in the highly competitive category.