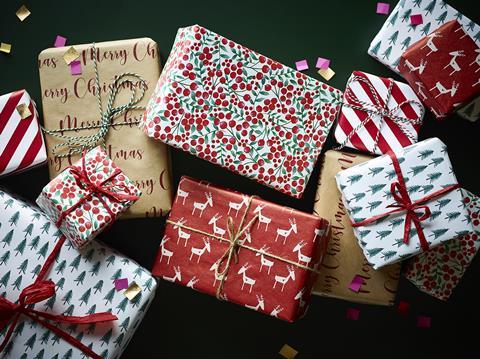 Waitrose is to introduce plastic-free wrapping paper in a supermarket first, as part of its push to cut back on single-use plastic.
The upmarket grocer will launch two designs (rsp: £3 per roll) of gift wrap without the plastic sleeve. They will be added in time for Christmas 2020 in tandem with all of Waitrose's festive gift wrap being fully recyclable this year.
The wrapping paper is made from sustainable Forest Stewardship Council-certified paper and printed using water-based inks. It will be protected with a further layer of paper and labels for protection from damage and to prevent it from unravelling.
The change comes in response to increased customer appetite for a more environmentally friendly Christmas. This saw sales of plain gift wrap, such as kraft or brown paper, soaring by 600% at Waitrose last year.
If the move proves successful, the retailer will roll the alternative packaging out to further gift wrap lines.
The new products come as part of Waitrose's wider commitments to be a more sustainable business, and make all its own-brand packaging reusable, widely recyclable or home compostable by 2023. This has already seen it remove shrink wrap from its entire multibuy canned food range in a bid to save 45 tonnes of plastic a year.
"We know customers will be looking to make Christmas just as special this year, but removing unnecessary plastic means they can enjoy gifting without worrying about the environment and rubbish that can't be recycled after the festivities," said Nikki Grainge, packaging development manager at Waitrose.
"We're constantly working to reduce single-use plastic and we're on a roll with the removal of shrink wrap on gift wrap and many other products including tinned food and tissues. We're constantly moving closer to phasing out non-recyclable plastic by the end of 2021."