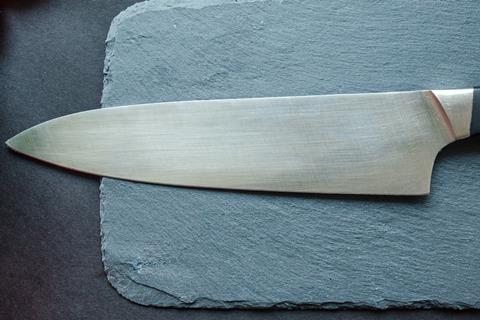 Poundland's retail director has written to the National Police Chiefs' Council in a bid for support in its drive to clamp down on knife sales.
In the letter, sent to NPCC chair chief constable Sara Thornton yesterday, Austin Cooke welcomed Asda's move to ban the sale of single knives last week and asked for help in encouraging other retailers to 'join us in limiting the availability of knives in high street stores'.
Poundland banned the sale of all knives across its entire estate last autumn, amid a surge in knife crime across the country. Data published in February by the Office for National Statistics showed that the number of fatal stabbings in England and Wales in the year to March 2018 reached 285, the highest since records began in 1946.
With more than 40 deaths from stabbings already recorded across the UK since the turn of the year, and a series of high-profile murders during the past fortnight, Cooke said Poundland was 'still of the view that limiting the availability of kitchen knives in high street stores was a small, but important step'.
But since introducing its ban last year, Poundland remained 'uneasy that few other high street retailers have followed suit', Cooke added, as he called on Thornton to 'circulate this letter to chief constables, particularly those working on policies to address the current high level of community concern'.
His comments follow Asda's pledge to remove all single kitchen knives from sale in all stores by the end of April, citing its "responsibility" to protect young people.
And in a separate comment piece in this week's Grocer, Cooke reiterated calls for other retailers to act.
'We firmly believe that taking action on this issue is our responsibility, both to colleagues and customers,' he said. 'When people say you can't possibly make a difference, we know that even one single knife in the wrong hands could ruin countless lives.'
The NPCC said Operation Sceptre, a week-long national operation launched yesterday, would use a "range of tactics" to tackle knife crime.
Many forces would ensure their local shops enforced the law by restricting the sale of knives to anyone under the age of 18, the NPCC said. Test purchasing would see police volunteers attempt to buy blades, with retailers found to be breaking the law facing up to six months' imprisonment, a fine of £5,000, or both.