With quick thinking and a new 'unafraid to fail' mentality beginning to prevail, we look at the sector's power players
Pre-pandemic, the mults were no slouches when it came to innovation. But supermarkets tended to be cautious when it came to rolling out in-store technology. The risk of confusing and alienating customers loomed large, leading many to play it safe and reserve the latest tech for their staff-only headquarters stores.
But the crisis has brought with it a set of unique challenges around keeping customers safe and feeling secure in the aisles.
Nearly a quarter of shoppers surveyed by Spark Emotions at the height of the first lockdown earlier this year said they felt "anxious or nervous" navigating stores.
In response, supermarkets have been quickly establishing trials of technologies rarely used before the pandemic in stores – like customer-counting traffic-light entry systems that assist social distancing, and queueing apps so customers don't have to wait out in the elements.
They've also been accelerating the rollouts of more mature solutions like scan and go devices and apps, staff communication devices and security bodycams – which have come into their own in the reality of the new normal.
"The world we live in now means supermarkets and their customers are more open to technology solutions than ever before"
"Where tech spending had been focused previously on back-office automation and efficiency," says Miya Knights, head of industry insight at Eagle Eye, now it's more customer-facing tech that's emerging as "supermarkets look to increase customer safety due to social distancing measures, and to support a low-touch environment".
In-store technology has played an integral part in helping us feed the nation during this time, says Sainsbury's chief information officer Phil Jordan. "It's how our customers want to shop and it is one of the ways that will help us keep them safe," says. "The coronavirus pandemic has definitely accelerated our existing technology strategy."
In turn, specialist technology vendors are now enjoying their day in the sun. Having struggled to sell the immediate necessity of their products, which had been considered by pitch panels as little more than novel 'nice to haves', several tech firms have been transformed into supermarket saviours.
Covid has made it much easier for startups that have store-ready solutions to get through the door, agrees former Sainsbury's executive Jat Sahota, co-founder of retail tech firm RangeFinder.
"The world we live in now means supermarkets and their customers are more open to technology solutions than ever before," he says.
It's little surprise. Stores have had to find solutions to entirely new problems that have a huge effect on customer satisfaction.
Take customer number management. With limits on the number of shoppers that could safely be in stores at any one time due to social distancing, several supermarkets have installed traffic light systems to permit more customers to enter or not, depending on whether the store is at maximum safe occupancy, from Aldi to Tesco.
Asda, Waitrose and Sainsbury's are meanwhile trialling queueing apps so customers can use their phones to register a place in a virtual queue and so avoid waiting in the cold and wet.
Tech providers like Rangefinder – which partnered with Italian queuing app firm Ufirst to bring it to the UK – suddenly found an eager market for their products.
"Queueing simply hadn't been an issue before. Now supermarkets are finding they need tech where they never needed it before," Sahota says.
Faster adoption
And they need the tech now. In the case of Ufirst, Sahota says a live trial at five Sainsbury's stores came just eight weeks after the initial online meeting with the supermarket.
"Pre-pandemic, it would normally have been quite a drawn-out process, a hallmark of the rigour and caution with which supermarkets approached anything that meant linking up with the vast universe of data they hold on customers," he says.
"Now though, if you've got a solution that can demonstrate a strong mass market road-test in another market then the supermarkets are much more open. And it doesn't necessarily need to have been tested in the same environment," Sahota adds.
Even if changing lockdown measures mean the technology is no longer needed right now – Sainsbury's ended its Ufirst trial in mid-August – supermarkets gain from having ready-for-rollout tech for when the situation changes. It's no wasted effort.
"This was the first time we've tested this technology, which may help us respond quickly should such a proposition need to be implemented at short notice, for example in the event of a local lockdown or if government guidance changes," the supermarket said.
A number of supermarkets have been working to make it easier for tech startups.
Tesco in September launched a new innovation department known as Tesco Red Door, which acts as "a single point of contact, responsible for quickly evaluating ideas".
"We can offer partners a unique opportunity to build and develop their ideas rapidly and at scale, using the benefits of our experience and access to market," a Tesco spokeswoman told The Grocer.
Asda launched its Stevenage innovation store project in summer 2019. Shoppers at the superstore get to try novel retail tech ahead of the rest of the country, while Asda benefits from real-life testing.
Asda puts "as many innovations as possible" to the test at its Stevenage superstore, to see which stick.
"We can stress-test them in a real store that is a 'live' environment. Putting everything under one roof helps us to understand where there is synergy and friction. Customers at this store are used to seeing different trials and proactively give feedback to help us determine which technology we should keep and investigate further," explains VP central retail operations Jodie Tate.
Startups are given support to help them "understand processes and ways of working with a large business such as ours. We coach them through working with areas like our technology, information security, health & safety and compliance teams" Tate adds.
Sainsbury's has upped its outreach across startups and partners, "many of which are the very best leaders in their fields, as well as other innovation forums" Jordan says.
Increasingly, departments that wouldn't have had much to do with new technology are keen to adopt it. It was the Co-op's security team, for example, that led to the retailer's adoption of staff-worn bodycams.
"Pre-pandemic, the supermarkets approached tech in a relatively narrow way: you approached either the IT or tech teams with a very specific proposition. Now pretty much every team is open to scanning the horizon for tech solutions that help with their part of the customer journey," Sahota says.
While seeking new solutions, supermarkets have also been accelerating adoption of existing technology.
Take self-scanning devices and apps. While most of the mults have long offered the option at least in some of their stores, the pandemic has sparked a concerted effort to make it available estate-wide.
"The pandemic has caused retailers who were simply considering introducing self-scanning technology as perhaps a medium to long-term goal, to bring it right to the very top of their short-term goals," says device-maker Zebra's EMEA retail director Mark Thomson.
"The rollouts have certainly increased. And they've sped up," he adds.
Or take staff communication headsets. Used by many retailers, the technology has worked to enable social distancing, maintain morale, ease the onboarding of new employees and enabled teams to "remain connected whilst physically apart," says headset maker Vocovo's chief commercial officer Martyn Jones. "Some stores have referred to it as a lifeline."
Even if they already have the technology, Jones says, taking it further and faster is "something high on the retailers' agenda at the moment".
While the pandemic has given technologies once considered a little too novel their day in the sun, it has also dampened others once tipped to be the next big thing.
Aversion to touch
Touchscreens – now ubiquitous as part of self-checkout machines – had begun popping up as part of in-aisle self-help kiosks. But health fears could see their potential dashed.
M&S in August launched a food to go vending machine at one of its Simply Food stores, but the announcement was diminished somewhat by the supermarket's reassurance it would be regularly wiped down.
Even Asda's push-for-assistance buttons being trialled in Stevenage in its George clothing department may end up rarely pressed.
"We're not on the cusp of an entirely touchless future but we are seeing an early aversion to touch"
Consumer research by Foolproof earlier this year found 80% of respondents believed they "will behave differently" when interacting with public technology that they have to touch.
"We're not on the cusp of an entirely touchless future but we are seeing an early aversion to touch," Foolproof says of the findings. "Products and services will have to change to accommodate this irrespective of the fidelity of these changes."
But the demise of one interface gives rise to alternatives. The same research found seven in 10 people said they would prefer to use their phones to connect with services instead – though that, of course, creates its own problems in terms of app downloads and adoption. Gesture-controlled screens could also prove an effective alternative.
From barcodes to self-checkouts, from contactless payments to smartphone apps, in-store technology has long played a significant role on the shop floor, for both staff and shoppers. Its value has only been heightened by the pandemic, and those on our Power List are prepared to push its use even further, and faster. And they are injecting a fresh attitude towards new tech into the sector.
"At the supermarkets we are seeing a generational shift as the old guard moves on," says Sahota. "You're starting to see digital natives in roles of responsibility and the shift in culture and attitudes to tech that they bring with them will create a second wave of innovation."
Tim Murray
Partner, Newton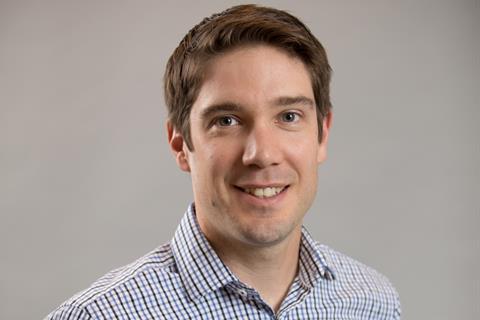 "Technology is increasingly at the heart of innovation for retailers"
Sainsbury's recent move to broaden Clodagh Moriarty's role to cover both digital and retail clearly highlights the retailer's view on the symbiotic nature of technology and people. With the disruption Covid-19 has caused, the appetite for innovation is stronger than ever, with many recent examples helping to keep customers safe. For instance, Irisys quickly adapted its technology to solve the challenge of managing customer numbers in store in the wake of the introduction of social distancing.
However, good ideas often fail to deliver on their promise. Sometimes, the challenge can be misdiagnosed or misunderstood. Other times, the technology is sound, but applied to the wrong problems. Most often, there's so much focus on the technology, that the journey colleagues and customers need to go on to embrace it is overlooked.
For example, one retailer implemented a new handheld device to alert replenishment colleagues when products were out of stock. The equipment was great, the algorithms logical, but colleagues quickly dismissed it as useless as the devices were missing stock gaps or flagging them too late. Deployment stalled. The problem was later revisited. The solution was improved, and this time designed hand-in-hand with shop floor colleagues. Adoption across was fantastic and the retailer saved millions of pounds.
This Power List is a diverse mix of specialist providers and retailers who are already pushing the boundaries. By working together with as much focus on the people side of change as the tech, they can reach even greater heights.
Power list: in-store technology
The pandemic saw retailers scramble to introduce the likes of queuing apps, traffic lights and bodycams. With quick thinking and a new 'unafraid to fail' mentality beginning to prevail, we look at the sector's power players
1. Clodagh Moriarty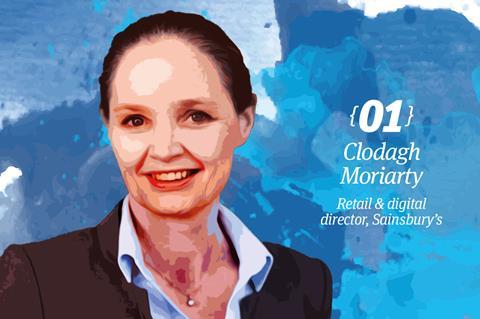 On his first day in the role, Sainsbury's new CEO Simon Roberts promoted chief digital director Clodagh Moriarty, adding retail to her responsibilities..
"Bringing together our retail and digital teams under Clo's leadership will create a business that shows up in the same way for customers wherever they shop with us," Roberts said of the move.
Having led the supermarket this year in growing its online operation by hundreds of thousands of slots per week, it was "recognition richly deserved" says Miya Knights, head of industry insight at Eagle Eye.
Not that Moriarty dwelled purely in the online space in her former role. In 2018, Moriarty chalked up a UK supermarket first, when Sainsbury's Clapham North Station Local launched an app-based scan and go SmartShop option. In 2019 she overhauled the Nectar loyalty scheme, making it fully digital. And this year she beefed up Sainsbury's rapid delivery service Chop Chop beyond London.
In a concept familiar to many in technology, but rare among supermarket leaders, she is willing to try things out, and fail fast. She was behind the UK's first till-free, SmartShop only store – which was pulled within a few months. It was an "experiment rather than a new format" she said at the time.
"I try to create a culture where teams can feel bold, brave and part of something great," she says. "It's critical to create a safe environment where people aren't afraid to fail."
Through the year she's rolled out scan and go devices – and the app option – to all its supermarkets, with all convenience stores soon coming online too. Customer participation has risen from 15% to 30% in stores that offer it. "As more customers use this technology and get comfortable with it, we expect to see these figures grow," Moriarty says.
"Her strategic approach to digital and mobile, both across the store and online while also encompassing loyalty, has been a real game-changer for Sainsbury's at a time when scan and shop, contactless payments and e-commerce have really come into their own," Knights says. "I truly admire her commitment to test and learn, failing fast and following the customer."
2. José Aguerrevere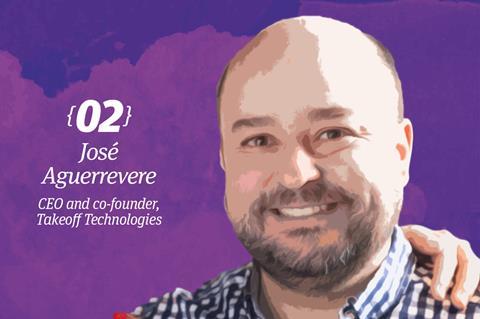 One of the most significant technologies coming to supermarkets will never be seen by customers: the automated picking systems situated in the back of stores that will build orders for click & collect or home delivery.
While the vast robotic warehouses pioneered by the likes of Ocado are nothing new, increasingly grocers are seeking to scale them down to fit within store footprints. These miniature CFCs are driving a burgeoning sector known as micro-fulfilment.
Some of the players are the same – like AutoStore and Dematic – but micro-fulfilment is a very different challenge, giving rise to new stars like Alert Innovation (used by Walmart) and Fabric.
But it's Takeoff Technologies that's tipped to dominate. Co-founded by Aguerrevere in 2016, Takeoff is now working with Tesco to roll out 25 in-store micro-fulfilment centres (MFCs) over the next three years. The first has now opened in West Bromwich.
"I credit José and [co-founder] Max Pedro with being the individuals who created the micro-fulfilment industry," says fulfilment analyst Brittain Ladd, a former Amazon grocery executive. "They're among the most skilled executives in the industry."
While Takeoff partners with robotics company Knapp in its MFCs, Ladd foresees Takeoff becoming hardware agnostic and licensing its software to rivals.
"Software is the achilles heel of many retailers when it comes to online grocery ordering, fulfilment and delivery," says Ladd. "Takeoff has created a best-in-class platform capable of performing nearly every task associated with online grocery ordering and fulfilment."
3. Richie McBride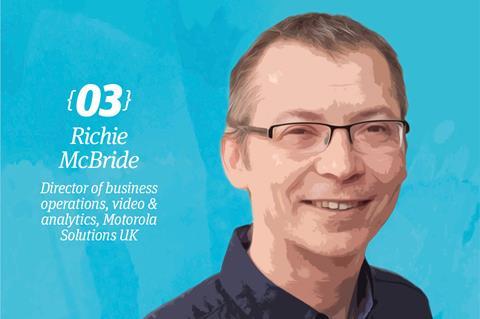 It's galling, given their incredible hard work throughout the pandemic, that shopworkers still face violence while doing their jobs.
Co-op says crime at its stores has hit record levels, increasing by more than 140% year on year, with Food CEO Jo Whitfield saying the issue is "just getting worse" due to Covid.
The BRC's latest crime survey found there were 400 incidents every day in 2019, while the ACS's 2020 crime report identified 50,000 violent incidents in shops.
As Parliament fumbles and stalls in introducing tougher penalties for shopworker abuse, technology is proving an effective deterrent, and working to catch perpetrators. Co-op followed Asda and Sainsbury's in arming staff with body-worn cameras this year, which capture any incidents.
McBride founded bodycam company Edesix in 2002, which was acquired in 2018 by a company acquired in 2019 by Motorola Solutions, giving the technology the might of a global player. The pandemic has only heightened retailer demand for the solution.
"We can see leading retailers who have seen the benefits and advantages of our current customers using the technology to increase the safety of their personnel, and are looking to replicate that success in their own stores," McBride says.
"We are seeing increased interest and request to expedite deployments for current customers due to the pandemic," he adds.
4. Matt Birch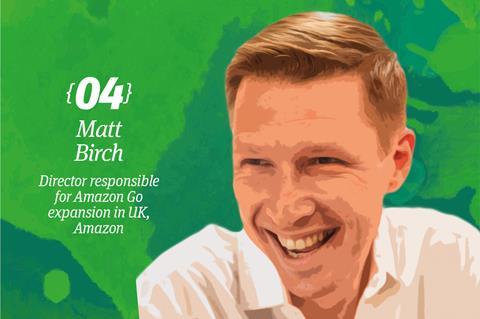 While ultra-convenience and speed were the main driver behind Amazon Go technology – which combines computer vision and weight sensors built into shelves – the pandemic has brought a new angle to the offering, as it requires zero interaction with other humans.
Having launched to the public in 2018, Go had only been available in small format stores – until this February when a full-sized supermarket version, Amazon Go Grocery, launched in Seattle, with a second in Washington coming last month.
Go is now headed for the UK. Understood to be making the call on when and where is former Central England Co-operative and Sainsbury's executive Matt Birch, who Amazon hired in May last year.
A site has already been secured in Notting Hill Gate, on the site of a former discount bookseller.
"The current environment plays into the viability of checkout-free stores in future," says Knights at Eagle Eye. "Low or no-touch service and payments are understandably increasing in popularity among consumers.
"They can only exist where they offer the customer more speed and convenience over the value of remaining anonymous. I see them working best in high-traffic urban and transit environments, offering a selection of higher-margin essentials, convenience and ready-prepared goods," she adds.
Birch's Go push is sure to make rivals race to launch what Amazon calls a 'Just Walk Out Shopping Experience' too.
5. Daniel Kats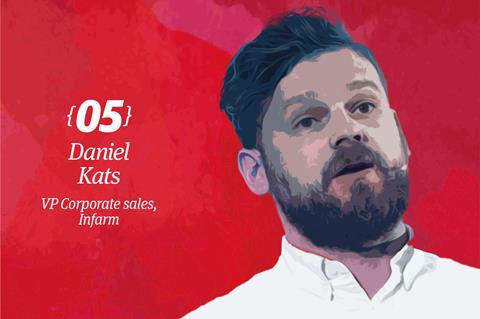 Not long ago, vertical farming was considered somewhat 'out there', a futuristic solution to a problem that might not bite for years to come. But as more retailers commit to reducing their carbon footprint and to sustainable sourcing, the technology has quickly risen in status. The pandemic has only helped its rapid rise.
"Modern agricultural production is built upon a food supply chain that is vulnerable to ecological and supply shocks in regions across the globe," Kats says. "The global pandemic highlighted this in a way we couldn't have possibly predicted."
Ocado is bought a 58% stake in Jones Food Co last year and recently upped its stake. Its ambition is to have huge vertical farms next to its CFCs so customers receive much fresher produce to their doors. But farms at this scale are time and capex-intensive. Enter Infarm, which offers a scaled-down version of the technology, the size of a chiller cabinet.
Kats has secured deals over the past 12 months with M&S, Selfridges and Whole Foods Market, who are now rolling out herb growing units to stores. His ambitions go much further.
"We certainly believe Infarm has mass appeal for UK retailers and shoppers alike," Kats says. "We have big ambitions, aiming to reach more than 5,000,000 sq ft of growing facilities by 2025, and in doing so becoming the largest distributed farming network in the world."
6. Martyn Jones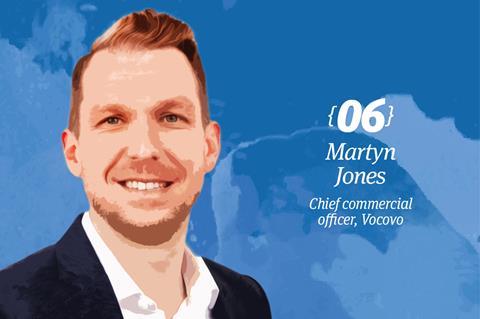 Communication has always been key for supermarket staff, making social distancing a real risk to the breakdown of teams.
Headsets that allow staff to talk to each other, including those in head office and warehouses, from afar have proved "a huge asset" through the pandemic, says Vocovo's Jones, even more so with the swathes of new employees that have had to be taken on.
"The technology has enabled them to adhere to rules whilst being more efficient than ever before. This keeps up morale, provides a powerful tool for collaboration and helps to prevent feelings of isolation."
Having already secured customers including Tesco, Asda, Co-op and Morrisons, Jones has worked to convince others to try the tech, with numerous trials underway.
Innovation within the company continues. Jones promises "game-changing product updates" that are set to "transform in-store efficiencies again". They include integration with self-checkout systems, fridges and warehouse door alarms, as well as improved inter-department communication tools.
7. Tim Wheatley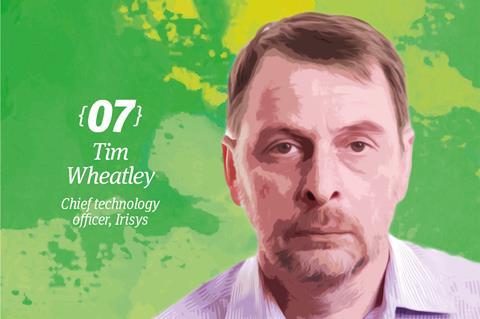 Customer counting in grocery is not new. For some time, Tesco and Morrisons have been using Irisys technology to capture and react to queues at checkouts.
But the pandemic has brought about an "important new use case" – occupancy monitoring. Early on, staff with clickers did the job, but Irisys has been "quick to innovate" with automated solutions that provide audio and visual feedback to stores and customers. The solution is currently being piloted by Asda. Simple installation of the systems means "large estate-wide rollouts could be completed in weeks rather than the traditional months" Wheatley says.
While for many retailers, a simple count and traffic light system will suffice, Irisys is pushing on in allowing clients to utilise occupancy data via the cloud, with staff scheduling systems and customer-facing apps.
"It seems likely that until a successful counter-measure to Covid is identified, the requirement for social distancing and hence the need for occupancy monitoring will remain," Wheatley says.
8. Jo Hickson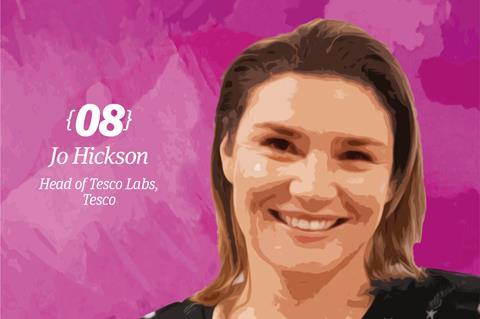 Tesco has "always valued the role of technology" but it's taken a more central role since the arrival of Hickson in 2019.
Labs is the supermarket's research & development team, conceived to prototype and test new ideas – coming from colleagues, academics, entrepreneurs and more established players – that have potential to be utilised.
Having served in several innovation lead roles, Hickson now makes the call on which tech is taken further. As part of the group's innovation team, her choices determine which Tesco Red Door projects succeed.
Hickson played a key role in Tesco's Amazon Go-rivalling partnership with Trigo, with a frictionless and checkout-free store now being tested at its Welwyn HQ.
9. Mark Thomson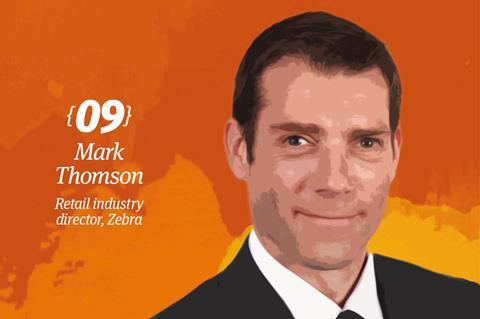 Pick up a self-scanning device in a supermarket and chances are it's made by Zebra, Symbol or Motorola. All three brands are owned by Zebra.
Use of the devices was increasing before the pandemic, but now accounts for between 15% and 20% of transactions in the stores where it operates.
A frictionless shopping experience is one driver, but "as people have become more conscious of going into busy, public spaces, we've seen a sharp uptake in consumers using the devices" says Thomson. For retailers, devices ease the strain on checkout staff.
"For our new clients, the main question has been how do they get on board with self-scanning technology as soon as possible?" Thomson says. "For our existing customers, the main focus has been how do they expand the technology into more stores?"
10. Jodie Tate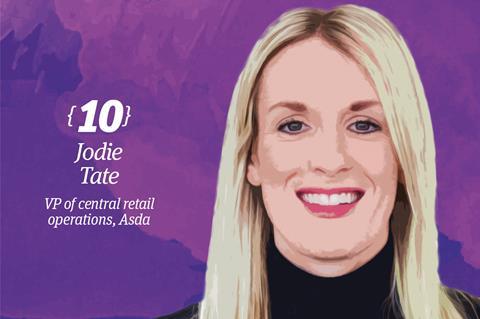 Overseeing Asda's retail and innovations team, Tate is leading a new approach to new tech at the supermarket, one of "start small, explore and water the idea, test and learn and not be afraid of bumps in the road," she says.
Several channels foster ideas from startups and suppliers, including Asda's 'Innovation Den' initiative. But "it's fair to say some of our best ideas come from our store teams, who are really clear when it comes to knowing what our customers want" Tate says.
Asda's Stevenage store has given a platform to several technologies that could see wider rollout. Up to 20 are on trial at any moment. Some 28,000 electronic shelf labels are currently being installed. A personalised chocolate gift maker and wine recommendation kiosk – "two fantastic initiatives I personally have tried and love" Tate adds – are now live.
"We're really keen to implement new innovations, including initiatives that haven't been proven in a food retail environment before."