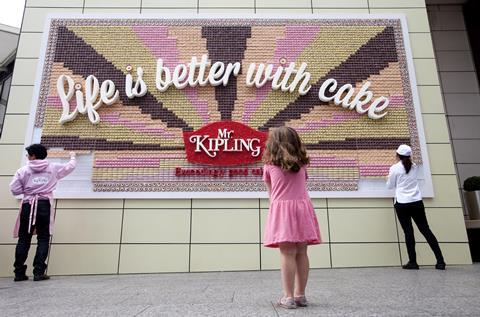 Premier Foods has reported a 4.7% drop in third quarter underlying sales and said its full year profit will be at the lower end of expectations.
As shopping habits continued to shift away from large superstores, Premier's branded sales fell 4.1%. Sales in its key 'power brands' decreased by 5.1% - though Premier said sales of these brands displayed an improving trend towards the end of the quarter.
CEO Gavin Darby commented: "Market conditions in the third quarter have proved to be increasingly demanding with unprecedented structural changes across the industry gathering pace.
"In response to this changing environment, we have put in place a new business unit structure with new leaders to reinforce our category based strategy and improve our agility, focus and accountability."
Last month Premier instigated a major restructure, splitting its business into three distinct units, and underwent a significant refinancing programme in March as well as forming joint ventures to divest Hovis and its powdered business.
Darby added: "The initial response to the relaunch of our biggest brand, Mr. Kipling, has been encouraging and we are implementing a strong programme of new product introductions and consumer marketing in the fourth quarter of the year to coincide with the important Christmas trading period.
"We continue to invest in our brands and strengthen our customer partnerships, while retaining a tight focus on managing costs, the delivery of Trading profit and organic deleveraging. I believe this balanced approach is central to creating value."
After its major relaunch during the quarter and associated marketing campaign, both sales and the market share of Mr. Kipling grew.
The cooking sauces and accompaniments category continues to be highly competitive, holding back sales of Sharwood's and Loyd Grossman, though Homepride enjoyed "good sales uplifts" following its first television advertising campaign for ten years.
In the fourth quarter, Premier has pledged to nearly double its consumer marketing investment year-on-year, with Bisto, Oxo, Homepride and Mr. Kipling all having TV ad campaigns.
Revising full-year profit to the lower end of expectations, Premier said: "The grocery market in the UK continues to experience unprecedented structural change driven by shifts in shopper behaviour from traditional large retail supermarkets to other channels such as value discounter stores, online and convenience.
"As a consequence, the larger supermarkets have lost share to these other formats over recent months, which has adversely affected the company's volume and sales performance. Additionally, price inflation across the wider grocery market has fallen for the eleventh successive month and is expected to soften further. The company has launched product offerings tailored to these high growth channels to capture some of the growth opportunities."