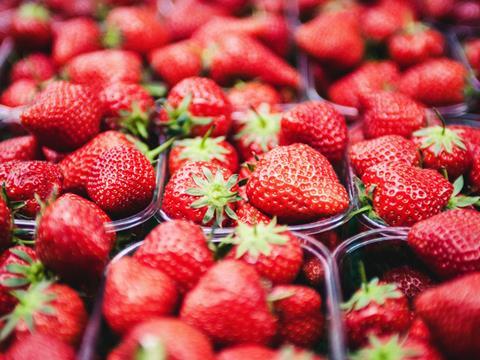 Supermarkets may have rolled out bargain super-sized punnets of British strawberries this month, but shoppers will face higher prices for the fruit next season, experts warn.

The mults have launched cut-price punnets of British strawberries after favourable weather conditions led to a bumper harvest. Aldi bought up 112 tonnes of British strawberries and was selling 1kg punnets for £2.95 per kg, while Sainsbury's launched a 600g punnet of British strawberries - currently on promotion for £2.30 [Brand View 52 w/e 20 June 2018].

Waitrose has reintroduced its 725g punnets of English strawberries for £3.44, down from £3.63 last year, and Tesco cut 50p off its 600g punnet of own label strawberries, now £2.50.
"The weather in March and April was relatively cool and the got quite warm in May so we ended up with a large crop of really nice fruit, but it means the cropping is fairly heavy for a week-and-a-half or so," says British Summer Fruits CEO Nick Marston.

"The good news is retailers are very nimble in terms of the sort of packs they can run so they are able to allocate large punnets and put promotions in place pretty quickly compared to the past. It means we can offer great deals while we have a bumper crop."

However, despite the recent glut of cut-price strawberries in UK supermarkets, the cost of a punnet is likely to rise in the long term, warns Cindy van Rijswick, fruit and vegetable analyst at Rabobank.

With a shortage of foreign labour set to be "exacerbated by Brexit", the cost of picking and packing will increase further, she says, while farmers will also have to invest in costly tech such as picking robots to reduce the labour intensity of the growing process.

Marston agrees bargain deals on British strawberries won't last, with growers also facing a significant increase in the cost of inputs like plant material, 95% of which is imported from the EU.

"At the moment we are not seeing any retail price inflation, but I think growers will need to be paid more in future seasons," he says.
If retailers don't agree to cost price increases for British strawberries, there is a risk growers will go out of business, potentially leading to an "armageddon" scenario of no domestic industry, leaving the UK reliant entirely on imports, he warns.

"If we had to import strawberries from Holland, Belgium, America, the retail price of a 400g punnet would be more like £3 instead of the current £2."

That would be disastrous for sales, suggests a YouGov survey commissioned by BSF, which found more than 60% of consumers would stop buying strawberries if the price of a punnet rose above £2.50.

"If we reflect the cost price inflation of growers, we are looking at much more modest increases in retail prices," says Marston.