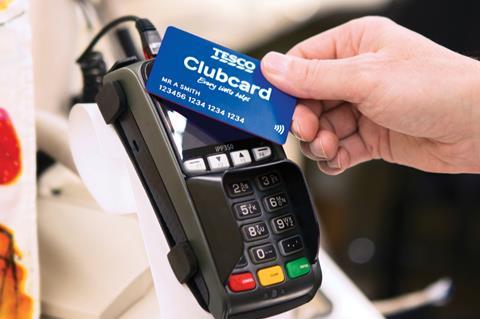 Tesco has confirmed it is trialling a new system of promotions which could allow its 17 million-plus Clubcard users to get cheaper prices at the till on selected products.

The move, which comes after CEO Dave Lewis admitted last week the retailer was planning an overhaul of its loyalty offer this year, is believed to have been trialled at 50 stores across a range of 20 products.

The supermarket ran a week-long trial in which it dropped prices for shoppers when they scanned their groceries at the till, reported The Sunday Times.

It follows a similar trial run last year by Amazon at Whole Foods stores in the US, which saw customers get discounts on a rotating range of groceries.

There has been speculation Tesco is planning to offer better prices for customers using its Tesco Pay+ app, as part of an Amazon Prime-style offer, which could also be used to drive customers to other services such as online banking.
However, Lewis has previously hinted at a move to offering more everyday rewards to customers as a point of difference in its price fight with Aldi and Lidl.

"You'll see more from us in the loyalty space," said Lewis last week. "We have simplified and digitised the offer, now we can start to actually do more things with it."

The Tesco boss has already overseen a raft of changes to the scheme, including creating a more digitised offer through its smartphone app and a contactless card in 2017.

Last year it introduced a new 'faster vouchers' scheme allowing Clubcard customers to request vouchers whenever they wanted, instead of having to wait for their next quarterly statement.

It also made a controversial decision to cut down on the level of rewards it was offering with the Clubcard Reward Partners scheme, which it said would simplify the loyalty offering and enable it to spread the benefits of Clubcard ownership to a greater mass of Tesco shoppers.

A Tesco spokesman said: "We're always looking at new ways to serve our customers better and we'll tell them as soon as possible if and when we decide to take any ideas forward."