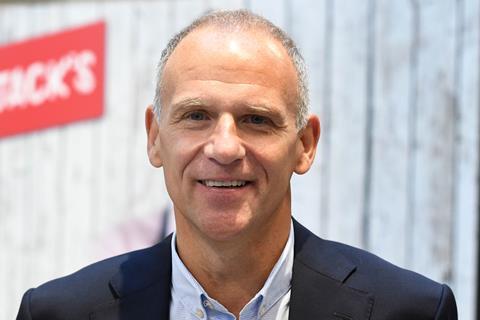 Tesco beat analyst expectations to deliver a 29% surge in pre-tax profits, cementing its continued recovery under chief executive Dave Lewis.
Lewis declared himself "very confident" that the retailer will complete its turnaround goals during the 2019-20 financial year, after posting double figure sales and profit growth.
Pre-tax profits jumped to £1.7bn for the year to 23 February 2019 on the back of £532m in cost savings during the period, taking total savings during the four-year turnaround to more than £1.4bn.
Group sales increased 11.5% to £56.9bn as the retailer was buoyed by the continued strong growth of the Booker wholesale arm it purchased for £3.7bn last year.
The group saw a 2.9% rise in like-for-like sales, driven by a 11.1% surge in like-for-like sales at Booker, while Tesco UK delivered 1.7% growth.
The turnaround programme has seen Tesco improve its "mix across geographies, channels and product", it said, including the closure of Tesco Direct last year.
In January, it also announced that 9,000 jobs would be affected by plans to restructure its stores, removing a raft of fresh food counters, and its head office functions.
The year also saw the launch of its Jack's chain of discount stores, which opened in its ninth location this week, as it looked to tackle the growth of the German discounters.
In the fourth quarter, Tesco's UK retail business saw sales growth improve, rising to 1.7% from 0.7% in the previous period.
The rise helped it maintain 1.9% like-for-like growth from the previous quarter, despite a significant slowdown in growth at Booker, which reported a 4.3% increase in sales compared to an 11% increase in the third quarter.
"After four years we have met or are about to meet the vast majority of our turnaround goals. I'm very confident that we will complete the journey in 2019-20," commented Lewis.
"I'm delighted with the broad-based improvement across the business. We have restored our competitiveness for customers - including through the introduction of 'Exclusively at Tesco' - and rebuilt a sustainable base of profitability.
"The full year margin of 3.45% represents clear progress and the second half level of 3.79%, even before the benefit of Booker, puts us comfortably in the aspirational range we set four years ago.
"I'm pleased that we are able to accelerate the recovery in the dividend as a result of our continued capital discipline and strong improvement in cash profitability."
The grocer also announced a final dividend of 4.1p, taking its full-year dividend to 5.77p, up 93% on the previous year.
Tesco shares jumped 2.1% to 238.8p in early trading.