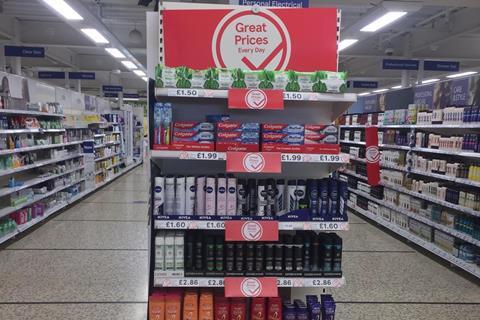 Tesco has slashed prices on hundreds of branded products as it embarks on the next phase of its everyday low pricing (EDLP) push.
The retailer has cut base prices on almost 600 ambient SKUs since the beginning of July, research by The Grocer reveals, across categories including crisps, bread, condiments, snacks, confectionery and cereal [Edge by Ascential: 9 w/e 19 August 2020].
Over three-quarters of the price cuts have been on branded products – with items from Cadbury, Dolmio, Hovis, Napolina, Nescafé, Schwartz, Tetley, Tilda and Walkers among those targeted.
Some reductions were so deep they matched the previous promoted prices of the brands. Napolina, for example, has seen £1 taken off the price of its 500ml and 750ml Extra Virgin Olive Oils, now £2.50 and £3.50 respectively. That makes it cheaper than Tesco's own brand Extra Virgin Olive Oil 500ml, at £2.55.
Cadbury, meanwhile, has seen 50p knocked off a range of its big chocolate bars. Cadbury Dairy Milk Daim 120g and Cadbury Dairy Milk Block 110g are both now £1, down from £1.50.
Elsewhere, Tesco has listed 273 health and beauty items on its website under the heading 'Great Prices Every Day', which is understood to be the tagline for this latest price push. They include products from Carex, Dove, Colgate, Radox, Listerine, L'Oreal, Sure, Lynx and Nivea. It is also using gondola ends with the same messaging in-store.
A Tesco spokeswoman said: "At Tesco, we know our customers want competitive prices for the products and brands they buy regularly.
"That's why we're always investing in great value prices, as well as matching Aldi on hundreds of branded and own-brand items through our Aldi Price Match."
Among the branded health & beauty products subject to price cuts in recent weeks are Sure Black And White Deodorant 250ml – down from £2.80 to £1.49 and Dove Shower Gel Hydrating Care 450ml – down from £3 to £2 [Edge by Ascential – 9 w/e 19 August 2020],.
Tesco has also cut prices on its Carex Original Liquid handwash 250ml – down from £1.30 to 99p, while a 500g tub of E45 Cream is down from £12 to £8.
It comes after The Grocer revealed Tesco was putting pressure on suppliers to lower their prices as it ramps up its price war with Aldi ahead of the impending recession.
The Grocer understands suppliers were given a cut-off of 10 July to respond to its call for a switch to EDLP, which will also see promotions removed unless they come under its Clubcard loyalty scheme.
Writing in The Grocer last month, Tesco chief product officer Andrew Yaxley insisted the new price push wasn't 'anti-brand' and said price cuts were necessary to help customers through difficult economic times.
"This isn't new: it's the next step in a journey we are already on with our suppliers," he said. "However, we cannot ignore the reality of the crisis that we are still in – and so we need to move quickly in order to help our customers."