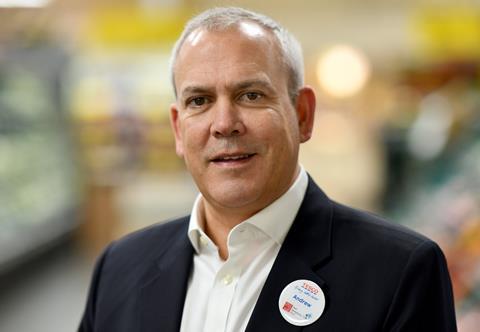 The past few months have been extremely hard for consumers, and for the country. Sadly, it's likely that things could get harder still, as the economic impacts of the pandemic continue to unfold.
We have to prepare ourselves for that, by recognising the opportunity – and responsibility – we have to help our customers as things get tough. We're always at our best when we're a champion for customers, and that means being truly on their side, listening to their needs, and meeting them better than anybody else.
As we listen to our customers, they tell us that they want simple ranges, choice and promotions that genuinely help them. Most importantly, they want clear and consistent prices on the lines they buy every day.
This is why we launched our Aldi Price Match in March, across hundreds of Tesco own brand lines. It's the latest step on a journey that we've been on since 2014. Over the past six years we've worked hard to keep prices low, streamlined our ranges to remove poorly performing products, introduced our great value Exclusively at Tesco brands and launched Clubcard Prices.
That focus on simple, consistent value has in part been achieved by reducing the level of promotions. Since 2014, promotional participation has dropped from about 45%, to 28% before the crisis.
Over the past few months, as we've worked hard to protect availability by focusing even harder on our core ranges, promotional participation has fallen even further – down to just 14%.
Read more
So as we prepare for the economic uncertainty ahead, we want to accelerate our conversations with our suppliers. What does great value look like for customers? We strongly believe it's consistent low prices and loyalty through Clubcard, and that's the update that we shared with suppliers last month.
At every moment of the crisis so far, our suppliers have worked with us decisively and quickly. But the challenges are not over, and we need to keep that same speed and agility. That's what we're asking our suppliers to do now, as we work to focus money they would otherwise have spent on promotions on investment in consistent low prices instead.
We're still in this together, and Tesco is investing too, so that we can bring our customers the best value on the Tesco products and brands where it matters most to them.
I also want to address some of the speculation that we've seen recently about our plans.
It's been described by some as a potential 'price war'. That's not how we see it – it should come as no surprise to anyone that we would want to be as competitive as possible on price for our customers. We want to make sure Tesco offers the best value in the market. And we also need to help our customers by removing all the obstacles in the market that are designed to hide the best value, like different pack sizes, range complexity and promotional rotations.
We've also seen claims that we haven't given suppliers enough time to respond. We've been talking with our suppliers about this, at the most senior level, for the past five years. This isn't new: it's the next step in a journey that we are already on with our suppliers. However, we cannot ignore the reality of the crisis that we are still in – and so we need to move quickly in order to help our customers.
Finally, there have been reports that this is 'anti brand'. It is not. We support brands today, and we always will in the future. But what we are doing is asking questions about the wisdom of stocking different pack sizes and variants that serve only to feed a rolling promotional plan, rather than meeting a real customer need. We are challenging the 'high low' mechanic, which leads to inconsistent messaging on price and adds operational complexity. And we are asking ourselves how we can give the best value in the marketplace on brands, given the scale that we offer our suppliers – and we're inviting our suppliers to work with us in addressing this.
Of course, this does mean a lot of change for some suppliers. But if recent months have proven anything, it's that we are in an industry that can adapt very well to change.
We have experienced significant increases in volumes this year, as have our suppliers. It's unprecedented – but it also makes this the right moment to address inefficient and expensive practices that are driven solely by a promotional calendar.
It's an opportunity for our suppliers to work together with us to simplify and to focus. But most importantly, it allows us to be a champion for customers by giving them exactly what they're asking us for: consistent low prices on great quality own brand and branded products, at the time they need it most.