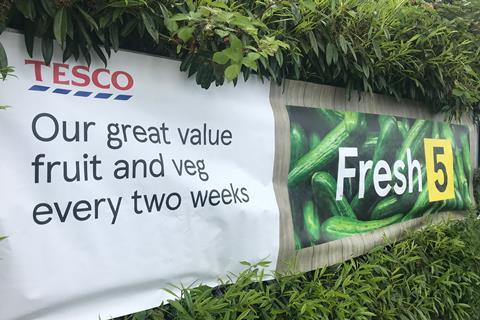 Tesco has ramped up its price assault against the discounters with the launch of new fortnightly promotions on fruit & veg called the 'Fresh 5'.

The new pricing mechanism represents a permanent version of its annual Festive Five Christmas promotion and offers shoppers significant discounts on five own-label fruit & veg deals every two weeks.

Tesco said Fresh 5 would "usher in the summer and give customers even better savings on their weekly shop". The Fresh 5 brand is also used by Tesco's Jack's discount chain. However, the products on offer differ to those on sale in Tesco.

The promotion's first five deals (active between 29 May and 10 June) include a 230g pack of vine ripened tomatoes, a 450g bag of Jersey Royal potatoes and a 320g bag of apricots (all down 55% on their rsps to 45p).

Tesco is also offering a four-pack of flat peaches and a ripe mango at 39p each, representing a 61% discount on the standard rsp.

The promotion was "more than faintly reminiscent" of Aldi's flagship Super 6 promotion, and other mechanisms operated by Lidl and M&S, said Bryan Roberts, global insights director at TCC Global.

Its prices compare favourably to the Super 6, with the tomatoes some 64p per kg cheaper to similar products sold by the discounter and the potatoes some 18p cheaper per kg.
Key battleground
Tesco had recognised that a "key battleground for a number of shoppers was in produce and protein", added Roberts.

A combination of Tesco's Farm brands and the Fresh 5 promotion "should bring them further in line with the discounters when it comes to communicating value", Roberts added.

"You'd expect Aldi and Lidl to react in some way to these price investments from Tesco," Roberts said. "It will be interesting to see whether they, and the likes of Asda, Morrisons and Sainsbury's, do something."

However, Tesco would need to keep on top of availability, stressed Roberts, as some products had already sold out within hours of the promotion launching at his local store.

It follows a major investment in price cuts by Tesco during May - billed as a 100th anniversary gift to customers - which included the introduction of a number of Jack's products in almost 900 of its larger stores and big discounts to products such as avocados (down by 54% to 39p).

A Tesco spokeswoman said customers had "responded well" to the May centenary deals. She added, however, that the Fresh 5 promotion differed as it made it "easier and cheaper to make healthier choices" all year round.