How time flies. In 1984 Darcy Willson-Rymer was holding down a lowly waiter's job at a Pizza Hut restaurant in York. Fast forward 30 years and Canadian-born Willson-Rymer, despite retaining a transatlantic twang, still works in the West Yorkshire city, but today he oversees the Costcutter c-store empire from its York HQ.
In the intervening years Willson-Rymer has led a varied career, taking in some prestigious high-profile posts in UK retail at the likes of Starbucks and Clinton Cards. He evidently likes a challenge: having extricated Costcutter from its 25-year relationship with Nisa, Willson-Rymer has promised to help its members fight off the threat from the encroachment of the supermarkets on its c-store turf. He's even set a long-term target to attract 6,000 franchisees to the multi-fascia operation (up from its current 2,500 figure, including Mace stores).
Over the last few years Costcutter has undergone significant change. In 2007, Bibby took a 51% stake, snapping up the remaining 49% in 2011. In May 2012, Costcutter's chairman and legendary founder Colin Graves quit. CEO Nick Ivel stood aside in September the same year.
Snapshot
Name: Darcy Willson-Rymer
Born: Canada
Family: Married - has two children, both girls
Career: Started out as a waiter at Pizza Hut in York and went on to spend 19 years with Yum! Brands. He worked for three years at Unilever Ventures as MD of Persil Service, which operated laundry dry cleaning, photo processing and key cutting concessions in Sainsbury's. In 2007, he took on the post of MD of Starbucks UK and Ireland before becoming chief executive of Clinton Cards in 2011
Best business decision: "Getting into the service business"
Worst business decision: He commuted to work as MD of Pizza Hut Turkey
Career high: "I'm not a person with great extremes. I love what I'm doing now"
Career low: "Having to make the decision to put Clinton Cards into administration"
Charity work: Willson-Rymer is a trustee at Stop the Traffik, an anti-human trafficking charity. "I have skills that they benefit from so my involvement partly enables me to give something back, but it's also a great leveller no matter what problems I have in business"
Reporting into Sir Michael Bibby, Willson-Rymer has continued to ring the changes. And decisions don't come much bigger than the termination of Costcutter's longstanding supply deal with Nisa, revealed by The Grocer last March, in a tie-up with Palmer & Harvey. On the one hand, it frees Costcutter up from rival retail operations. Costcutter is in charge of its own destiny. On the other hand, its buying power - and that of Nisa - is significantly diminished, with Costcutter opting to develop its own offer through an unproven BuyCo joint venture with new distribution partner P&H.
So, one year on - and with a matter of months to go before the Nisa deal expires in July - how did he reach the decision? And how are the plans progressing? After speaking to 250 of the symbol group's members, Willson-Rymer is adamant it was the right call.
"What I tried to do on joining Costcutter was to make sure I really understood what was happening in the market, what was happening in our stores and what was happening with our retailers," he explains. "The convenience market is red hot at the moment and the decisions that are made now and in the next couple of years will set how convenience retailers run probably for the next 20 years, so while it's a pivotal moment for our company, it's also a pivotal moment for convenience retailing."
The strategy was guided by conversations with Costcutter retailers, during which he asked them three key questions: "What do you love about Costcutter that you want to preserve, what are the things that get in the way that you want me to change, and what are your hopes and aspirations for your business?"
"The convenience market is red hot and the decisions made now will set how convenience retailers run for the next 20 years"
After meeting the first 100 retailers, the feedback he received was pretty much the same, with five key themes emerging. "When it comes to supply arrangements, they're not bothered about who it is - it's the outcomes they're looking for. They all said 'we have to have the right range, the right price and the right promotions, and the delivery - when it turns up - has to be on time and in full. When Costcutter shows up at my store they have to add value.' I then used these five [pieces of insight] as the lens through which I would filter our decision-making.
"First, we had to be in control of our own destiny, and I didn't see how we could be a 1,600-store chain that was not in control of its own range, pricing and promotion. Second, we had to be clear on the whole transparency of pricing. Under the old system I had no idea what they [Nisa] paid for goods - all I knew was what our retailers were charged.
"Also, on the issue of offering the lowest cost, one of the challenges for the industry is there's a lot of spare capacity, so was there anything I could do to address that? If you took the key principles of what our retailers needed, plus my own view on how we needed to deliver it, that enabled us to develop the options.
Overcoming prejudice
Willson-Rymer says he's been delighted by the response of members to the announcement. Although more retailers have switched to Nisa - including Richard Williams in Somerset and York University (on Costcutter's doorstep) - and he refuses to discuss specific numbers - the losses have been more than offset by the 353 retailers who joined since the deal was announced, he claims - including Motor Fuel Group, Dhillon & Dhillon and Heritage Madison, as well as the Mace retailers who moved across as part of the P&H tie-up. And Willson-Rymer remains hopeful that the closer the company comes to the transition - some time after the Nisa deal expires in July - and the "clearer we are on the specifics, the more confident people will be to join the group".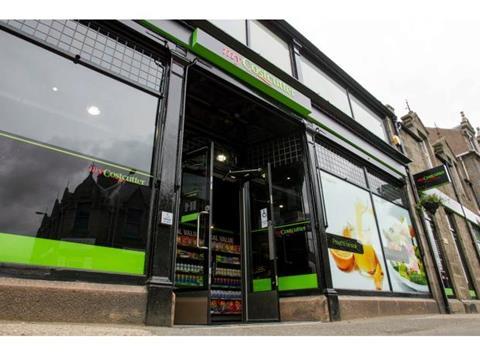 Costcutter started trialling its new supply model in some of its company-owned and operated stores in early 2013, and a select group of Costcutter franchisees were invited to participate in the trial in September last year so it could "test and learn". The trial was undertaken to ensure all systems were compatible, and although there wasn't a "lightbulb moment" during testing that alerted the company to any major issues or solutions, it is now "in a place where we are confident about what we're doing and with a system that's as fully tested as can be," he says.
Since the start of the year, this "test and learn" tactic has also been deployed across Northern Ireland, where Costcutter has some of its biggest stores. Willson-Rymer rebuffs suggestions that the rollout - involving all 120 of Costcutter's Northern Ireland retailers migrating to the new system by the end of next month - was in breach of its Nisa contract, and sees the early migration as vital to the transition to P&H, which built a new depot in the Province to facilitate the supply deal. "If we can get it right in Northern Ireland, we can get it right everywhere," Willson-Rymer says.
Making as early a start as possible on the transition was crucial because of the sheer scale of the changes to the business.
"It's a large-scale transformation that affects all avenues of our business. For example, until we migrate, Nisa is responsible for determining our range, price and promotions and we use Nisa's IT platform to capture orders. We have to bring all of these things in house, which entails putting in place a trading team capable of doing all of the ranging and merchandising.
Willson-Rymer on…
Growing membership… "We have an ambition to get to 6,000 stores, but that's over a long period of time. However, you shouldn't judge success by the number of stores people have. You should also judge people on retailer satisfaction and on the success we're helping people to achieve."
The future of the company's stable of fascias… "Going forward there will be three main fascias within our stable of brands: Costcutter, Kwiksave and Mace. Within Costcutter we will have a premium tier called myCostcutter [see below] and a small store format. Supershop we need because Mace is not available in Northern Ireland, and Rhythm & Booze is there for those areas where we need an alcohol-only format."
"We also needed to put in place people who understand what the consumer need is and how we can drive footfall and average spend through promotions. And then we needed to create the IT infrastructure that sits underneath all that."
The process was tackled in three phases: "plan, build and implement and we're now beginning the implementation phase," adds Willson-Rymer.
How and when the final switchover will take place has yet to be revealed because conversations are currently ongoing with Nisa and P&H. "We're just working through the details now," he says. "Our preference would be to phase it, but we know what we need to do if we want to go big bang."
A key element in ensuring the transition process runs smoothly is the company's newly established buying group. Willson-Rymer says the reason The BuyCo was set up was different from most buying consortia.
"Some sort of consolidation needs to happen and by us pooling our volume together, that should enable us over time to get the right products and the right disciplines in-store and therefore drive value back to independent retailers."
Supplier

negotiations

Costcutter is understood to have promised retailers 5% better trading terms. And so far discussions with suppliers have been positive, says Willson-Rymer, with negotiations at different stages of advancement. "Some we've concluded deals with for all of 2014 and some we're still in conversation with. Overwhelmingly, suppliers have been supportive of what we're doing and we're making good traction. There will be times when you're negotiating where in the heat of battle things happen, but suppliers support the principle of what we're trying to achieve because they know independent retailers are a good and profitable market for them."

Price will clearly dominate these negotiations and although Costcutter refuses to divulge specifics, a company spokesman says that by increasing rebates and removing surcharges, service charges and membership fees, the new pricing structure is much more transparent and easier for retailers to understand, which in turn allows the group to be more competitive.

Another key strand in Willson-Rymer's grand plan is the new three-tier own-label Independent range. Soft launched late last year, Costcutter claims it will bring "better own-brand margins for retailers". Willson-Rymer adds that retailers selling the new range are already seeing "decent rates of sale and consumer feedback to the range has been overwhelmingly positive".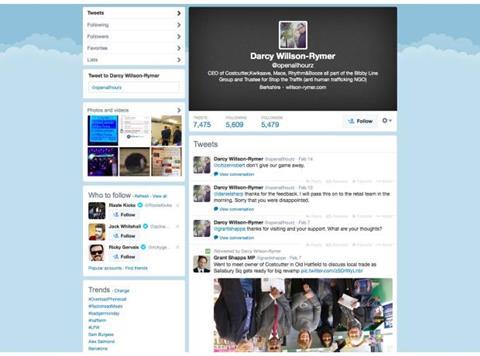 His Twitter account @openallhourz… "The conversation is taking place anyway, so the question is, do you want to participate in the conversation or do you want to be absent from it? For me it's about being present, but also I've always wanted to understand what's happening in all parts of the business and social media is a good place to gather that feedback."
The privilege of service… "The overwhelming lesson I've learnt - and it's a thread that's run through every business and every job that I've ever had - is the privilege of service. In any business you have the opportunity to transform how the customer feels. It doesn't matter how they feel when they walk into your store, but you're in control of how they feel when they leave the store. The fact you can help people to get what they want and transform the way they feel is a real privilege."
So far the Independent range consists of 250 products and is only available in a limited number of stores - by year end the range will top the 800 mark.
The new Independent range and The BuyCo will go a long way towards helping Costcutter deliver on its members' needs, but Willson-Rymer concedes that these factors alone are not going to be enough to fight the threat of the multiples. And with Costcutter's ultimate ambition being to have a 6,000-strong network of stores, the switch is just the start, he says.
Indeed, with extra headcount introduced on both the trading and marketing sides, profits may even be hit in the short term. "The challenge is how in a fast-growing market do we continually stay ahead and make sure we are able to compete effectively? In the end, the fight is between independents and the multiples, and for us to be successful, to continue to grow market share and grow ahead of the market, it's all about the store and having the absolute compelling offer that makes the customer want to come to your store more often and spend more money, and that comes back to the basic fundamentals of retailing: range, price, promotion, service, standards in-store and technology, and effectively what we've done is develop a plan for all of those things."
Only time will tell if Willson-Rymer's grand plan for Costcutter will pay off. As for his own career plan, he says he's really enjoying working for Costcutter and never looks beyond the next job. It's an attitude he adopted from the start in York back in the mid-1980s.
"When I joined Pizza Hut as a waiter in the UK in September 1984, I had a ticket for a flight back to Canada in February, but I was promoted to the position of head waiter quite quickly, and then they offered me a job as trainee manager and I took it, even though I had the plane ticket, because it paid more money," recalls Willson-Rymer. "Then I saw that there was a position called assistant manager and when I became an assistant manager I thought I could make it to manager. Then one day I woke up and I was married with two kids. As a result, I very rarely think to the next position. For me it's about how can I do the best possible job in what I'm doing and how do I make sure I never get ahead of my headlines."