Lockdown, curfews and the rule of six – it has not been an easy eight months for the out-of-home sector. On Friday 20 March, bars, restaurants and hospitality venues closed their doors and for some, this was the permanent end of service.
Many outlets have tried to stay afloat by diligently implementing new rules of social distancing, investing in new booking systems and swapping physical menus for QR codes. Despite this, out-of-home consumption occasions are still 52% smaller than before the first lockdown [1].
This decline in dining out has inevitably led to the growth of eating at home. Before Covid-19, 60% of meals were home-cooked in the UK. This has now increased to 72% and it is estimated just over 500 million more meals will be consumed indoors every week [2], with evening meals expected to rise by 23% [3].
There is also a clear link between the increase of at-home occasions and the type of cuisine on our plates. World Foods, in particular, is in growth, with consumers becoming more adventurous and experimental with bolder flavour profiles and cuisines, such as Mexican, to replace eating out.
This was particularly evident when Rishi Sunak's Eat Out to Help Out scheme ended and with it the incentive for many to head to a restaurant mid-week. World Food saw a significant sales uplift as people created the hospitality experience at home instead.
Maeve Judge, marketing manager for Mexican food brand Old El Paso, says the increased number of in-home occasions has been a key driver of category growth within grocery.
"In recent years, we've seen a steady stream of shoppers entering the world food aisle looking for more exciting flavours at home, but restrictions on dining out have really accelerated growth," she explains. "In fact, Old El Paso gained more than one million consumers during lockdown [4] as people searched for ways to recreate their favourite restaurant dish at home."
Of course, creating a restaurant-feel in your own home requires a certain level of confidence as a cook. But as a nation, we have risen to the challenge.
Since the first lockdown, one in five people have spent time improving their culinary skills and two-fifths say they are enjoying cooking more than ever before [5]. However, traditional British cuisine has fallen out of favour, with consumers looking to world food to inspire more adventurous meals.
The rise of scratch cooking
For many, this reignited love of being in the kitchen, honed techniques and broadened flavour palette are here to stay. Eighty-nine per cent of consumers have vowed to continue making food from scratch even when government restrictions are lifted [6].
However, Covid-19 is not the only factor impacting out-of-home footfall; economic uncertainty is set to play a part. With Friday nights at the local restaurant or pub often the first sacrifice when belts are tightened, it's likely 'food adventure' will continue shifting away from restaurants and into the home [7]. This will make it easier for consumers to cook from scratch and save.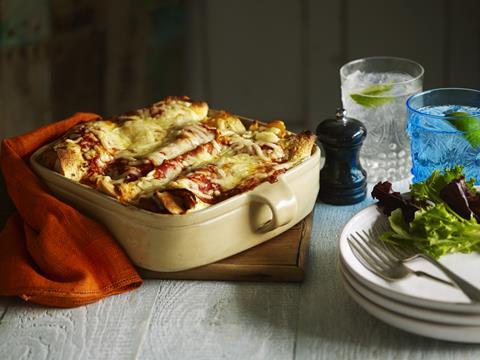 As a result, grabbing a drink or bite to eat to catch up with friends or family will be on the decline, making the at-home meal occasion even more crucial for connecting. We saw this during the first lockdown, where one in five evening meals were about spending time together and 33% of us said mealtimes became more of an occasion [8]. A week into lockdown 2.0, this is predicted to be the case again.
According to Judge, Mexican is perfectly placed to capitalise on this. "Mexican is great for recreating a restaurant experience at home; it's informal, everyone can customise to their personal taste and it's all about sharing," she says.
"Thanks to this, dinner feels like more of a social occasion."
In fact, Mexican food is 32% more likely to encourage 'together-time' for UK families and scores most highly in world food for 'fun and casual' meals[9].
To tap into this, Old El Paso demonstrated how Mexican can bring excitement to the table through a partnership with TimeOut this summer. The 'Fajita Friday Fiesta' series piggy-backed on the rise of staycations and inspired families to have fun through engaging workshops on Facebook.
Retailers also encouraged consumers to liven up lockdown with bespoke World Food meal solutions, such as Co-op's range of Fake-Away boxes, offering meal kits such as Thai, Indian and Tex-Mex. This desire to create a sense of occasion around mealtimes has seen impressive growth for the World Food category at +19.6% [10].
Now, as England finds itself in a second lockdown, this demand for products that bring 'hospitality into the home' is only set to grow. Shoppers will be looking to retailers and brands for meal solutions that break up the monotony of a month indoors, as well as give them a reason to get together.
A Mexican kitchen fiesta might be just the ticket.
SOURCES
1. Consultancy UK, August 2020
2. Consultancy UK, August 2020
3. Kantar, April 2020
4. Nielsen World Foods Quarterly Database 27.06.2020
5. Tesco research, April 2020
6. Tesco research, April 2020
7. Dunhumby, Sept 20
8. Tesco research, April 2020
9. Kantar Consumer Cooking & Meal Trends, March 2020
10. Nielsen Scantrack, September 2020