The grocery sector has rapidly changed in the last year. As the industry has adapted to the strains of the Covid-19 pandemic, what determines consumer confidence, brand perceptions and expectations has shifted significantly.
In response, marketers must overhaul how they manage their brands. While they have traditionally focused on how messages are communicated in terms of content, music, tone of voice and intensity across channels, the modern marketer needs to make their brand purposeful.
Although this trend was evident before the pandemic, the last 18 months have reinforced the need for brands to stand for something and participate in culture, society, and politics. Consumers want to know that the money they spend on food and drink is facilitating positive change.
Given these shifts, marketers need new ways to measure brand performance. With this in mind, Toluna has developed an agile and innovative brand health management framework, which offers a forward-looking measure of brand health.
Developed in close collaboration with Aston Business School, the approach has been rigorously tested and validated across different product and service categories. It fuses traditional brand health measures with forward-looking ones, which link with key marketing outcomes such as brand recommendation and consideration.
This is encapsulated in three key pillars:
Knowledge and equity concerns the brand's current reputation among consumers, based on traditional brand metrics, such as awareness, familiarity, usage, and uniqueness
Future relevance informs brands where to innovate to fit future consumer needs

Vitality describes the excitement, buzz and community spirit around a brand.
The two new pillars of future relevance and vitality were created around measuring brand performance in meeting consumers' evolving future needs as well as brand activity in the digital world. The significance of these pillars has grown in importance, especially over the past 18 months as consumers continue to face considerable uncertainty about the future and are much more reliant on digital technology to support their domestic and working lives.
Case study: Absolut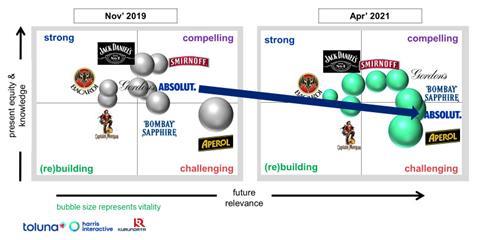 When we compare the brands measured in 2019 and those measured in 2021 in the spirits category, we see that Absolut has improved the most on the important brand measures of future relevance and vitality.
Why has this happened? In November last year, Absolut launched a new global ad campaign celebrating the importance of meaningful connections. The brand's view was that the pandemic had increased feelings of isolation, especially among the younger generation, so the nation needed some positivity.
In response, the campaign encouraged consumers to "share what they can't wait to do" with a #TogetherIRL hashtag on social media platforms for a chance to have their comments featured as part of a digital mural.
In other social media activity, Absolut also offered cocktail-making classes during lockdown, as well as downloadable virtual happy hour backgrounds and competitions to win merchandise. Such activity has built an engaged community of consumers who want to interact with each other and the brand, while following its future development.
Absolut successfully intrigued its consumers, tempting them to seek information about the brand and interact with it. It has also increased their appetite for new launches, as Absolut has been busy in terms of new product development in the last 18 months. While the brand has been hit hard by the collapse of on-trade sales and travel retail, it is healthy and well positioned to bounce back.
Had Toluna focused on a traditional brand health model it would not have a chance to understand how much Absolut has achieved the last year and the impact of the work. The standard brand data would likely not justify the marketing budget that has been spent on the TV campaign and content across all social media channels.
Awareness can be built quickly. But brand image, especially when the aim is fundamental change, takes much longer. It is the latter that ultimately leads to repeat purchases and sustainable growth. Therefore, it is crucial to ensure your brand is measured by models that look at its holistic achievements and show whether your brand is fit for the long-term.
For more information on what Toluna's platform can do for your brand, watch our latest brand health webinar on-demand.