In an exclusive interview, Martin Roberts, group chief retail officer at Post Office, discusses the shifts in traditional retail patterns and how Post Office is using them to bolster the choice offered to customers going forward.
After several years of unpredictable consumer spending patterns caused by the pandemic and the gradual demise of local high streets, a new retail landscape has emerged.
Retail habits continue to be a bellwether for the economy and the outlook for the country. The latest figures for the whole of 2022 have revealed there was a fall in consumer spending of 0.8% on the previous year.
According to the British Retail Consortium, 2023 is shaping up to be a tale of two halves as some consumers continue to tighten purse strings amid a cost-of-living crisis, while others start to spend more confidently and focus once more on travel abroad, online spending and dining out. Retail sales are expected to pick up in the second half of 2023 reaching 3.6% to 4.7%.
These predictions come amid a backdrop of a world that is increasingly 'online' and digital-focused but one where consumers still value face-to-face service and the human touch when faced with questions or seeking help. Last month, the Association of Convenience Stores 2023 Community Barometer found that Post Offices came top when it comes to having the most positive impact locally.
It's a retail space the Post Office is perfectly placed to 'own' whether through the travel money services offered, 'Drop & Go' option for online packages, or the banking services provided and convenience store offerings.
With almost four decades of experience in retail stewardship including senior roles at Sainsburys, Vodafone and UK Operations Director for B&M Retail, Roberts is now at the helm of Post Office retail, the largest retailer in Western Europe.
Since being appointed in February 2022, Roberts has set about using his extensive experience to transform the 11,500 Post Offices across the country into one-stop shops for communities where customer service is prioritised and residents are encouraged to shop and stay local. "As the UK's retail sector continues to evolve, driven by the changes in the way consumers spend and the changing face of local high streets, so Post Office has evolved," he says. "The changes in place will ensure Post Office is future-proofed and our branches are at the heart of local communities providing face-to-face access to essential retail services."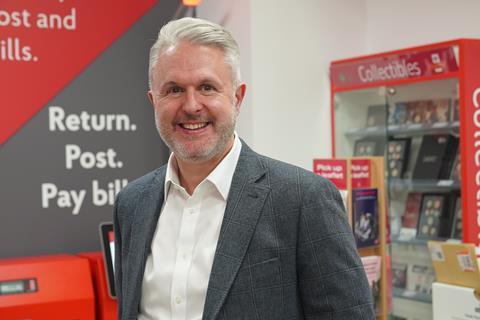 How have retail trends allowed Post Office to redefine itself?
"The pandemic has left consumers weary and navigating a cost-of-living crisis, which has impacted heavily on local high streets. We know from research we have conducted that communities still value and want face-to-face interaction. It's important they know that they have somewhere they can go that is on their doorstep where they will be able to ask questions and be given help with essential services including banking, travel money purchase, parcel collection or returns and bill payments. The local Post Office provides all these services and more including everyday shopping essentials - it has evolved into a one-stop shop; a community hub. Post Offices have also evolved to become essential to the survival of high streets with 93% of the population living within a mile of a branch," said Roberts.
A recent report by London Economics, commissioned by Post Office, found Post Offices are regarded as important economic pillars in rural communities, with more than a quarter serving as the last remaining shop in the village, supporting as many as 30 million visits each year in these branches.
The report found Post Offices are also helping to keep high streets alive by helping generate over £3bn a year of spending in nearby shops and businesses.
In a response to the ongoing rise in online shopping, the Post Office recently secured major contracts with DPD, Evri and Amazon to roll-out click-and-collect services across thousands of branches. These have all been part of a clear strategy focused around enhancing the Mails proposition for Postmasters. Post Office previously only had an agreement with Royal Mail Group for parcel collections at branches. Now, for the first time in its 360-year history, its network – the biggest retail network in Europe – is open to external carriers.
Filling the gap left by the closure of local banks has become the current priority for Post Office. In August alone, over 70 bank branches have had to close their doors for good, with over 200 more due to close this year, taking the total to over 5,800 UK bank branch closures since 2015. This has resulted in an increasing number of people and businesses turning to their local Post Office for their essential banking needs.
"Our Post Offices are in an array of weird and wonderful places – there isn't a one-size fits all when it comes to a Post Office. We have some in garden centres, pubs or in community centres. And in addition to being a safe place for essential services, particularly banking, they provide a great opportunity to pick up store cupboard essentials at the same time," said Roberts.
What do you believe large retailers or supermarkets can learn from Post Office about customer service and retail?
Roberts says: "I have worked really hard on making sure that within the Post Office, we understand what our point-of-presence is: we are an essential retailer playing an essential role in communities through the services and interactions provided. Our postmasters understand their customers and have often known them for decades, allowing them to build trusted relationships and I think that's where you get lifetime loyalty; I'm a big fan of developing lifetime loyalty as I want communities to thrive.
"Our postmasters are pillars of the community and I think what big retailers can learn is… go back to really understanding your customers, understanding what community means and supporting your communities more than ever before."
What next for Post Office?
For Roberts it is vital Post Office continues to thrive and remains central to communities by adapting to their needs.
While business growth is essential going forward, it will be in tandem with rewarding and nurturing its postmasters.
This two-fold goal is being accomplished through Branch Hub, an online branch performance tool and a new retail service: 'Parcels Online'.
It is not uncommon for postmasters to work long hours and, in the past, it has often been laborious to track and analyse sales performance after hours behind the till. This is no longer the case with Branch Hub as it allows them to see how their products are performing, benchmark that performance over time and with peers and link renumeration to the sales data.
Roberts speaks passionately about Branch Hub: "In the last week of July, we had an amazing 22,600 visits on the site. It's also where Postmasters will be able to select materials for Post Office's upcoming Christmas campaign. We'll be running our second Christmas Perfect Day this year. It is vital that leaders from across the business are out in the network supporting Postmasters and our retail partners in the run-up to the peak trading period."
Parcels Online, the newest retail offering from Post Office, targets the insatiable appetite for online shopping and ties in with customer research which has shown that around 20% of Mails market customers only buy their delivery services online4.
Roberts concludes: "Post Office cannot stand still. We must continue to do everything that we can to drive footfall to our branches. Post Office has developed an online sales platform, Parcels Online, to allow customers to purchase postage for parcels directly from its website, and the parcels can then be dropped off at branches." He ends by saying that "Parcels Online is crucial to securing long term sustainable growth for Postmasters through a multi-carrier and multi-channel Post Office."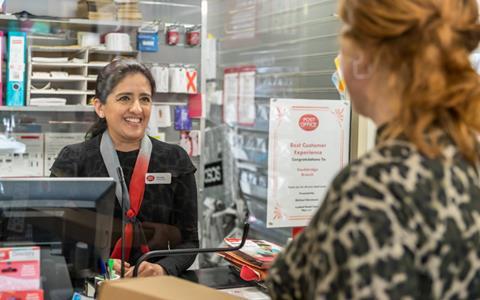 What retail trends has Post Office noticed that larger stores could benefit from?
"Local localism: be close to your community," answers Roberts.
"The pandemic was a great example of where our postmasters were at their best and it certainly developed our social value," he says. "What we've seen post-pandemic is that people still need us and are still choosing to shop locally. Many of our Post Offices offer a fantastic retail blend of essential services including banking and also sell everyday products you would find in a supermarket: they have become one-stop shops.
"In terms of trends, I think customers still want to shop in bricks & mortar sotres and still want to shop locally. They still want good value for money. And they want to be able to blend digital with face-to-face interactions. With our mail strategy and our launch of Parcels Online, I think we're giving them that and the biggest drivers for us are the mail, banking, and travel services we provide; we're becoming pretty famous for those, particularly with banking where all the banks are closing and we are there for customers and can be their number one choice."
How has Post Office asserted its authority in the retail space?
In the last year Post Office has strengthen its Field Team which consists of 94 area managers (and 14 business support managers), all of whom have extensive Post Office and retail experience and are on the ground every week supporting postmasters across the UK.
"The teams we have in place have been crucial to the game-changing success we've seen so far. The support starts at the top and is there every step of the way in our retail network through to the postmasters in our local communities.
"Our in-house team of experts working alongside seasoned professionals are driving the coaching programme we have in place for postmasters. They provide valuable advice on how postmasters can not only run successful Post Offices but thriving retail businesses too.
"Alongside the coaching we provide Branch MOTs which are in-depth reviews of our Post Offices. Area managers visit branches, based on Post Office data, and craft high-level recommendations for each branch to enable Postmasters to make positive changes (where needed), based on transactional, commercial and product-level data alongside real-world projections such as location, footfall and staffing."
Some 2,168 Branch MOTs have taken place since launch in Q4 2022. Most (63%) of Postmasters surveyed by Post Office said they found Branch MOTs valuable and agreed to review data in future, while 40% agreed to make changes off the back of the review.
"These Branch MOTs and the support and coaching provided by area managers lets our postmasters know we care about them and creates a sense of family and unity at the heart of Post Office. Well over two thousand visits have been completed with MOTs happening every week and they are helping postmasters. It's a privilege to lead a great team of people across the business focused on delivering for postmasters and our customers," he concludes.