As the grocery industry continues to focus on progressing D&I, organisations need to track progress and impact to ensure it continues to stay at the top of business agendas. Find out more with GroceryAid.
Despite diversity and inclusion (D&I) strategy remaining at the forefront of business, only one in three organisations has specific targets in place to track progress, as revealed in the 3rd annual report published by The MBS Group and BRC report.
Tracking progress
Of those organisations contributing to the report, 93% had implemented a strategy to improve diversity and inclusion across their business, with many expanding plans to focus on areas such as social mobility and disability. When asked how progress was achieved, contributors cited newly appointed D&I leaders, heavy investment in training and employee-led resource groups.
But with the lack of tracking or targets, how can organisations understand whether real progress is being made? According to The Diversity, Equity and Inclusion Lighthouses 2023 Report, written by The Global Party Alliance, there are five success factors common across DEI initiatives that yielded the most significant, scalable, quantifiable and sustained impact for underrepresented groups. Two of these were setting clear and quantifiable goals, plus rigorous tracking and course correction.

D&I in grocery maturity model
In the grocery sector, the questions of how to set goals and rigorously track impact, is being solved by the launch of the D&I in Grocery Maturity Model.
The model was revealed for the first time in front of 1600 colleagues at D&I in Grocery LIVE! on 6th October.
Chair of D&I in grocery's strategy steering group, Keith Black (Director of diversity, equity and inclusion at Sainsbury's) explains why the programme has chosen to create the new model for partners:"As the programme reaches a level of maturity, it became evident at the beginning of 2023 that there was a need to collectively measure progress. As a result, the programme has created and launched the D&I in Grocery Maturity Model to annually measure the maturity of the grocery industry across retailers and suppliers".
The benefits of new Maturity Model are twofold for the industry. In addition to annually measuring the maturity of diversity and inclusion within the partnership, as a robust representation of the grocery industry across retailers and suppliers, it will identify key areas of focus across the industry to collectively accelerate change.
The value for individual organisations lies in the identification of key focus areas for driving change and tracking tangible progress, whilst benchmarking themselves against the wider industry.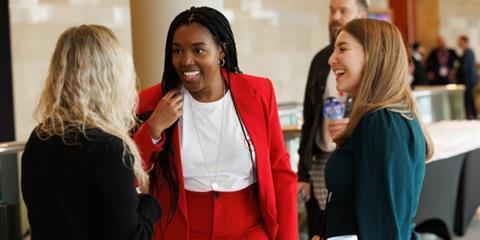 How it works:
The model uses a rating system for 10 developmental areas. The first half is scored from a total business perspective and second half across specific areas of diversity.
Upon completion of the model, partners will instantly receive their individual score and a summary of their maturity level results across all areas scored. The only data published will be the overall Programme score in February 2024.
Simon Smith (Go to market operations director at Kellogg's), Deputy chair of the strategy steering group announced at the event, "The D&I in Grocery Maturity Model will identify key focus areas for the industry and individual partners to drive change and tangibly track progress.
"It's intended, that the D&I in Grocery Maturity Model will both direct what the next stage of the journey looks like for each partner, and also challenge us to raise our game, with specific actions of how we can make progress.
Working with the GroceryAid team and strategy steering group members, we worked hard to design a model that is simple and easy to use, can be completed in under two hours and for all businesses in mind regardless of size or maturity to ensure inclusivity. We believe having the right data that can drive the right action will help the programme to accelerate a truly diverse and inclusive grocery industry".
With 91 Partners, one of the most exciting benefits of D&I in Grocery's Maturity Model is the opportunity to connect with organisations from across the partnership based on key focus areas. These connections are the driving force behind some of the most progressive D&I collaborations in the industry. In 2023, the programme facilitated more than 250+ connections between partners.
Haidee Elise (Head of D&I in grocery programme), "There has never been a better time to join the D&I in Grocery programme, the model will have a fundamental effect on the industry and how we support all partners on their D&I journey to change our industry together".
To find out how you can become a D&I in Grocery Partner, email hello@diversityingrocery.co.uk

Working in partnership with hundreds of supporters across the trade, GroceryAid supports colleagues within the grocery industry from the first day of their employment. To access these services, colleagues can call GroceryAid's FREE and confidential Helpline which is available 24 hours a day, 365 days a year. Visit www.groceryaid.org.uk for more information.
View full Profile