While companies in the food and drink industry might embrace a competitive spirit, there are some cross-industry issues, such as diversity and inclusion, where joining forces for the common good can benefit individuals and the industry alike.
It's not often that something comes along that's momentous enough to make business competitors join forces in any sector, let alone FMCG. The pandemic, of course, was one such event.
"We had to come together and try and solve things to feed the nation," says Hayley Tatum, chief people officer at Asda. "When we were in lockdown, we built quite strong relationships. We're very proud of our own individual brands and our own propositions, but we enjoyed working together and we learned a lot through that experience. It allowed us to drop our guards against our natural competitors for a while, and while they are obviously back up now, those relationships have been forged."
The issue of improving diversity in the sector is also proving to be such a topic, as seen through the work of GroceryAid's Diversity and Inclusion in Grocery (DIG) programme. It brings together partner organisations from across the sector with the shared vision of creating an industry where everyone is inspired to be themselves, can flourish without fear and without prejudice or discrimination.
DIG is a ready-made D&I programme which provides partners with three pillars of change. Shared Learning is the pillar where partners share best practice through a series of live webinars and subsequent collaborations. The cross-industry mentoring programme currently has 328 mentors and mentees senior leaders from the industry and the annual D&I in Grocery LIVE! which will welcome 1600 colleagues from the industry to explore and celebrate, whilst deep diving into more than 65 different D&I topics. It is easy to see how membership has increased in the past 12 months from 35 partners this time last year, to more than 74 and growing, including countless household brands.
"There are some topics that are bigger than our individual competitive agendas, and diversity and inclusivity is one of them," says Caroline Cater, VP Field Sales of Coca-Cola European Partners (CCEP), and a founding partner of DIG, who previously headed up the mentoring committee before moving to the DIG LIVE! steering group.
There has been "massive progress made" over the past 20 years, she reflects, looking back on an industry that was previously "very male, very white and very traditional". Whereas now, our total industry has moved on, both ethically, competitively and from a diversity point of view."
A sense of fairness and respect
It's progress that hasn't happened without considerable effort, however, and it can't be taken for granted, as Pauline Hogg, HR director for Arla UK found. Upon joining the company, the culture was already diverse, but there was still a need to create a defined D&I approach. This wasn't due to a lack of concern, she explains, but rather from a culture created by the company's egalitarian roots.
"We're coming from a Danish head office where the Scandinavian culture is that everybody's equal," she says. "There's a great sense of fairness in that respect, but it also comes with a sense of bias that the world is very fair. And so, to overlay that with the UK context, we certainly have a very different demographic that we're operating in here."
The organisation is "very engaged and really collegiate", she continues, but until recently it didn't have "any narrative, any real sort of framework or platform, to talk about diversity and inclusion properly". So, part of her task has been raising awareness to "broaden the topic out to really bring it to life", she says, and joining DIG six months ago, at the recommendation of her HR peers, has been a key element of ramping up this work, citing the Programme's "ready-made" format as a huge benefit.
Her colleague, Ruby Ali Brett, Arla's category development director, explains that the prospect of exploring diversity and inclusion can be "daunting", but facing up to that fear among peers in DIG is hugely empowering.
"Where do you start taking some of that fear out of the subject?" she asks. "It's to say, 'We haven't got all the answers, but there is no organisation in the industry that has'. But collectively, we can share and learn from one another. We can have that two-way connection because actually what binds us all is this one agenda. We see it as a privilege to hear about what other brands are doing in this space."
Tangible benefits for businesses
Angela Daulby is the UK Commercial Director for the foods division of Kepak Group, which has become a headline partner of DIG this year and has seen the impact of the programme resonating throughout the business, she explains. "For us, the Learning Labs and the mentoring programmes have been crucial, they have helped drive awareness and given valuable insight which we can replicate in our own internal programmes, that's a real tangible benefit for us as a business." she says. "We have staff engaged both as mentors and mentees, this is critical to inclusion and promoting diversity, and for those that have been involved in these programmes to date, we are seeing the results and breaking down barriers, so that's really helping our teams.
Also, hearing from where others in the partnerships have had to learn more difficult lessons can also be of enormous use, says CCEP's Cater, as you can get the inside take from those "who've already been there and maybe hit some of the trip hazards".
For example, a common misconception is that "diversity is the endpoint", she explains, where "you're just trying to change the nature of the people within your business and you're just trying to bring different faces to the table".
That's a part of it, she continues, but there are many more crucial elements to ensuring that an organisation is really grappling with these complex issues around opening up to true inclusion.
"You really need to make sure your leadership is fully clear on what you're doing, you need to have a comms team behind you internally, and you need to have a recruitment strategy, so you can help shape that in a more collective way.
"One thing I'm really passionate about is ensuring you hear all the voices from within the organisation to discover whether it's actually working or not. When you go to individuals in business, particularly at a more front-line level, and you say, 'Tell us what's working and tell us what's not', very often you'll be surprised with what comes back because what you thought was landing might not be."
The answer is to be really honest, to "go deeper and go hunting for where the issues are", she says. "Go looking at the data: where are we moving and where are we not?"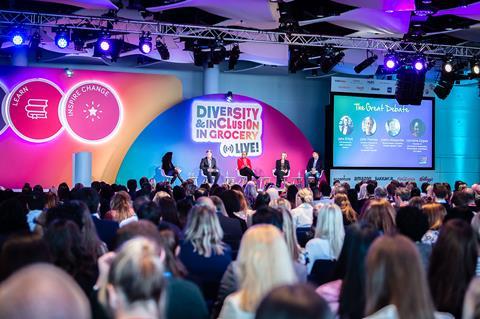 Meanwhile, for Hayley Tatum, being prepared to share your findings and your stories from that exploration, whatever they may be, is where the beauty of partnerships can really be seen.
"It's important to learn from other people and also share some of your own stories because this is an agenda that we are all invested in. Being good in this space is good for the whole sector, the health of all our businesses and ultimately what we offer to our customers."
"I would say investing in DIG is a safe decision for any organisation looking to allocate budget to the right place. You will be joining a community of like-minded businesses that have the same ambitions, are passionate about doing the right thing and understand the pressures of our industry."
To find out more about the DIG Programme and enquire about Partnership, email hello@diversityingrocery.co.uk.
D&I in Grocery Live! takes place at Intercontinental - London the o2 on Friday 21st October, 2022. Tickets are £175+VAT.
To purchase tickets or find out more about becoming a DIG Partner, email hello@diversityingrocery.co.uk or visit www.diversityingrocery.co.uk
Diversity & Inclusion in Grocery is a fundraising initiative supporting GroceryAid, the industry charity.

Working in partnership with hundreds of supporters across the trade, GroceryAid supports colleagues within the grocery industry from the first day of their employment. To access these services, colleagues can call GroceryAid's FREE and confidential Helpline which is available 24 hours a day, 365 days a year. Visit www.groceryaid.org.uk for more information.
View full Profile