The logistics sector is facing myriad challenges but if London is to relieve pressures within logistics operations, effective steps must be taken to tackle the last-mile problem. Prologis UK's head of capital deployment explores what these could be.
Over the last decade, demand for online shopping has increased exponentially The boom in direct-to-consumer retailers has led to an increased number of freight vehicles which are in turn facing increased distances of travel. The recent Worth the Weight: Making London's deliveries greener and smarter report, published by the Centre for London and supported by Prologis, has drawn attention to the need for shorter, 'last-mile' delivery routes, if London is to relieve pressures within its logistics operations and meet net zero by 2030.
Despite being essential in upholding the UK's economy over the pandemic, the logistics sector is now facing its own challenges. Every year £54bn worth of goods flow through Prologis distribution centres in the UK alone, equivalent to 2.6 per cent of the UK GDP, and CBRE data suggests that for every extra £1bn spent by British consumers online, an additional 900,000 square feet of logistics space is needed. According to Prologis, for every square foot of space required for a bricks-and-mortar retail store, three square feet of logistics space is needed to fulfil the same demand online.
Meeting online demand
Online consumers want products to be delivered fast with a growing demand for same-day deliveries. With the speed at which goods can be supplied to consumers beholden to how far away they are, last-mile logistics facilities therefore need to be located within urban areas of dense populations.
This is where the logistics sector currently appears to be on the wrong side of planning policy, says Robin Woodbridge, head of capital deployment for Prologis UK. "While the government recognises the need for more logistics facilities, it's clear that current proposals to reform the planning system are focused on supplying new homes with scant regard for logistics needs. This is a concern, especially when you consider a city as economically important as London has already lost around 100 hectares of industrial land annually over the past decade - while e-commerce has grown 290% in the same time frame.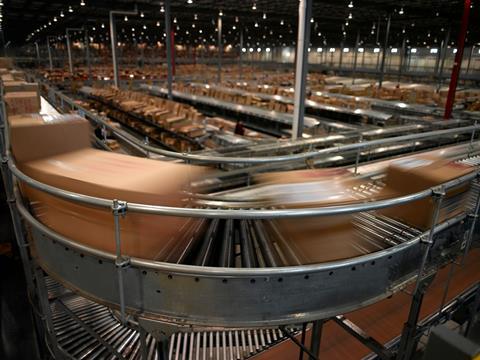 "While locating large warehouses on motorway junctions works well for storing goods at a large scale, locating all last-mile facilities there as well is pretty impossible; as the need for goods to be delivered quickly continues to grow, it's important to make sure there's a body of goods closer to people."
Woodbridge believes the perception that locating these facilities outside of cities is good for sustainability, reducing traffic and improving air quality is misguided. "Through research produced in partnership with MIT, it has been demonstrated that, to be sustainable, last-mile logistics facilities should be located close to where people live to enable the last-mile route to be faster, as well as to allow the use of electric delivery vehicles, where possible," he says.
"In fact, according to the MIT research, online shopping is 36% more sustainable than bricks-and mortar shops. Transport-related emissions can be reduced by a further 50% if the right number of these buildings are in urban areas, and another 27% via the shift to electric vehicles."
The challenges of recruiting talent and space
Crucially, the challenges of recruiting talent and space are interlinked, notes Woodbridge. "Locating logistics facilities closer to where people live not only allows for faster deliveries but creates lots of job opportunities close to home, from entry level to senior management. An Oxford Economics study in 2020 of the 22 industrial logistics parks owned and run by Prologis in the UK found they were indirectly responsible for the employment of around 100,000 people."
To combat the issues caused by the last-mile delivery conundrum, Prologis has invested over £500 million in London and the Home Counties in the past 18 months to ensure it can provide the urban logistics facilities its customers need.
Woodbridge concludes: "'Last-mile' delivery is one of most undervalued ways cities like London can meet their net zero targets and build a better society for future generations."


Prologis, Inc. is the global leader in logistics real estate with a focus on high-barrier, high-growth markets. As of March 31, 2022, the company owned or had investments in, on a wholly owned basis or through co-investment ventures, properties and development projects expected to total approximately 1.0 billion square feet (93 million square meters) in 19 countries. Prologis leases modern logistics facilities to a diverse base of approximately 5,800 customers principally across two major categories: business-to-business and retail/online fulfilment.