Who could have predicted this would be the year when drive-in cinema would make a comeback? This is clearly no ordinary year, and the emergence of drive-in entertainment is just one of a myriad ways Covid-19 has modified consumer behaviour during 2020, not least in the retail space.
Indeed, the increased popularity of drive-in movies actually fits into a wider trend - one that is having a direct impact on the bricks-and-mortar grocery sector too: namely, the growing importance of the family car, which has become a somewhat unlikely ally in the public's fight to keep themselves safe from the spread of the virus.
Fears of catching coronavirus mean Brits are now using trains, buses and the Underground far less in their everyday lives, including to complete their weekly shopping trips. And while the use of motor vehicles has remained relatively steady over the last few months, official government statistics show public transport use is still well below its normal average.
More importantly, as Waze data reveals, the average length of individual car journeys has also grown substantially since the outbreak of coronavirus. Consumers, rather than completing many different journeys every week, have instead chosen to err on the side of caution and are opting to get all their shopping done in a single trip.
This goes some way towards explaining why searches on Google for stops 'on my route' - such as supermarkets and petrol stations - are up an incredible 1,000% year on year, suggesting that if people do have to leave their homes, they simply want to get as much done as possible all at once.
So, what does this mean for the grocery retail sector? Well, on-the-go consumers in their cars represent a critical — and largely untapped — opportunity for advertisers. They can use targeted messages to influence buyer behaviour at the very moment that customers are most ready to act: the final 10 minutes before they enter a store.
Indeed, research shows that marketers whose brands use digital out-of-home (OOH) advertising during that 'final mile' estimate a weighted average 9.1% increase in the volume of sales and an 8.3% increase in the size of sales [1].
For retailers, this shift in the customer journey to their doors has occurred just at the very moment when brand loyalty in the sector appears to be waning, with nearly a third of consumers estimated to have changed supermarkets during the Covid-19 lockdown. Which, of course, means consumers have become far more fickle about which brand they choose to spend their hard-earned cash with. Instead, shopping preferences are now largely being dictated by safety, price and location.
Our latest consumer survey, for example, found 30% believed the price of goods was the main criteria when choosing a store this winter season, while 23% picked out proximity and location as the most important.
And it's the latter which Waze believes is a major untapped opportunity for both retailers and fmcg brands alike, particularly now the average length of a car journey has increased.
Case study: Coca-Cola is coming to town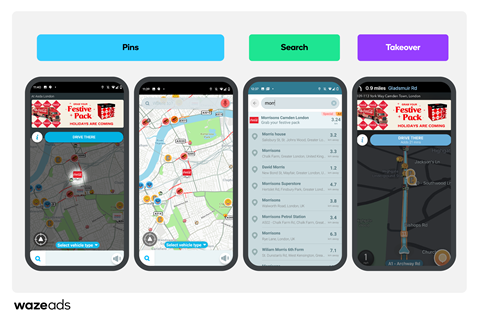 The goal: Coca-Cola wanted to drive spontaneous awareness and brand love while reinvigorating the brand with new energy and emotion by building brand and POS awareness at select UK retailers (Asda and Morrisons).
The approach: The campaign was centered on driving sales of both the Coca-Cola original taste and Coca-Cola zero sugar 24 packs with Branded Pins and Sponsored Search. To stand out even more in a cluttered market, the brand wanted to showcase that the 'Holidays are coming' with Coca-Cola's iconic Father Christmas voice taking over the turn by turn directions in the Waze app.
The results: Over 58k sponsored Navigations to POS locations for the 24-pack offer. Over 54k downloads for the Santa Voice integration covering 520k journeys and over 15 million km driven with the iconic voice of Coca-Cola Father Christmas.
Window of opportunity
Between regulations restricting movement and fear of exposure to the virus, the evidence shows that proximity to home has become a major factor for consumers in deciding where to shop. In the 12-month period to September 2020, we saw that more than ever before as Waze users utilised the app to find retail stores (20% YoY growth) and restaurants located nearby (15% YoY growth).
In another survey commissioned by Waze earlier this year prior to the rise of Covid, Forrester Consulting found that more retailers than ever were seeking to reach these on-the-go consumers, with over eight out of 10 retail marketers saying increasing visits to brick-and-mortar locations was a critical or high priority in the next 12 months [1].
However, three-quarters claimed their companies struggled to reach their target audiences at critical moments of the customer journey, when they're most likely to make a purchase [1].
Digital OOH marketing is the perfect way to achieve this. And retailers clearly agree, with more than one-third of retailers already looking to digital OOH to intercept consumers at critical opportunities and 77% of retail marketers expecting to see such advertising increase sales volume [1].
With digital OOH platforms such as the Waze navigation and traffic app, for example, retailers can target drivers near to their store through a local ad experience, such as branded pins or a Zero-Speed Takeover - a digital billboard shown when drivers are at a complete stop. These ads can then be used to deliver creative brand messaging, the latest offers or, given the ongoing Covid-19 pandemic, provide drivers with useful information when they need it most, such as opening hours.
We have also launched a tool called Location Personalities, which retailers and foodservice operators can use to promote click and collect and drive-through services. In fact, Waze users are searching for drive-through options now more than ever, while 91% of clicks on our Location Personalities search button were followed by a click on a search result.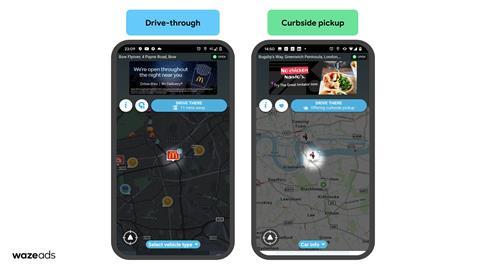 However, it's not just retailers which can utilise digital OOH marketing to reach consumers at crucial moments of influence. Fmcg and CPG brands can benefit too.
Such businesses can sometimes suffer from a lack of granular customer data as their business models mean sales largely occur through a third-party, such as a grocer or independent retailer. This makes it much harder for marketers to build brand loyalty or promote repeat purchases, particularly as discoverability is diminished by a crowded shelf space.
Again, digital OOH advertising is one effective way to overcome this.
Using location-based ads during the 'final mile' of a customer's journey allows brands to connect with consumers in real-time. The same Waze/Forrester research found three-quarters of CPG marketers expect digital OOH to boost sales volume, and a similar percentage (73%) expect the same for size of sales [1]
Take Danone. The Paris-based food company used the Waze app to help promote its Light & Free yogurt brand in its native country of France using a combination of Pin, Search, and Takeover ads, all of which led to increased sales by 6%, navigations to points of sale by 10% and ad recall by 220%.
We have also seen similar campaigns, such as the launch of Vittel's Fruits Bio Infusés brand, cause a 'halo effect', leading to a surge in sales of other Vittel products that haven't actually been advertised.
On average, Waze customers see a return of 17:1 on ad spend each year [2].
These are just a couple of examples of how crucial it is for companies to target customers at the most opportune moment and to influence buyer behaviour.
As gaining brand cut-through becomes harder than ever and consumers stick to the safety of their car in light of the pandemic, those final 10 minutes of the customer journey are only going to become more important for marketers.
Could location-based digital OOH be the answer for you?
Ruairidh Roberts, Waze UK country manager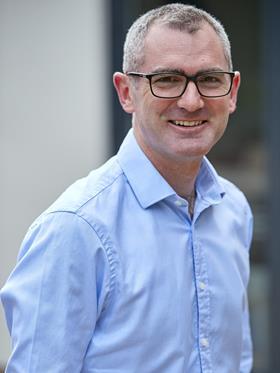 Ruairidh Roberts leads Waze's business and operations in the UK as the real-time navigation app's country manager. His main focus is working closely with Waze's advertisers across several industries to help them create meaningful local ad experiences through destination-based marketing.
Roberts brings a wealth of experience to the Waze team coming from his role as industry head for travel at Google, which he began in 2013. In his previous role, he led the technology company's relationships with leaders in the hospitality and tour operating sectors in the UK and across EMEA. The decade prior to this was spent at The New York Times Company.
SOURCES
[1] A Forrester Consulting Thought Leadership Paper Commissioned By Waze April 2020. 'Intercept Consumers On The Go With Digital Out-Of-Home Advertising - Realize Business Results By Driving Consumers Through The Last Mile'
[2] The Total Economic Impact™ of Waze Ads, a commissioned study conducted by Forrester Consulting, August 2020.