With the UK setting out its plans for decarbonisation, the food and drink industry is clear that government support and collaboration will be key to achieving the net zero target. Wales' public-private collaborative approach is a leading example of how this can be achieved.
In 2021, the UK saw a renewed drive towards decarbonisation. While much of the focus has been on pledges made and agreements sustained at the COP26 summit, the food and drinks industry has been making great strides in its journey towards tackling carbon emissions. To date, the food and drink industry has collectively slashed carbon emissions by 55% since 1990, surpassing a target set for 2025
And this is a crucial step forward for the UK in tackling the climate crisis, since food systems are estimated to contribute around one quarter of global greenhouse gas emissions. But to successfully transition to net-zero and create more climate-resilient economies, government support and collaboration are key. Indeed, a report published by the FDF and SLR Consulting, that sets out how the UK sector's net zero ambitions can be met, highlights the support it will require from government in order to transition to carbon neutrality.
Yet in one corner of the UK, this spirit of collaboration is already the hallmark of the food and drink industry. With the backdrop of the extraordinary challenges posed by the pandemic and exit from the European Union, the Welsh Government unveiled its vision for 2022 and beyond signalling its commitment to supporting the Welsh food and drink industry in maintaining its global reputation for excellence and in achieving its decarbonisation plans.
The document builds on the successes of its previous strategy, which saw the ambitious target of 30% growth for the industry exceeded a year early, with record sales of £7.5bn recorded by Welsh food and drink businesses in 2019. And far from being driven solely by government and its civil servants, there is a recognition that at the heart of everything so far achieved has been a true partnership between business, academia and government. This includes a network of sector-specific clusters that bring like-minded businesses together spanning a range of different interests ranging from seafood and horticulture through to export and sustainability.
And this joined-up approach is vital as the strategy is intended for every business involved in the food and drink industry, from retailers and exporters all the way through to manufacturers and processors and those working in tourism.
World-leading sustainability credentials
To help the industry decarbonise and maximise the opportunities transitioning to net-zero provides, a Decarbonisation Action Plan is being developed which will be crucial in supporting the industry to achieve the target set out by the Welsh Government of making Wales a net-zero country by 2050.
Businesses are being encouraged and supported to develop production practices that improve carbon footprints and resource use, while ambitious targets have been set to halve food waste, and prevent biodegradable materials going to landfill by 2025. Existing accreditation schemes relevant to decarbonisation have also been mapped out and businesses will be supported to commit to them, with this commitment being a condition of future government support.
Research is also due to be undertaken to better understand the carbon impact of food chain and supply systems. Critical to this will be developing an understanding of how food and drink manufacturers and their supply chains contribute to the carbon budget, and identifying new technologies that can reduce the carbon impact throughout the food system.
It's hoped this research will then be used to develop a specific action plan that sets out appropriate steps for further reductions in carbon emissions across the industry and provides direction to reduce the carbon impact of manufacturing and processing through process efficiency, energy usage and waste reduction, as well as links to other Welsh Government initiatives.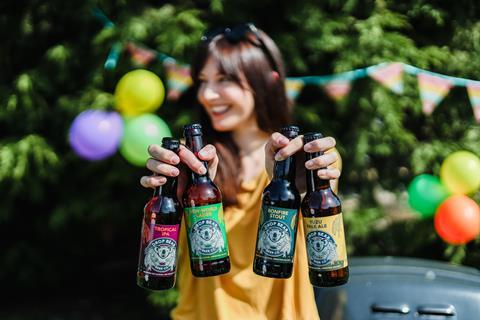 Building a more inclusive and sustainable economy
One of the success measures of the strategy document is to increase the proportion of businesses that hold independent accreditation, and a recent example of this in action is Swansea alcohol-free brewery Drop Bear Beer Co, which has received 'B Corporation Certification' that places it among an elite group of environmentally-focused food and drink businesses.
B Corps are for-profit companies that use the power of business to build a more inclusive and sustainable economy, with the certification signifying that a business meets the highest verified standards of social and environmental performance, public transparency and accountability.
The designation makes Drop Bear Beer Co Wales' 10th B Corp business. An accolade that has buoyed co-founder Joelle Drummond: "We are incredibly proud to become Wales' first B Corp brewery. Our mission is to brew the best alcohol-free craft beers and help build a better world in which to drink it, so as you can imagine, achieving B Corp status is incredibly important to us.
"We all have a responsibility to take action and do so now. Our customers want to shop more sustainably and we want to be able to reassure them that we don't just talk the talk, we walk the walk. B Corp status helps us do just that."
By supporting numerous projects worldwide, to date the company has carbon offset 66 tonnes of greenhouse gases (CO2e) and planted more than 800 trees. To increase its tree planting commitment, the brewery has launched its 'Cheers to Trees' campaign. Between November and 1 January 2022, a tree will be planted for every order received through its website.
Drop Bear has also signed up to the Welsh Government's Equality and Green Growth Pledges. The Green Growth Pledge helps Welsh businesses take pro-active steps towards improving their sustainability, and offers a range of straightforward, practical actions to achieve their goals.
Carbon-neutral crops
Another stellar example of the sustainable growth at the heart of the Welsh food and drink industry is potato company Puffin Produce, which has an annual turnover of up to £27m and employs 180 staff at peak season. Over 60,000 tonnes of potatoes are washed, sorted and packed each year at its Haverfordwest HQ, with its Blas Y Tir and own-brands prominent in major retailers.
The company recently launched the world's first carbon-zero potatoes, with its 'Root Zero' range certified carbon-neutral and grown using sustainable farming practices to remove carbon dioxide, create healthy soil and increase local biodiversity.
In addition, over 80% of Puffin's output is grown within 15 miles of the firm's Pembrokeshire base, with 85% of its potatoes packed and distributed, and the rest going into foodservice, while surplus spuds go into stock feed resulting in zero food waste.
Managing director Huw Thomas points to the importance of continued investment and government support to ensure access to the latest technological developments, which serve to buoy business and morale, as well as address the strains the industry is under due to Brexit and the pandemic. "With Welsh Government support and grants, we have been able to invest £9m in expanding and increasing automation in the factory, boosting efficiency, and reducing our reliance on eastern European labour," says Thomas.
"Like other producers in the sector, we need to be alert to future opportunities offered by our relationship with Europe, and so we keep up to speed with industry news and developments."
Collaborating to deliver net-zero
The Welsh food and drink industry has come a long way since the release of its last strategy in 2014. The new vision reinforces a spirit of collaboration and a preparedness to build on Wales' world-leading sustainability credentials, while recognising challenges such as the effects of Covid-19 and the UK leaving the European Union, both of which continue to impact the industry, and wider society.
"It needs all of us to work together towards our shared goals," says Minister Lesley Griffiths. " We know from previous strategies that the food and drink industry has a vital role to play in the evolution of the Welsh economy and there is a strong desire to maintain this momentum.
"We are clear that these objectives are just the beginning and that this vison must have the capacity to be flexible so that it can respond to changing circumstance. This is vital to build on our shared success."
To find out more about the Welsh Government's strategy for 2022 and beyond, click here.