In a world where broad-based inclusion has become a right for consumers from all walks of life, grocery businesses still need to address ease of packaging use for those with sight loss – and braille is not the only solution, says Royal National Institute of Blind People (RNIB).

In the UK, it is a legal requirement for businesses to include ingredients and nutritional information on food products, meaning everyone has the right to know what they're buying.
But the reality is – as is the case in so many other walks of life – this right does not apply to people with sight loss. Shockingly, 9 out of 10 blind and partially sighted people say the information on food packaging is either difficult or impossible to read. And it's only by considering the implications of this that food & drink businesses can understand what a challenge this creates. Imagine not being able to know the ingredients or nutritional information of a product – or use-by dates, prices and cooking instructions.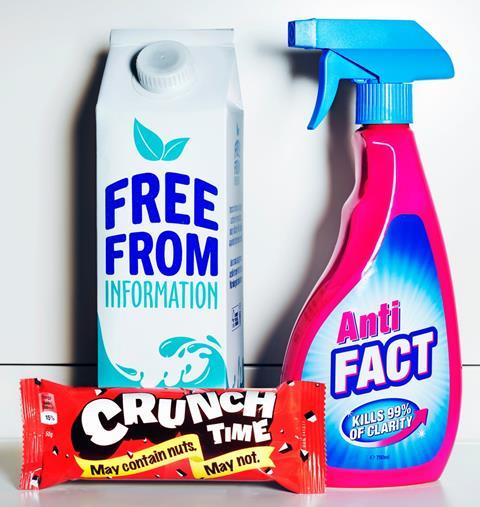 For those with sight loss, it can be exhausting and frustrating, particularly when dealing with other factors like allergies and intolerances, or ethics-related and weight-related diets. Moreover, the same issue applies to household cleaning products, so the weekly shop at the supermarket becomes a far more arduous chore than it needs to be.
"Just like everybody else, it's clear that people with sight loss should have equal opportunities to live the independent and spontaneous lifestyle they choose, through choice and access to information," says RNIB. As a result, RNIB is raising awareness and calling on businesses to think accessibly in their design, as part of its broader goal to break down the barriers faced in society by people with sight loss.
So far, on the charity's journey towards redesigning the world with accessibility in mind, it has partnered with the likes of the Bank of England to create accessible bank notes using raised dots, with Lego to create braille bricks, and with Herbal Essences to create accessible shampoo and conditioner bottles using tactile markings. Now, the organisation is turning its focus on packaging, calling on businesses and manufacturers to reconsider their product and packaging designs.
Accessible design is better for everyone
RNIB's mission is built on the knowledge that designing accessibly has wide-reaching benefits to both businesses and end-consumers, beyond the immediate impact on the lives of people with sight loss. That's largely because when products are intuitive, easy to use and exceptionally clear, the user experience is better for everyone.
"Many of the life-changing products we rely on every day were created with blind and partially sighted people in mind," it says. "Amazon Echo, audiobooks and the QWERTY keyboard are three such examples.
"Inclusive design has never been so important in ensuring businesses are developing their products and services in the most innovative ways, and to the widest market possible."
The solutions
Promisingly, however, change is within reach. RNIB works with businesses to find the right solutions, technologies and tools to make their packaging more accessible.
"Braille can only provide limited informationon packaging and requires costly manufacturing processes"
Contrary to popular belief, adding braille to packaging isn't always the most effective solution. Braille can only provide limited information on packaging and requires costly manufacturing processes. More importantly, less than 10% of blind and partially sighted people know how to read braille.
One of the most effective technologies available to date, however, is NaviLens, reveals RNIB. "NaviLens means businesses are now able to offer an inclusive, multi-purpose user experience," it says. "The technology works by making vital information – such as that found on packaging – accessible through a simple, subtle artwork change (inclusion of a NaviLens code), which is connected to the NaviLens app on the end-user's smart device, such as a smartphone.
"It builds on the benefits of QR codes by enabling far more intuitive access to information.
That's because activating NaviLens does not rely on distances or angles. This is vital for people with sight loss, who may not know exactly where a product sits on the supermarket shelf, it notes. More than one code can be acquired at the same time and no focus is required, making information accessible even on the move. Information is then automatically presented and communicated according to user needs, such as being read aloud or shown in large print on a smartphone.
"And, just as the development of Amazon Echo and audiobooks have benefited so many people, the benefits of NaviLens also extend beyond people with sight loss," it explains. "For example, the technology allows customers to translate packaging information into multiple languages."
Yet despite NaviLens being so innovative it isn't the only solution, so RNIB works with a wide range of businesses every day to get the best solution for all. "Whether it's a start-up or a large corporation, there's always a way to make a company a better place for people with sight loss," it says.
Bringing it to the public eye
To further highlight the problems that come with inaccessible design, RNIB just opened the 'WhatsIn Store' – a stunt that illustrates just how important it is to know what products a consumer is buying.
The organisation has filled an entire corner shop with a mixture of blank and ambiguously labelled products and allowed unsuspecting members of the public to interact with them, all in front of hidden cameras. It put people in the shoes of those living with sight loss, creating confusion or frustration when trying to shop. The shocked reactions confirmed why this technology is needed in the first place. There was no way that they could tell what was inside the packaging.
Supported by print, social and direct mail, the campaign aims to encourage business leaders to work with RNIB to advise and support on how make their product offerings more accessible to people with sight loss
Final proof points to new businesses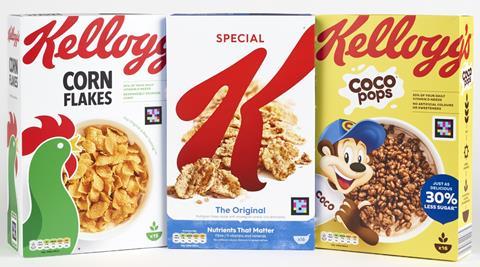 With the support of RNIB, Kellogg's is proving to be a pioneer in the accessible packaging space, after recently committing to rolling out NaviLens technology across all of its cereal boxes in Europe, following a successful trial period. "We are hoping that brands see this as an opportunity to get on board after seeing the success achieved with one of the biggest brands in the world," says RNIB.
"It appears that, at long last, accessible design is moving in the right direction."
To find out more, please visit: https://www.rnib.org.uk/about-us/design-for-everyone-campaign
Contact details:
For further information please call RNIB Business on +44 (0)1733 375 370 or email Businesslink@rnib.org.uk
Source
1 https://www.gov.uk/guidance/food-labelling-giving-food-information-to-consumers