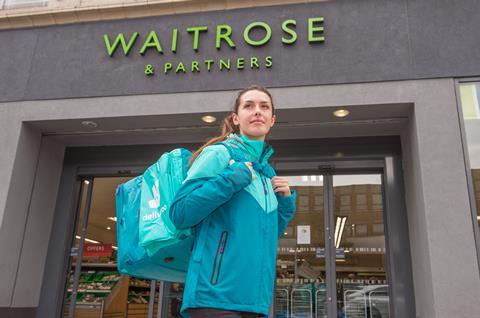 Food retailers could be asked to share some of the proceeds of the online grocery boom under a new lease model being explored by major landlords.
The model, devised by data specialists CACI, sees rent calculated by factoring in the so-called 'online halo effect' on a physical store, as well as sales through the till.
It would also factor in the location's footfall to arrive at a 'top-up' to supplement a base rent.
A rise in sales – either in store or online in the catchment area – would see the top-up increase, while low or less relevant footfall would see it drop.
It was particularly relevant to grocers in travel hubs or shopping centres who had seen online sales surge during the pandemic through click & collect, store-pick or Deliveroo, said CACI.
"It can feed into the Deliveroo aspect," said CACI retail managing consultant Chris Lidington. "Co-op, Waitrose, they do Deliveroo. That means the location is providing value through an additional sales channel."
CACI said it had already been asked by one landlord to speak to Iceland about it. The frozen food specialist has enjoyed massive online growth during the pandemic, largely through store pick, with deliveries up a claimed 300% in the year to September.
The landlord is one of 50 or 60 in talks with CACI over the new model, including shopping centre giant Hammerson, which is assessing it for Aberdeen's Union Square.
It would not mean tenants paying more because base rent would drop by a minimum 30%, according to CACI, which acts as a third-party data analyst under the model.
Lidington said: "The growth in online for grocers is substantial, and that's important. And if you also think about the travel grocery sector in terms of a Sainsbury's or Waitrose in train stations, that footfall element is really important.
"That part would be really valuable feeding into their leases with, let's say TfL for argument's sake, looking at the Waitrose in King's Cross, with entry and exit count."
Both retailers and landlords would see the other's data only as an index provided by CACI to set the top-up level.
Rent factoring in online sales has become far more attractive to landlords than so-called turnover leases, according to CACI property consulting group director Alex McCulloch.
"It's a crucial distinction because any rent today which is just turnover top-up is only going in one direction," he said. "Since the start of Covid we've seen online sales go from about 30% of all comparison goods spend to 42%, so if you have a turnover-based top-up, that's only going down."