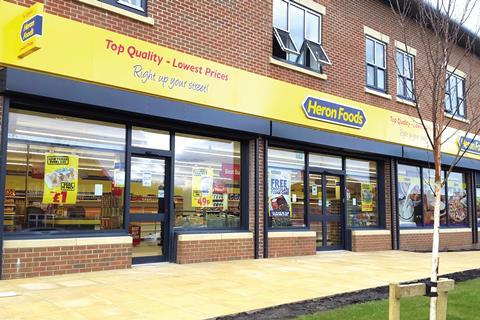 Heron Foods has scaled back its store opening programme for the financial year, with 15 stores set to be opened in 2020-21 instead of the usual 20.
The target was reduced following the initial lockdown, according to accounts newly filed at Companies House for Heron Foods Ltd, which also warn construction work could be delayed by the pandemic.
The disruption to the programme comes despite a strong performance for the B&M-owned frozen food business, with turnover rising 10% to £409m in the 12 months to 28 March 2020. The growth was driven by a "strong like-for-like basis", according to the accounts.
Gross profit was £45.6m at a margin of 11.1%, compared with £41.8m with an 11.2% margin the previous year. EBITDA was up 23% to £23m.
Sixteen stores were opened during the period, while two were relocated and four closed. Two of the closed stores were at the end of their lease, and the other two were taken by parent B&M.
The results follow a half-year trading update from the group last week, which put Heron's revenues at £216.2m in the 26 weeks to 26 September, up 14.8% year on year. The update said Heron was on track to have opened 16 stores net in the full year to March 2021.
The new Heron accounts at Companies House say: "Central to the future success of the company is the store growth plan. The company has a strong pipeline for new store openings, however following the pandemic lockdown that number has been scaled back to 15 new stores for 2020-21."
The accounts say the "vision is to continue to grow our business by 20-30 stores per year" including more in the north and midlands and a "push out into new geographical areas as and when appropriate new sites can be found".
However, the accounts add the pandemic could "affect the timing of new store openings in relation to completion of works by contractors".
Heron Foods has about 300 stores and continues to supply its frozen and chilled ranges to roughly 80 branches of B&M.