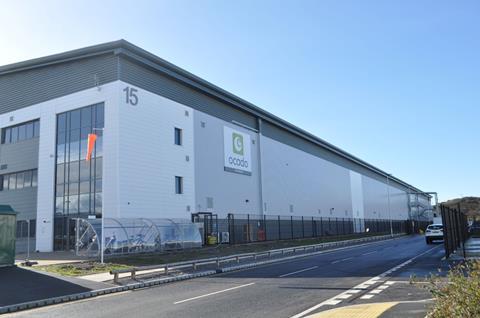 Ocado has launched its 'mini' CFC in Bristol, which it says will give it additional capacity to onboard new customers.
The 150,000 sq ft facility – around a quarter of the size of Ocado's Erith CFC – has capacity to fulfil more than 30,000 orders per week.
The facility offers customers in the region "shorter lead times for delivery" the online grocer said, as well as opening up capacity for it to onboard new customers. Despite huge growth in demand for online groceries since the start of the pandemic, Ocado Retail has been unable to take on significant numbers of new customers due to its CFC-reliant operating model.
A further two CFCs in Purfleet and Andover – which will fulfil 85,000 and 60,000 orders per week respectively – are under construction and "remain on track" to open at the end of this year.
Once all three new sites are fully ramped up, Ocado Retail will have increased capacity – currently around 374,000 orders per week – by 40% on 2020. Ocado Retail has another 'mini' CFC planned to launch in the first half of 2022 in Bicester.
The Bristol site will support around 815 jobs when it is operating at peak capacity, made up of warehouse operatives, management, engineers, tech support and delivery drivers.
To meet demand for online deliveries, many supermarkets are leveraging their store estates, picking goods from aisles, and distributing them to customers in the local area. Asda last week said it was closing its CFCs in Dartford and Heston with future online grocery orders in the south of England to be picked from local stores. The supermarket claimed this would improve levels of availability, capacity and service. Others, like Tesco, are establishing micro fulfilment sites within larger stores.
"Grocery boardrooms worldwide are wrestling with the question of how to build online capacity that not only meets the growth in demand they have seen in the past year, but that also serves that demand profitably and flexibly in the long term, with a better customer offering than competitors," said Luke Jensen, CEO, Ocado Solutions.
"This mini CFC underlines the flexibility Ocado's solutions bring to our partners, complementing the scaled benefits of Ocado Retail's larger sites and shortening the order lead times available to customers in Bristol. We look forward to the next Mini go live in the UK with Bicester, and the first in North America with Kroger, in Romulus, Michigan".