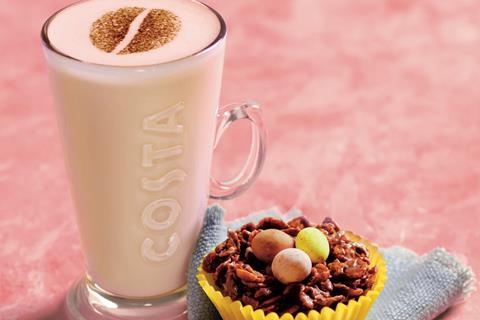 Costa Coffee has launched its spring menu, which includes an increased range of vegan and gluten-free treats.

Available in stores nationwide from this week, the refreshed menu has savoury and sweet options.

New products include a gluten-free raspberry & coconut bar, with gluten-free pastry, a raspberry and sultana filling, and a coconut topping. A gluten-free vegan fruity flapjack filled with oats, sultanas, cranberries and apricots also features.

Snack wafers in cocoa and vanilla flavours, along with a choc-o-crunch bar, are making a seasonal comeback in stores.
A cheese scone and cheese twist are back on the menu, both served warm. The cheese scone is made with mature Irish cheddar, parmesan-style cheese, chives and a spice hit of cayenne pepper.

A healthier breakfast option has been added to March's menu with the introduction of the Costa Coffee bircher. Made with Greek-style yoghurt, grated apple, apple juice, oats, blueberry and mixed berry compote, the spring breakfast is topped with dried cranberries and pumpkin seeds.

"With spring being a time to try new something new, there is no better time to introduce new seasonal items for our customers to enjoy," said Eric Tavoukdjian, Costa Coffee's commercial marketing director. "We are excited to expand our vegetarian and gluten-free range, as well as offering a variety of Easter-themed treats to Costa fans."