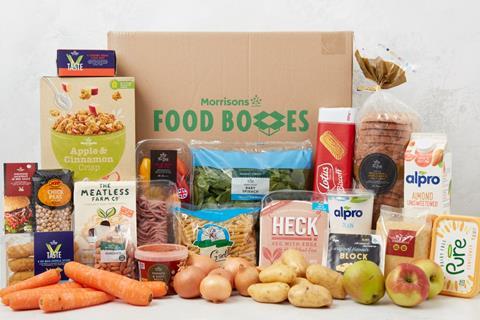 Morrisons has launched a new food box for vegans.
The Vegan Essentials Food Box, which costs £35, weighs just under 15kg and contains 23 different items. It includes lentils, jackfruit, couscous, meat-free sausages and mince, dairy-free cheese and almond milk – as well as a mix of fresh fruit and vegetables.
The retailer said the box had been created in response to requests from vegan customers following the launch of Morrisons' other food boxes, and would be enough to feed two people for a week.
Last month Morrisons CEO David Potts said he wanted the supermarket to become known as 'the food box company', with the latest idea following others such as its Gluten-Free Food Box and British Farmers Food Box.
"Many of our vegan customers have got in touch to ask whether we could create a food box for them," said Morrisons head of food boxes Tessa Callaghan.
"We've sourced some of the best vegan food for this food box as we continue to play our full part in feeding the nation during these unprecedented times."