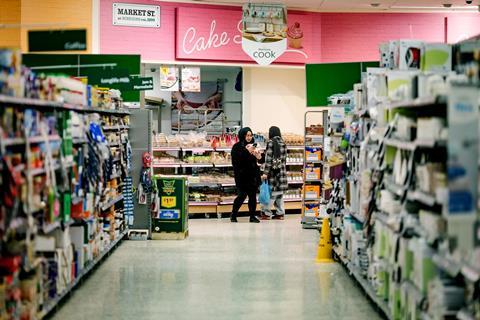 Morrisons has announced plans to slash its range by up to a third to tackle the coronavirus crisis and is urging the government to suspend rules on how it delists products to help the emergency measures.

CEO David Potts said the rationalisation of products would allow the retailer to more quickly replenish shelves that have been emptied of ambient and, most recently, fresh food such as bread.
As part of a plan to put Morrisons on what he called a "war footing", Potts called for [GSCOP] "regulations that work perfectly well in peacetime to be changed". In particular he called on the government to allow Morrisons to delist products without the need to give suppliers "reasonable notice".

Morrisons has resisted calls for emergency limits on the amount of products shoppers can buy, with Potts warning they can be interpreted as a "target as opposed to a cap" by consumers.

Instead he said it would put the focus on a huge rationalisation of its range, with Morrisons having asked suppliers to "turn on a sixpence" to deliver the change.

"One of the things that we are working on is to edit the range to deliver volume," said Potts.

"For example if you do 30 types of sausages, you do 10."

Morrisons has already shifted to a slimmed-down range on some items, including moving from 17 core bakery lines to just seven, which it said had enabled production of bread to rise from 850,000 loaves to 1.4 million loaves in the past week.
"We are doing this to make sure that suppliers run at maximum efficiency, with maximum throughput," Morrisons COO Trevor Strain told The Grocer.

"There is a risk that some of these restrictions on range could have a particular GSCOP exposure. We are not asking for GSCOP to be suspended. We are focusing on elements of it."

Potts added: "As responsible suppliers to the country we have an obligation to all our stakeholders." He claimed that in many cases moves to rationalise production would be welcomed by suppliers.

"We are going to have to change the market, which is used to a broad supply of products, to become a bit narrower," he said.

"In order to do this we need regulations that work perfectly well in peacetime to be changed."

Last week Morrisons announced it was to introduce "immediate payments" for smaller suppliers in a bid to prevent a cashflow crisis caused by the coronavirus outbreak.

It said the move would mean farmers, local food makers and many more small businesses would be paid early to help them deal with the impact of the outbreak.

Morrisons said it was also temporarily re-classifying a 'smaller supplier' from those with up to £100,000 of business a year with the company, to those with up to £1m. This would mean an extra 1,000 small food businesses would qualify for the emergency payment terms.