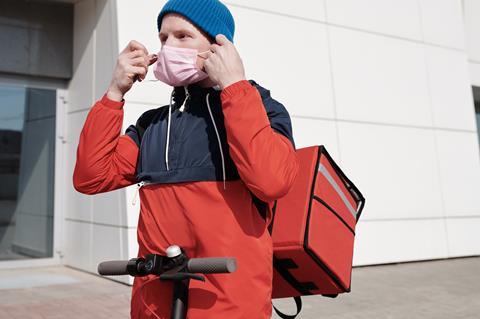 Supermarkets are adding scores of SKUs to their rapid delivery services in the wake of booming take-up of the channel. But the convenience and improving selection offered by rapid grocery comes at a premium for consumers, who pay around a third more for a basket arriving swiftly at their door than they would have going to the store themselves.
Co-op has added 215 new listings to its Deliveroo service, according to new analysis from Edge by Ascential, while M&S – which increased the number of "city and town" store locations fulfilling Deliveroo app orders to 142 in May – added 83.
Aldi, which struck a deal with Deliveroo in May to provide a rapid delivery service for the first time in the UK, added 56 products during the period observed – from the beginning of June to mid-July – while Morrisons had 65 new listings.
Across all retailers, the biggest increase in new listings was found in the ambient category followed by beers, wine and spirits.
And the rapid-service ranges are not simply being added to. All retailers have been adjusting the item selection by delisting several products, with Co-op pulling 151 products during the period. Ambient and BWS saw the most delistings across retailers generally, along with ready to cook.
The analysis of the rapid channel from Edge by Ascential shows a huge range in the total SKUs being offered by supermarkets.
Typically more mature rapid services had larger ranges, while newer ones, and those leveraging third party courier platforms, had a far smaller selection.
Sainbury's Chop Chop service – which initially launched in September 2016 but has been ramped up through the pandemic – offers 3,000 SKUs. Ocado Zoom – which reached "planned end-game capacity a year ahead of schedule" thanks to coronavirus prompted demand – boasts 10,000.
Deliveroo-partnered retailers kept SKUs in the hundreds: Co-op at 300, M&S at 260, Morrisons at 230 and Aldi at 200, the analysis found. However, the ranges have grown significantly since the services were launched.
Asda, which joined forces with Uber Eats to offer grocery delivery in as little as 30 minutes in Leeds and Birmingham in July, has entered the channel with 325 total products: 103 of them in ambient, 50 frozen and 40 BWS. Ready to cook, chilled meat and baby also feature prominently.
Consumers using rapid grocery delivery services pay a premium of up to 35% on baskets delivered swiftly to their door, the analysis reveals.
The majority of supermarkets offering such services add more than a third to the cost of a £20 basket when swiftly delivering them to customer homes.
Some retailers make up the premium by increasing the price of items in rapid online stores, with basket costs compared with physical stores up to 25% higher. Others choose to add a service charge, while most add a delivery fee, which range from 99p to £4.99.