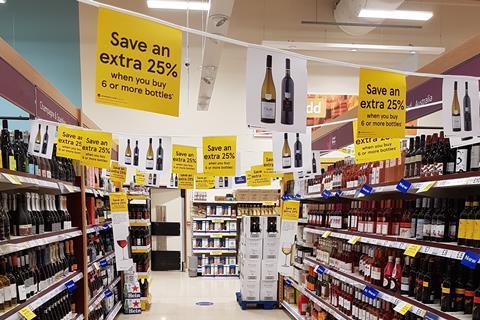 All but one of the major supermarkets have returned total range counts back to near pre-pandemic levels, but with significant adjustments across product categories.
According to new Assosia research, for the top six supermarkets there are now 2,223 fewer product lines than at the start of March, a net fall of only 1%. In mid-June, SKU count had fallen by 9% across the majors, raising concern among suppliers that their products may not return to shelves.
The current product count at Sainsbury's and Waitrose is now only 1% lower than before the crisis, while that of Ocado is 1% higher, and Morrisons 2%. Tesco's SKU count is flat.
The exception is Asda, which has 11% fewer products in its overall range as of the start of November compared with early March. That equates to some 2,691 fewer available products.
Asda said its own data showed a range reduction of 4%, adding that the Assosia data had failed to pick up thousands of available SKUs.
"We continue to refine our range to deliver the best value and choice for customers in areas that matter the most. However, the figures quoted in this third party research are not an accurate reflection of our current SKU count," Derek Lawlor, chief merchandising officer at Asda said.
However, there are winners and losers across categories. In all supermarkets except Ocado, fresh food SKUs are down significantly, with Tesco pulling some 361 products (7% of total category SKUs) from the category and Asda 373 (11%). Only Ocado's fresh range grew – by 767 products.
An Ocado spokeswoman said its range was "at least double the size of any other grocer" and that "this position has been further strengthened with the September launch of M&S products, with fresh food in particular".
Ranges of frozen food have grown everywhere except at Asda and Waitrose, while the selection of health & beauty products has been slashed at Sainsbury's by 218 products, at Ocado by 457 products, and at Asda by 923 products.
The rationalisation of ranges earlier this year would have been a "short-term act, just to maintain availability during the peak of the customer demand, but it's not part of a planned long-term strategy" said The Retail Mind founder Ged Futter, a former Asda senior buying manager.
"Some retailers will talk about reducing range so supply chains are more efficient. But customers expect range. If they go to your store and there's no range and your prices are more expensive than a discounter then what have you got to offer?" Futter said.
The disparity between the supermarkets in ranges that have grown or reduced is down to the retailers using different data from different sources and a mix of approaches from category teams.
"They all do their own thing. They're consistently inconsistent," Futter explained. Christmas will also be playing a factor he added, a period when ranges typically expand as a result of seasonal products.
The data – commissioned exclusively for The Grocer – also shows the count of promotions has returned to March levels, except at Tesco and Ocado. Tesco has 40% fewer promotions as it moves to an EDLP strategy and pushes discounts exclusive to Clubcard holders.
"That focus on simple, consistent value has in part been achieved by reducing the level of promotions," Tesco chief product officer Andrew Yaxley explained earlier this year.
"We know that our customers want competitive prices for the products and brands they buy regularly. That's why we're offering great savings through our Clubcard Prices, as well as matching Aldi on hundreds of branded and own-brand items through our Aldi Price Match," a spokeswoman for Tesco added.
Ocado has reduced promotions by a fifth since March. A spokeswoman claimed value had "always been a focus" for the online grocer. With 8,515 offers, Ocado still has more promotions than any of its rivals.