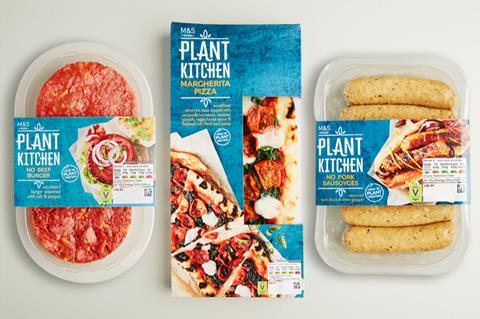 Supermarket ranges such as Tesco Wicked Kitchen and M&S Plant Kitchen have sent sales of vegan ready meals soaring.

Ready meals emerged as the fastest-growing area of the meat-free market, up 25% to £78.8m [Kantar]. That equates to 12.4 million kg of vegan ready meals in the year to July, up 20% (or 2.1 million kg) on the year before.

Own-label ready meals were the driving force behind this growth, up 45% to £38.3m. Kantar attributed this to the launch and development of new ranges.
Netting a 77% increase in meat-free sales, M&S was the standout player in terms of value growth. "The Plant Kitchen range has already drawn in 585,000 new shoppers who spend an average £8.50 per kg - 33% more than the average ready meal," said Kantar analyst Jennifer Fletcher.

All the grocers bar Tesco saw double-digit increases in meat-free sales. But Tesco remains the leader in terms of share - nearly 25% of total value. In September it launched Plant Chef, as a follow-up range.