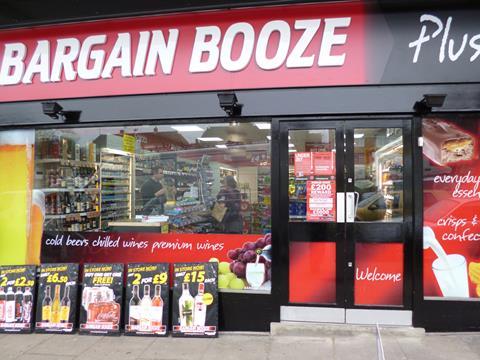 The retail arm of stricken alcohol business Conviviality went into administration with unsecured creditors of £31.3m, newly released documents have revealed.
The retail business, which consisted of Bargain Booze, Wine Rack and Conviviality Retail Logistics, was rescued in April by Bestway in a deal worth £7.5m.
Documents from administrator PWC show most of the unsecured debts sat with the Bargain Booze business (BB Realisations (2018) Ltd), with £30.8m of claims primarily from trade creditors not covered by proceeds from the rescue.
The statement of affairs shows companies owed money included tobacco firm JTI (listed as Gallaher Ltd), owed £5.3m, and Imperial Tobacco, owed £4.65m, along with £2m to AB InBev, £1.4m to Coca-Cola Enterprises and £872k for Bacardi.
PWC told The Grocer: "The sale of the retail business was done by way of the operating company pre-pack and so there were unsecured creditors left behind. Bestway has not assumed these liabilities."
It is understood that, although these unsecured creditors did not receive compensation as part of the administration process, most will be recompensed through ongoing business with Bestway given Conviviality's retail arm is continuing to trade after the rescue deal.
Previously published documents show the deal did not include the retail stock held by Conviviality at the time of administration, with suppliers able to put in claims against this stock.
One source suggested Bestway had since bought back a portion of this stock to minimise in-store shortages and return the purchased Conviviality business to normal trade quickly.
C&C Group, which acquired Conviviality's wholesale arm from administration, announced in May it had resumed "normal credit terms" with 75% of suppliers and pledged to pay trade creditors in full.
Bestway had not commented by the time of going to press.
A newly published administration report for Conviviality PLC shows secured creditors, mainly banks, have had to write-off around £50m as part of the process.
C&C Group agreed to pay £102m to these creditors as a condition of its £1 purchase of Bibendum and Matthew Clarke.
The documents show secured creditors can expect a further 10% of their £169m debt to be repaid through the retail arm. PWC expects to recover around £17m from debts owed to the retail arm of £47.4m, including some £34m owed by Bargain Booze's franchisees.
Conviviality shareholders received nothing for their shares. The newly released Conviviality PLC administration document shows its biggest shareholder Old Mutial, which owned 8.65% lost £14m, with River & Mercantile Asset Management lost £12.4m and Octopus Investments £11.6m.
Some 34 of the 41 head office roles were lost as a result of the administration.
Convivality, which had total revenues of £1.6bn in its 2016/17 financial year, was driven into administration after informing the market it was expecting a 20% shortfall in profits in 2017/18 and the subsequent identification of a £30m tax bill from HMRC.
The group appointed PWC as administrators after it failed to raise £125m from its investors in an attempt to recapitalise the business.
C&C Group previous stated that Matthew Clark & Bibendum's debts totalled almost £250m when Conviviality collapsed, C&C's full year results revealed last month. Trade creditors were owed £166.3m and £51.5m was owed in duty, VAT and other taxes.