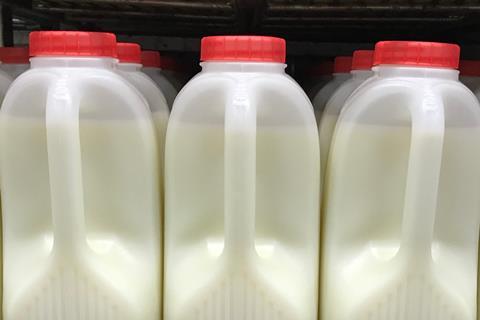 Sainsbury's milk supplier Tomlinsons Dairies has collapsed into administration, with the loss of more than 300 jobs.
The Wrexham-based processor, which supplied Sainsbury's stores across Wales in addition to M&S and a host of independents, appointed PwC as administrators at 4pm yesterday (14 October).
Described as one of the UK's largest dairy companies by joint administrators Mike Denny and Peter Dickens, the family-owned processor was established some 36 years ago and employed a total of 331 staff at its main headquarters, at a distribution hub at nearby Ruabon and at sites in Chester and Shropshire.
PwC said the business had experienced "significant cashflow pressures" over recent months, with its trading results deteriorating "due to factors such as increased energy costs and low commodity cream prices that have impacted the dairy industry".
The company made "significant" operating losses of about £5m in the year to March 2018, it added. And while losses narrowed to about £2m during the 12 months to March 2019, the administrators said poor trading results during the summer ultimately led to its demise.
The supplier told its farmers it could no longer accept their milk on Saturday, and is understood to have told staff not to come to work yesterday.
"Despite some improvement in its trading performance of late, Tomlinsons had suffered an accumulation of significant operating losses over recent years," the administrators said.
"The directors unfortunately had no alternative but to place the company into administration. Our thoughts are with the employees affected and we have ensured a range of support measures are available to them at this difficult time."
Speculation
The collapse ends months of speculation over the long-term future of Tomlinsons, with The Grocer first reporting PwC had been appointed as advisors last December. Concerns were further raised by industry insiders during the course of this year, after Tomlinsons delayed the publication of its latest accounts on five separate occasions.
Tomlinson family shareholders, directors and management were "devastated by the administration and sincerely regret its impact on their customers, suppliers, farmers and employees", a spokesman for the company said.
"Strenuous efforts" had been made to save the business, he added. "But on Friday evening the position proved untenable. Consequently the directors had no alternative but to make urgent plans to both cease milk processing and file for administration. The decision was time-critical to stop milk being delivered that could not be paid for once the prospects of a rescue were known."
Tomlinsons secured a contract to supply about 20% of Sainsbury's own label milk in 2016, alongside Müller, Arla and Medina Dairy.
It sourced its milk from about 70 farms across Wales and the north west of England, and had doubled the size of its dairy during the past three years to become a 200 million litre capacity plant.
The business also benefited from significant financial backing from the Welsh government, receiving a £5m grant and a further £2m loan from its corporate finance arm Finance Wales in 2017.
A Welsh government spokesman said the demise of the processor was "very disappointing". It had worked closely with Tomlinson's Dairies during the past 18 months to try and help them resolve their ongoing business issues, he added.
Task force
"We have now established a task force to work directly with the staff affected by the closure and are in discussions with farming unions and other stakeholders to consider what support is required at this difficult time."
Questions would now be asked about whether Tomlinsons' farmers would be paid the six weeks of payments they were owed for their milk, suggested industry analyst Chris Walkland, with Sainsbury's sourcing milk from about 40 Tomlinsons farmers for its dairy development group.
Sainsbury's had not responded to requests for comment at the time of publication.
However, an Arla spokeswoman said the dairy co-op, which had processed Tomlinsons milk for a number of years, said it was "saddened" by the news.
"Tomlinsons has been an important supply partner to Arla for a number of years. In light of the very important role they have played in the production of Welsh dairy products, we have provided significant provision to Tomlinsons through favourable cash terms and operational support."
The collapse provided the sector a "timely and sobering reminder of just how wafer-thin margins in the dairy sector really are", said Dairy UK CEO Judith Bryans.