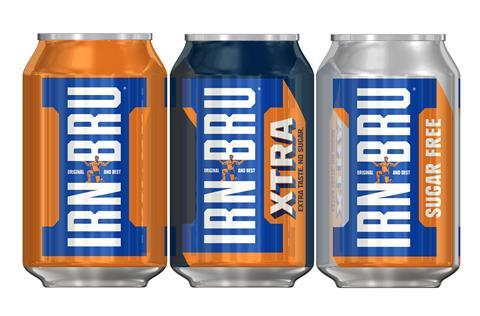 Irn-Bru maker AG Barr (BAG) has posted a 17.3% slump in annual pre-exceptional profits and warned of a "material" impact on trading from the coronavirus outbreak.
The soft drinks supplier said poor summer weather and political uncertainty related to Brexit created a "challenging trading environment" which resulted in a "difficult" year, particularly for it core soft drinks business.
Reported net sales for the year to 25 January dropped 8.4% to £255.7m as a result of specific brand challenges within soft drinks (primarily Rubicon and Rockstar) the negative short-term impact of pricing re-alignment (principally relating to Irn-Bru) and the backdrop of strong prior year comparatives driven by the warm 2018 weather.
An 8.4% revenue decline in its core soft drinks portfolio (representing three quarters of its sales) was driven by a 9.2% fall in volumes, with Irn-Bru volumes down 9%.
Stills and water sales plummeted 18.2% driven by a 16.8% fall in volume, while its Funkin cocktails business continued to deliver strong revenue, up more than 20%, and profit growth.
Overall profits before tax and exceptionals fell back 17.3% to £37.4m reflecting the adverse impact of the revenue decline, coupled with its ongoing commitment to maintain investment in its brands and business for the longer term.
Statutory profit before tax was also £37.4m as a £1.8m charge related to the completion of the first phase of our business re-engineering programme was offset by a £1.8m one-off exceptional gain related to the removal of a wind turbine at its Cumbernauld site.
CEO Roger White commented: "AG Barr is a results driven business with a motivated and resolute team, whom I wish to thank for their ongoing resilience, commitment and flexibility.
"We exited the financial year with improved trading performance and momentum, which continued into the new year however the COVID-19 situation is now materially impacting our business. There is no immediate certainty around the severity and duration of the impact on our business and as such the Board is unable to provide guidance for the current financial year at this time. However, the actions we are taking to conserve cash and reduce costs, combined with our strong financial base, give us confidence in the resilience of our business for the long term.
"We will continue to monitor developments closely, responding appropriately as required, while also ensuring that we play our part in supporting our communities through these unprecedented times."
AG Barr said the spread of the virus would have a "material adverse impact" on the group's financial performance this year "due to these fast changing circumstances".
It said the UK lockdown has "significantly reduced" sales to its 'impulse customers' (which represents around 40% of total revenues), though take-home purchases have remained more resilient, albeit volatile since 23 March.
House broker Shore Capital said improved momentum towards the end of its year before being derailed by the virus was "encouraging".
It added: "Whilst COVID-19 has clearly reversed the return to positive momentum in the short term, we believe AG Barr is a strong business with a distinctive stable of leading brands and a highly experienced, responsible and effective management team."
AG Barr fell 1.2% on Wednesday to 503p after the release of the delayed results, but it is only 12.2% down so far this year after a recent rally.