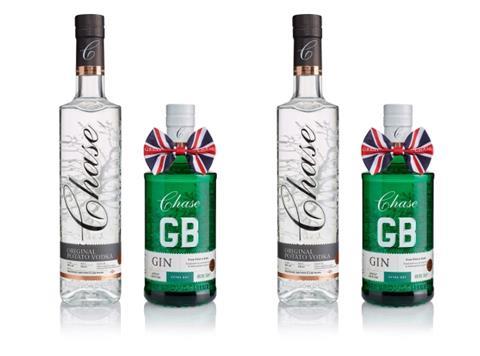 A boost in demand for gin & tonics at home has helped spirits group Chase Distillery offset the collapse in on-trade and international business this year.
The company, which was snapped up by Diageo in October, experienced "very strong" growth with retail partners such as Waitrose, Tesco and Morrisons, as well as in independents and wine merchants.
The direct-to-consumer online business also more than doubled in size over the past 10 months, MD Andrew Carter told The Grocer.
That helped Chase offset the impact of the pandemic on its on-trade sales and demand in airports and overseas.
"Our Chase business has remained incredibly resilient in the face of a locked down UK on-trade and the international on-trade and travel retail challenges," Carter said.
"Our business performance has been strong, despite the pandemic as more consumers have come into the super-premium gin and vodka segments and have discovered the Chase brand through our #chaseathome tasting campaigns, our virtual tours of the distillery and our continued media support."
Chase Distillery generated £13.6m revenues in the 12 months to the end of 2019, according to accounts filed at Companies House.
It compares with £17m in the 17 months to the end of 2018 after Chase changed its financial year. It translated to 13.2% growth on an annualised basis and a 21% rise compared with the 2018 calendar year.
Carter said the growth was driven by the "very successful" on-trade business (+24%), a growing retail business and "a flourishing" international business, with the global travel retail division doubling in size.Chase Pink Grapefruit gin was the star performer in the portfolio during 2019, but there was also strong growth across the core Chase GB gin and vodka lines.
The group slipped to pre-tax losses of £122,000 in 2019, compared with £1.2m profits in the prior financial period, as it invested more in marketing the brand.
William Chase started Chase Distillery in 2008 after selling the Tyrrells crisps, which he founded, to Langholm Capital for almost £40m.
The distillery portfolio now includes seven gins, four vodkas and an elderflower liqueur.
The deal with Diageo is expected to finalise in early 2021.