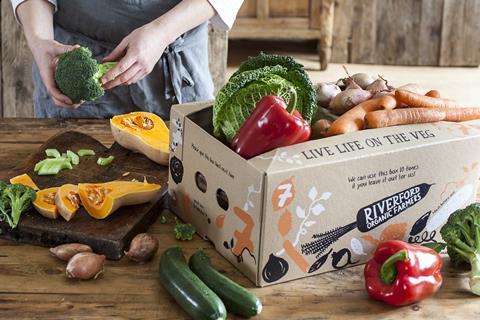 Vegetable box delivery service Riverford Organic Farmers has posted a surge in annual profits as investment in automation boosted margins.
Operating profits for the year to 27 April 2019 jumped to £3m from £317k in the previous financial year, representing the employee-owned company's first seven-figure profit since 2014.
Profits had more than halved in the previous financial year due to investment in new production systems and unfavourable weather, but these improvements to its processes paid dividends last year.
MD Rob Howard said: "We made big changes to our picking and packing operation the year prior which took a little time to bed in, but this automation is now helping with efficiency from our packing operations to the doorstep."
Profits were also helped by strong trading, boosted by its shift to becoming an employee-owned business and a "rapidly growing demand by people to eat more plant-based diets and to seek ethical alternatives", he added.
Riverford's sales in the year rose 11.9% to £68m on top of double-digit growth in the previous financial year.
Howard said trading since year end "remains strong", including its performance over Christmas, and the company is confident of maintaining its higher profitability despite the wet European weather last year.