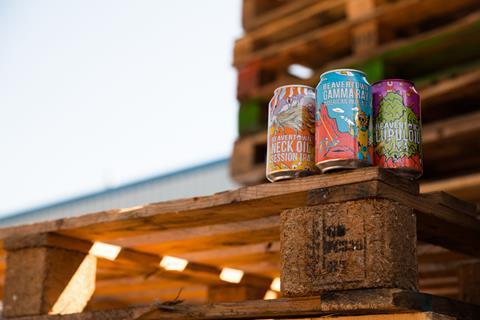 Beavertown Brewery has seen its off-trade sales surge by almost 500% since it sold a minority stake to Heineken last year, exclusive data reveals.

Value sales of Beavertown's beers grew from a minuscule £817k to £4.86m over the 52 weeks ending 20 April 2019 - that's an additional 1.68 million units sold, which makes it now the UK's seventh largest craft beer brand in the off-trade (behind Vocation Brewery) [Nielsen].

At SKU level, the surge had been largely driven by the popularity of its session IPA, Neck Oil, Beavertown brand manager Sam Millard told The Grocer, overtaking sales of Gamma Ray, its 5.3% IPA, to become its top-selling brew.

"It has just gone crazy," said Millard. "Gamma Ray was the biggest seller for many years but in the last 12 months Neck Oil has matched and then surpassed it."

Neck Oil's lower abv - 4.3% - made it "more accessible", he suggested. "When people are drinking in pubs and picking cans in the supermarket, in the UK we're a bit more mindful of abv, whereas in Europe and the USA they wouldn't look twice at a beer that was 5.4% and think it was too strong."

Beavertown sold a 49% stake to Heineken in a £40m deal last summer, which is financing the construction of a massive new brewery in Enfield, dubbed 'Beaverworld'.

The brand's beers were available in Waitrose prior to the Heineken deal, but it has now also launched into Sainsbury's, Ocado and M&S.

Since the deal with Heineken was struck, Beavertown has also made its debut in the lager category. It launched Beavo, a 4.4% abv pilsner, into the on-trade in November 2018.

Millard said Beavertown still planned to have Beavo canned for a retail release in the future.