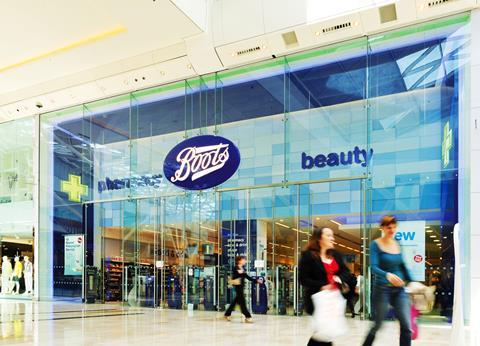 Pharmacy chain Boots has posted double-digit growth in its second quarter, driven by strong Christmas trading and beauty sales.
Overall sales at the UK chain were up 16% in the three months to 28 February, as the business posted its eighth consecutive quarter of market share gains.
Footfall, basket size and the number of Advantage Card customers all increased, Boots said.
Customers continued to return to stores, with footfall increasing 16% in the quarter. They were also buying more, the retailer said, with the number of items sold up versus the prior year.
Digital sales increased by 17%, now representing over 15% of retail sales.
The Christmas period was particularly strong, with retail sales in the five weeks to 31 December up 17.4% and outperforming the market.
The beauty category also delivered a record January, with premium beauty seeing its biggest-ever sales week in December. Category sales were boosted by Boots' opening of 19 new beauty halls in the quarter, while the 170th store to receive a beauty makeover openined at Westfield White City post-period end.
The chain also sought to expand its value offering in the quarter, including the addition of 60 new products to the Boots Everyday label, as well as the extension of its Price Advantage scheme.
"More people are choosing to shop with Boots, largely thanks to our focus on value and our market leading beauty offer," said Sebastian James, MD of Boots UK & ROI. "This is reflected in our strong retail sales performance and our continuing market share growth, particularly in terms of Christmas trading.
"We also delivered an increase in pharmacy sales, despite the challenging sector backdrop. I would like to thank our wonderful team members for their continued hard work and focus on delivering for our customers."
US parent group Walgreens posted second quarter results in in line with expectations.
Second quarter sales increased 3.3% year on year, to $34.9bn, up 4.5% on a constant currency basis.
Second quarter earnings per share decreased 20.3% to $0.81 (down 25.8% on a constant currency basis) reflecting a 26% headwind from lower Covid-19 vaccine and testing volumes.
Group CEO Rosalind Brewer said: "WBA exited a solid second quarter with acceleration in February, adding to our confidence in driving strong growth in the second half of the year. With the closing of VillageMD's acquisition of Summit Health, WBA is now one of the largest players in primary care, with best-in-class assets across the care continuum.
"Both Walgreens and Boots are performing well by delivering compelling value to consumers, playing a critical role as community health destinations, and successfully navigating a challenging environment. We will continue to take bold actions to create sustainable long-term shareholder value."