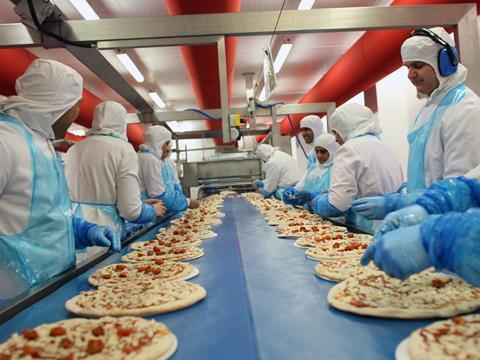 Sales and operating profit at 2 Sisters Food Group owner Boparan Holdings continued to rise during its fourth quarter, despite conditions in the food sector remaining "tough".
Group like-for-like sales rose by 0.8% to £763.8m for the 13 weeks to 30 July, while operating profit was up 39.9% to £26.3m, with like-for-like operating profit up 34.6%, according to consolidated results published today.
Profits after exceptional items, but before interest and tax, fell from £13.2m to £2.4m, while net debt was cut from £716.6m to £706.4m.
Total sales for full year fell 0.3% to £3.13bn, but operating profit was up 58.2% to £90.5m, with like-for-like profit margin increasing from 1.8% last year to 2.9%. Profit after exceptional items, before interest and tax for the year also rose, by £17.7m to £63.4m.
The food giant's outlook remained positive, with "good progress and performances across our business showing that our commitment to customer partnerships, efficiency, innovation and investment to drive profitable sales is continuing to pay off".
This came despite ongoing Brexit uncertainty, continuing cost pressures and the tough grocery market, the group's results statement said. "We remain well-placed to continue to deliver in our new financial year."
Sales in the group's dominant protein division rose by 0.8% to £542.0m during the fourth quarter, with operating profit up 25% to £12m. The group secured a major deal to supply rotisserie chicken to a major customer "at the expense of a competitor", while it also renewed contracts with customers and won additional frozen BBQ and Scottish fresh whole bird business.
Boparan's chilled division saw like-for-like sales increase by 7.3% to £140.4m, with operating profit up from £1.2m to £4.5m, driven by targeted investments, new contract wins and new product launches.
Meanwhile, its branded division saw fourth-quarter sales up 3.2% to £91.1m with operating profit up 22.5% to £9.8m driven in part by investment in quality and new premium ranges by Fox's Biscuits and strong growth by the Goodfella's pizza brand.
The results come in the same week as 2 Sisters subsidiary St Merryn Foods announced plans to cut up to 400 jobs at its Merthyr Tydfil factory. It is proposing moving its meat packing operation from its South wales site to two plants in Cornwall from January.