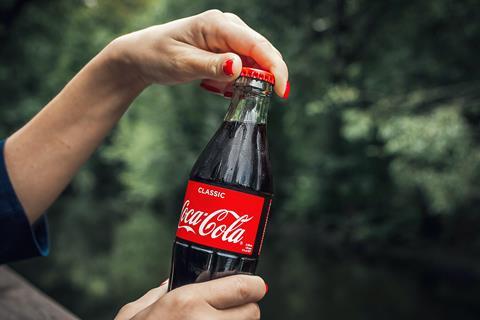 Top story
Coke bottler Coca-Cola HBC has reported "strongly" improved trading in the the third quarter as its markets across Europe and Africa reopened, but volumes cotinued to be affected by the ongoing coronavirus pandemic.
Revenues in the period fell 6.7% to €1.8bn (£1.6bn), but were only down 2.6% after stripping out currency movements and behind 0.3% on a like-for-like basis.
Volumes in the quarter slipped just 1.4% to 613.7 million cases, with growth reported in August and September as various markets emerged from local and national lockdowns in July.
The results were helped by more consumers drinking its beverages outside the home, with the channel accounting for more than 40% of the group's revenues.
Out-of-home revenues collapsed by as much as 90% in the second quarter in the peak of the pandemic as many countries were in full lockdown.
This figure improved to a fall in the range of 25% to 50% across its markets in May and June, with the decline in the high single digits in the third quarter.
Despite the improvements the out-of-home channel continued to be hit as the all-important tourist industry for key markets such as Greece were well below normal levels.
Volumes in established markets were down 8.6% in the quarter as a result, whereas volumes recorded 2.5% growth in developing markets where, with the exception of Croatia, countries have lower exposure to out-of-home and international tourism.
A strong performance in Russia and Nigeria, with both recording double-digit volume growth, helped volumes increase 1.2% in emerging markets.
CEO Zoran Bogdanovic said: "We are encouraged by the strong improvement in trading in Q3, supported by a rapid recovery in the out-of-home channel as markets reopened.
"This performance demonstrates our ability to adapt to the fast-changing market environment. Looking into Q4, as we cycle a very strong volume comparator and see the renewal of lockdown restrictions in some markets, we are encouraged by the consistent growth we have seen in the at-home channel, which will be especially important for this final quarter.
"Combined with the increasing impact of our cost savings programmes this should allow us to continue to deliver good profitability in a severely disrupted year."
Shares in the group, which rallied earlier in the week as markets were lifted by hopes of a vaccine, increased 1.6% to 2,172p this morning.
Morning update
Grocery technology group Eagle Eye has signed a five-year agreement with Australian retail chain Woolworths Group to provide its AIR platform to support a personalised real-time digital marketing program.
Woolworths - Australia's largest retailer - operates 3,000 stores in Australia and New Zealand and serves more than 29 million customers across its brands every week.
Woolworths will use Eagle Eye's AIR platform to enable the end-to-end management of real-time personalised digital promotions and support its transition to a digitally-led rewards program.
Woolworths will deploy the proposition across touchpoints including its app, its ecommerce business and various other digital media. Eagle Eye AIR will also be used to enable a real-time integration with a network of partners.
Eagle Eye said the contract win, coupled with the signing of one of the largest retailing groups in New Zealand in 2019, provided a platform for its entry into the wider Asia Pacific region, which the group believed provided "a good level of enterprise level prospects".
CEO Tim Mason added: "We are extremely pleased to have won this contract with Woolworths Group.
"It is testament to the capabilities of our technology that another world-leading retailer with clear ambitions to adopt a digital future has chosen Eagle Eye.
"We look forward to deploying our Eagle Eye AIR platform across Woolworths' network of Australian and New Zealand stores to drive value through personalised promotions and rewards."
Eagel Eye creates digital connections to help retailers with personalised performance marketing in real time through coupons, loyalty, apps, subscriptions and gift services.
Eagle Eye AIR enables retailers ro securely issue and reddem digital offers and rewards at scale, across multiple channels.
The company's current customer base includes leading names in UK grocery, retail and food & beverage, including Asda, Sainsbury's, Tesco, Waitrose, John Lewis, JD Sports, Greggs, Mitchells & Butlers and Pizza Express.
Shares in the group jumped 6.4% to 368p on the back of the news this morning.
The FTSE 100 started on the front foot yet again to climb 0.2% to 6,311.68pts as investor excitement at the prospects of a coronavirue vaccine showed no signs of disappearing.
Earlier risers in grocery and food included McColl's Retail Group, up 5.9% to 22.6p, Marston's, up 4.1% to 67p, Glanbia, up 3.3% to €9.30, Greggs, up 2.8% to 1,732.6p, and SSP Group, up another 2.7% to 329.8p.
The few stocks starting in the red included Bakkavor, down 1.1% to 71.2p, Just Eat, down another 0.9% to 8,040p, and Pets at Home Group, down 0.8% to 376.8p.
Yesterday in the City
The FTSE 100 shrugged off the record number of redundancies announced in the UK to continue surging on the back of the Pfizer vaccine hopes.
The index closed the day another 1.8% to 6,297.33pts.
SPP Group and Marston's, which have both lost significant value as the pandemic ravaged the businesses in the hospitality and leisure spaces, had another big day, with SSP up 12.7% to 319.4p and Marston's up 9.4% to 64.6p. SSP is up almost 63% in two days.
Nichols, Glanbia and Associated British Foods, up 8.1% to 1,156.6p, 7.5% to €9.24 and 4.9% to 2,074p.
The majority of food and drinks stocks also had strong days, including Bakkavor, AG Barr, Compass Group, Fevertree, Diageo, Greencore and Greggs among others.
There was a huge sell-off as Premier Foods despite the supplier reporting roaring sales and profits in its first-half. Shares in the group, which has sailed to past 90p from lows of 19p in March, plunged 11.6% to 91.1p yesterday. Investors may have taken profits to plough into other stocks that have been hammered just the coronavirus crisis to take advantage of huge rallies following the vaccine announcement. Premier upgraded its full-year profits expectations, but growth is likely to slow down significant as life returns to normal.
The sell-off also continued at Ocado, as it fell another 5.7% to 2,153p as investors headed for the exit on stocks that have done well during the pandemic.
B&M European Value Retail also fell 1.3% to 475.7p, as well as takeaway groups Just Eat and Domino's, down 2.9% to 8,148p and 3.4% to 320p respectively.