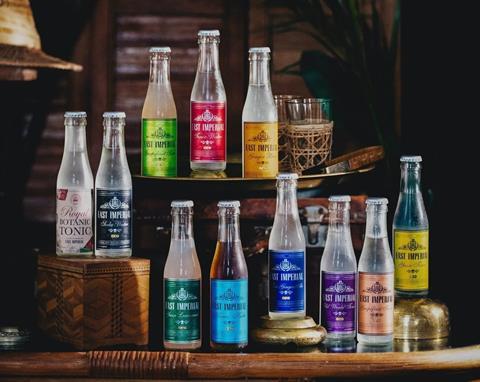 Top story
Premium mixers supplier East Imperial saw second quarter revenues hit by funding delays to reduce overall first half revenues despite strong first quarter growth.
The UK-listed New Zealand-based group, which grew sales by 40% in the first quarter, was forced to pause production in the second quarter as a cash injection was delayed until August 2023.
That meant the group was forced to supply solely through its inventory holding and resulted in a sharp slowdown in the second quarter, to bring total first half revenues down 2.2% to £1.26m.
Despite the supply challenges, revenues in the APAC region were up 24.7% compared to the same period last year. New Zealand was up 30.2%, mitigating some supply challenges due to its proximity to production.
However, US sales were down by 43.1%, a direct impact of production delays. The group said it has retained all its key accounts and the region is positioned well to finish the year strongly and have a robust 2024.
Management is confident the company will be able to improve revenues as key markets are once again adequately supplied with inventory and ready to meet the growing demand of its busiest time of the year.
Its first half adjusted gross margin of 16% reflects the normalising of the margin to account for inventory write-offs through the period. These write-offs reflect products that, for a variety of product-life reasons, were unsellable and attracted costs of storage and movement before being destroyed.
Reported margins for 2023 of 4.2% reflected the unusually high-level write-offs for this period. Management believes over time a goal of a margin above 45% is achievable for a super-premium product.
Overall adjusted EBITDA loss expanded to £1.55m in the period from £1.49m.
CEO Anthony Burt commented: "With the funding now in the bank, I am very pleased that normal production and supply have returned as the team clears the backlog of orders, focuses all efforts on H2, restocks the supply chains and gains important momentum into 2024.
"The logistics and production costs we endured throughout the peak of Covid in 2021-22 continue to impact margins. Still, we're now seeing an end to the affected inventory holding, and our margin improvement and cost rationalisation programs have been in full swing for 2023. I anticipate we'll return to more sustainable and acceptable margins in 1H24.
"Despite the supply constraints, we have made incredible progress with key strategic partnerships, such as Air New Zealand and Cocktail Courier. We're now in a great position to push forward and execute our strategy to be the only true super-premium mixer, fully funded and with a world-beating team."
Meanwhile, the company today announced a distribution agreement has been reached with US cocktail delivery company Cocktail Courier.
East Imperial will become the 'official' mixer for Cocktail Courier's cocktail kits, which will be delivered nationwide in the US. Cocktail Courier will be employing the company's can format for its packaging.
The companies said the trend of making high-quality cocktails in the home has grown strongly in the US as consumers look to replicate the cocktail bar experience at home.
Burt commented: "We've been super-impressed with Cocktail Courier and their commitment to offering high-quality cocktails and their overall customer experience. East Imperial, being the official mixer for their kits, highlights what Scott [Goldman, CEO] and the team are trying to achieve, and having our products in his customers' hands is a fantastic opportunity to drive trial with the perfect target consumer."
Scott Goldman, CEO & co-founder of Cocktail Courier, added: "What sets East Imperial apart from other premium mixers is their craftsmanship and dedication to reviving traditional recipes and techniques while incorporating a modern twist. At Cocktail Courier, we strive to elevate the art of cocktail-making.
"Working with Tony and his team will offer our customers an authentic and premium mixer experience that complements the world's finest spirits, precisely what makes East Imperial a favourite among cocktail enthusiasts and professional bartenders alike."
Morning update
The Grocer has exclusive details on the £700m auction for canned giant Princes – read details of the private equity battle for the group here.
On the markets this morning, the FTSE 100 is up 0.6% to 7,644.4pts, building on yesterday's rebound.
Grocery risers include Ocado, up 4.1% to 604.6p, THG, up 2.9% to 73.2p and WH Smith, up 2.1% to 1,358p.
Fallers include Bakkavor, down 2.1% to 92p and PZ Cussons, down 0.3% to 146.2p.
Yesterday in the City
The FTSE 100 ended the day up 0.3% to 7,626.8pts.
Risers included Deliveroo, up 8.8% to 120p, Naked Wines, up 1.8% to 57.5p, SSP Group, up 1.4% to 203.6p, Bakkavor, up 1.1% to 94p and Imperial Brands, up 0.9% to 1,680.5p.
The day's fallers included THG, down 6.6% to 71.1p, Ocado, down 5.5% to 581p, Kerry Group, down 5.3% to €77.65, Hilton Food Group, down 4.1% to 711p, PZ Cussons, down 2.9% to 146.6p, Premier Foods, down 2.5% to 115.4p and British American Tobacco, down 2.1% to 2,570.5p.