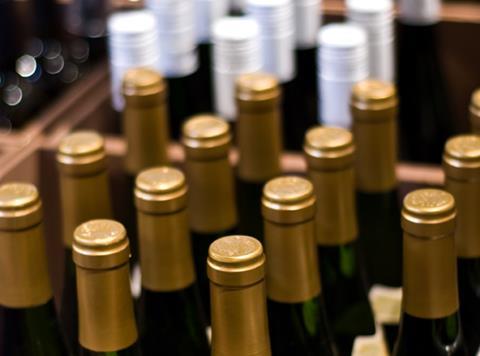 Top story
First-half revenues at Naked Wines have soared 80% to £157.1m as consumers flocked to online as the coronavirus outbreak hit the UK.
The business also reported an 89% uplift in repeat customers in the six months to 28 September 2020 as new habits stuck during lockdown and beyond.
Naked performed strongest in the US in the half, with sales up 95% in the country and now representing half the group's business.
"Quite simply, many customers did not know they could order wine online, to be delivered to their door, until Covid-19 motivated them to look, and they are now embracing it," CEO Nick Devlin said.
The group upgraded its sales expectations for the year as a result of the strong growth, now expecting an increase of 55-65%.
"Naked Wines is a bigger, better business than it was twelve months ago," Devlin added. "The last six months have been a critical period in the development of the company.
"We have delivered exceptional growth and a permanent step change in scale and efficiency for the organisation. We have a business today that is not only larger, but structurally improved and ideally positioned to deliver sustained growth in the coming years.
"Ultimately the most significant impact of COVID-19 on Naked Wines is not found in these interim results, but in the way it has accelerated the growth of the online wine category and increased consumer willingness to trial a new and better way to buy wine."
However, the group, which has an angel community of more than 750,000 members, continued to be lossmaking as it stepped up its scale and increased investment in new customers by 121% to £22.7m.
The adjusted EBIT loss in the half stood at £3.2m, an improvement on £4.5m a year ago.
As well as the increased investment in new customers, there were also higher fixed costs due to the strong growth in repeat sales.
Pre-tax losses widened to £8.9m from £6.2m, mostly the result of a non-cash write down of assets relating to disposal of Majestic Wine.
"Delivering transformative growth, against a backdrop of new working conditions required by Covid-19, has required us to rapidly solve a series of operational challenges," Devlin said.
"We have done this whilst maintaining high levels of customer satisfaction and I am tremendously proud of the resilience, flexibility and capability displayed by our staff around the world. I would like to personally thank all of them for their commitment and the passion with which they have pursued our mission to connect the world's best independent winemakers to our community of wine drinkers.
"Looking ahead, whilst the economic outlook remains uncertain, we move into the second half with continued trading momentum, supported by a strong cash balance and with conviction in the potential to unlock further growth opportunities in all our markets."
Shares in the group jumped another 4.2% to 520p as markets opened this morning.
Morning update
Nichols is considering redundancies across its operations as the Covid pandemic and ongoing social restrictions continue to hammer the soft drinks market.
Sales at the group plummeted 16.5% to £91.7m in the nine months to 30 September as a strong performance by Vimto couldn't offset the decline in consumers drinking soft drinks outside the home.
The group said in a trading update that Vimto continued to outperform the wider UK soft drinks market, achieveing value growth of 5.8% in the year to date, compared with a 1.9% rise for the rest of the market.
Nichols also reported strong momentum in its international markets, particularly in Africa, with revenues up 10.5% on last year.
However, the out-of-home channel has been hit hard this year by the outbreak and subsequent lockdown and restrictions. Third-quarter revenues for out of home were 45.2% lower than the same period in 2019 as hospitality remains closed and footfall is significantly lower in high traffic high streets and city centres.
The group is focused on controlling costs and overheads to position the business to come back after the pandemic. Management have focused on reducing discretionary spend and have shifted marketing budgest into next year.
It also carried out a review of its operations and announced to employees on 18 November that subject to consultation a number of roles would be axed by the first quarter of 2021.
The board expects adjusted pre-tax profits of between £11m and £13m for the year as uncertainty remains in the fourth quarter. It was not able to give any forecasts for 2021, but said it remained well-placed to deliver on long-term strategic ambitions given the strength of Vimto and the diversified business model.
Non-executive chairman John Nichols added: "The board remains pleased with the group's resilient performance in the period despite the significant impact of the Covid-19 pandemic on the out-of-home sector. We are particularly encouraged by the strong performance of the Vimto brand in the UK where we continue to make market share gains.
"As part of our ongoing focus on ensuring the group has the right structures in place to deliver its long-term strategy, the group has taken the difficult decision to propose, subject to consultation, that a number of roles are removed from our structure. These difficult decisions have not been taken lightly and I thank all Nichols colleagues for their continued hard work and commitment.
"Whilst recognising the current and near-term impact of the pandemic on the soft drinks market, the board continues to believe that Nichols, underpinned by the strength of the Vimto brand and the group's diversified business model, remains well placed to deliver its long-term strategic ambitions."
Nichols share price slumped 4.2% to 1,150p on the news.
European supermarket group Ahold Delhaize has acquired online US grocer FreshDirect.
The propsed deal for a majority stake of the New York-based business is in partnership with private investment management firm Centerbridge Partners, which be a minority equity investor with a 20% stake.
After the deal closes, FreshDirect will retain its brand name, report to a seven-person board and continue to independently operate out of its facility in New York City. Financial terms of the deal were not disclosed. The transaction is expected to close in the first quarter of 2021, following the satisfaction of customary closing conditions, including regulatory clearance.
Ahold Delhaize CEO Frans Muller said: "FreshDirect is a leading local brand in the fast-growing online grocery sector in the New York City metro area, one of the most important ecommerce food markets in the United States.
"With its unparalleled quality of fresh food, exceptional brand recognition, and dedicated people, it has generated remarkable customer loyalty. This acquisition further propels our omni-channel evolution. It is a great addition and fit for our portfolio of leading local brands.
"The deal allows us to reach additional customers in the New York trade area and therefore will add incremental sales to the business. It further enables us to address customers' growing preference for convenient ways to shop. Finally, we are excited to have Centerbridge alongside of us in this venture and believe our combined focus, expertise, and scale will help us maximize the success of FreshDirect going forward."
FreshDirect has more than 20 years of local market and customer experience. Tthe company focuses on fresh food, which represents more than 60% of its sales.
It also owns a scalable and state-of-the-art fulfillment center, located in the Bronx. Finally, its ecommerce platform enables customer ordering, from picking through packing, to last mile delivery, including the ability to provide same day and rush delivery.
FreshDirect CEO David McInerney added: "We are strong believers that the future of grocery retail involves getting customers the best quality food, exactly when they want it, with the best customer service. We have built FreshDirect into a reliable and recognizable business to serve this purpose. This transaction marks an important milestone in the continued growth of FreshDirect. I believe Ahold Delhaize's global scale, focus on strong, leading local brands, and ability to utilize cost-of-goods synergies, will allow FreshDirect to achieve its full potential."
Finsbury Food Group has reported improving sales trends in the past four months, with revenues down just 3.4% compared to last year.
It is a significant improvement on the 18.9% fall in sales at the bakery and cake group during the intital lockdown in March.
Finsbury said the improvement had been driven by a strong performance in the supermarkets, which was partially offset by ongoing struggles in foodservice.
"Despite the challenges faced by the group as a result of the pandemic, our drive for excellence has not diminished," Finsbury said in the trading update.
"The operational initiatives that have been introduced across the group have gained significant traction and are yielding substantial improvements in quality, higher operational efficiency and lower waste. Given the strong trading and wider operational performance in the first four months of the new financial year, and assuming that an effective Brexit deal can be reached, the board expects to deliver further sales and profit growth in the current financial year.
"We are confident that this positions us well to deliver on our longer-term growth ambitions. We look forward to providing further updates in due course, as appropriate."
Shares in Finsbury opened 2.8% higher to 66.3p.
Yesterday in the City
The FTSE 100 hung on to gain yesterday to close 0.4% higher at 6,391.3p.
Agriculture supply group Wynnstay jumped 11.1% to 344.3p after upgrading profit expectations.
Other risers yesterday in food and drink included Total Produce, up 7.5% to 115p, C&C Group, up 2.9% to 212p, and B&M European Value Retail, up 2.7% to 510.6p.
A number of stocks that have clawed back big chunks of lost value after the two recent vaccine hopes experienced a sell off yesterday, with SSP Group down 4.7% to 329.6p, Greencore fell 3.6% to 117.5p, Compass Group dropped 3.2% to 1,346p and Bakkavor was down 3.2% to 79.7p.