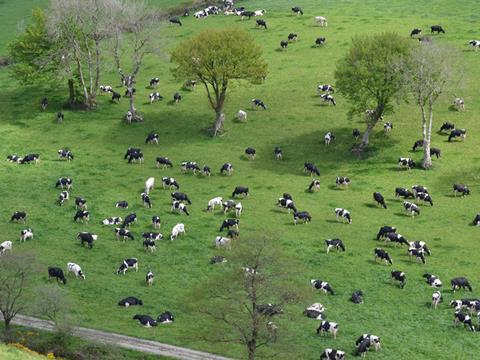 First Milk has hailed the completion of its financial turnaround after reporting a near doubling in operating profit during the 12 months to 31 March.

The dairy co-op saw operating profit before exceptional items grow from £6m in 2015/16 to £11.7m during the 2016/17 financial year, according to its annual report published this week.

Net profit also rose, hitting £6m, compared with a £5.1m loss during the previous accounting period.

The supplier's revival was put down to a number of factors, said chairman Clive Sharpe, including the development of "a new business strategy, divesting loss-making subsidiaries, improved operational performance and an effective co-operative governance structure".

However, group turnover fell by almost a third from £294.2m to £206.5m due to a combination of lower farmgate prices and the effect of the divestments on its bottom line.

Strategic adjustments implemented throughout the year included the sale of its loss-making CNP sports nutrition business and a refinancing of its debt through a new, four-year facility with Wells Fargo, which First Milk said would "provide flexibility and lower costs".

The dairy co-op also secured new cheese supplying partnerships with Tesco and Ornua Foods during the financial year, in addition to a long-term fresh milk supply deal with Nestlé UK & Ireland.

"The transformation of our business is complete and, as a result, First Milk is more secure. This is demonstrated through these significantly improved financial results and our ability to increase milk prices (up 9ppl) to our farmer members ahead of the market," added Sharpe.

March 2017's figures marked the end of First Milk's recovery phase as former CEO Mike Gallacher stood down to be replaced by former Medina MD Shelagh Hancock.

"We now have a focused and financially stable foundation to build from. Looking to the future we will continue our relentless focus on efficiency and quality. We will put customers at the heart of our business, creating value through long-term partnerships and exploit the advantages we have to grow," said Hancock.

"I strongly believe that First Milk has got a bright future. I am confident that we can build on our solid relationships to create a strong and vibrant business capable of delivering competitive returns and providing opportunities that enable our members to prosper."

The results come as First Milk embarks on plans to cut up to 30 jobs at its Lake District and Haverfordwest creameries in a bid to improve efficiency. The supplier launched a 30-day consultation with staff at the sites on 19 September.