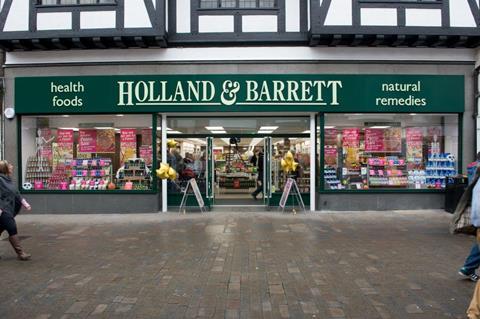 Holland & Barrett has seen UK sales drop 1.8% last year as it continued to close stores throughout the country.
The health and wellness retailer recorded UK sales of £528.6m in the year to 30 September 2021, about a £10m decrease from sales of £538.5m the previous year.
During the past fiscal year, H&B closed a total of 24 stores across the country as the impact of Covid-19 continued to hit its high street locations. The store closures cost the company £2.4m.
Despite the decline in the top line, pre-tax profits jumped from £5.7m to £43.6m as the group consolidated online revenues, previously logged in a separate subsidiary company, together with its retail stores for the first time.
The retailer said it had seen "strong growth in the online channel" with sales in the 2021 financial year of £144.3m, compared with £124.9m in the prior 12 months. The 15% jump represented a significant slowdown from 2019/21 when the online and mail order channel more than doubled in size as shopper demand for ecommerce ballooned during national lockdowns.
"The objective of the company's management team is to continue to produce market-leading performance within the brand, through the UK store estate; development of the H&B brand online and the further development of international markets through franchising," the company said of its online growth and omnichannel approach.
Holland & Barrett International, which includes the overseas business – operating franchises in 12 countries – saw overall sales remain fairly flat at £726.7m (down from £727.4m).
The company said it had "experienced some issues in exporting products to the Republic of Ireland due to overall market challenges" linked to Brexit, but that it was not experiencing any "material challenges" to its EU-UK trade to date.
"On tariffs, the direct impact resulting from rules of origin requirements are broadly neutral in comparison with our pre-Brexit position," it said.
Holland & Barrett added in its earnings statement: "This financial year the focus of the board is on the delivery and execution of high standard retail disciplines to ensure our customer proposition is well matched with customer needs.
"This is twinned with an efficiency programme to optimise business performance given the scale of channel shift established" in the previous financial year to "ensure H&B has a place in the market for future generations".