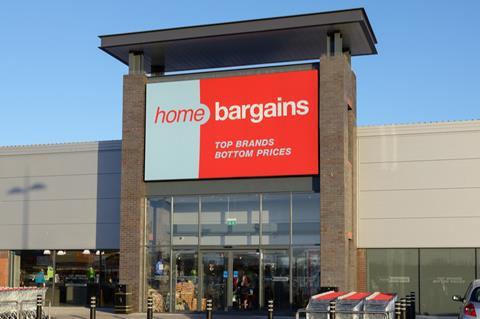 Home Bargains is outperforming rival B&M, analysts have said, based on newly filed accounts at Companies House.

Home Bargains saw revenues grow by £328m, or 15%, to £2.5bn in the full-year to 30 June, compared with B&M's UK revenue growth of 8.7% in the year to 31 March.

"For its third consecutive year, Home Bargains has delivered double-digit growth," said GlobalData retail analyst Hannah Richards, adding that it was "topping B&M's UK revenue growth".

Home Bargains' operating profit rose 14.7% from to £230.9m.

The variety discounter paid an ordinary dividend of £10m, with founder Tom Morris, who owns 95% of shares, taking the majority.

The accounts put the growth down to 26 new store openings, bringing the estate to 506, and reiterated an ambition to increase the number to between 800 and 1,000.

Richards said that amid political uncertainty and overall declining footfall, Home Bargains was capitalising from consumers looking to "trade down" from the likes of Debenhams and M&S.

"We forecast its homewares market share to reach 3.1% this year, 0.2 percentage points up on 2018," she said. "With department stores losing appeal and M&S and Debenhams also closing stores, Home Bargains has further opportunity to grow its share in 2020."

But she cast doubt on Home Bargains' expansion target, saying it would not reach its goal of 800-1,000 stores until 2030 based on its current expansion rate.

"Competition remains rife as B&M also pursues aggressive physical expansion in the UK," she added.

Home Bargains' website says it is "hungry for new stores" of 15,000-30,000 sq ft in towns and cities.

The company last month became the 13th retailer to be governed by the Groceries Code Adjudicator, based on its revenues breaching the £1bn threshold for inclusion.