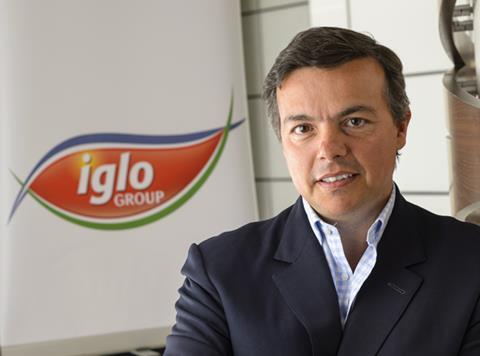 Newly acquired frozen foods business Iglo Group has reported a 2.3% slide in like-for-like sales in the first quarter.
During the first three months of 2015, the Birds Eye owner's reported sales fell by 4.2% on a constant currency basis after trading was impacted by one less trading day year-on-year and its exit from Romania, Slovakia and Turkey.
Sales grew 0.3% in March, helped by the timing of Easter, but the UK continued to be tough due to the "increasingly competitive" market. Italy revenues also suffered due to "prolonged negotiations".
CEO Elio Leoni Sceti said the general frozen category was beginning to recover "after a difficult period" with volume and value growth evident "for the first time in a number of years".
His positivity comes from the group's improved earnings, which is ahead of last year's adjusted EBITDA of €315.5m with an EBITDA margin ahead of its target of 20%.
Like-for-like sales have increased by 1% in Iglo-branded markets, with Germany returning to growth during the first quarter.
Sceti said weak sales in the UK were "disappointing", but "the necessary remedies are in place and our ambition is still to return to growth in the second half of the year."
He added: "Consumers are rediscovering the frozen category and we are pleased to see that our concerted efforts to remind them of the benefits of frozen food – good quality, affordable food with little wastage – are paying dividends. This can only be good news for the group, especially as we have continued to see momentum from our key innovation platforms launched in 2014, as our Better Meals Together strategy positions us well to capitalise on this renewed appeal."
Iglo was acquired by Nomad Holdings last month in a deal that valued the frozen foods business at €2.6bn.
Sceti is to join beauty company Coty as chief executive in July following the sale.