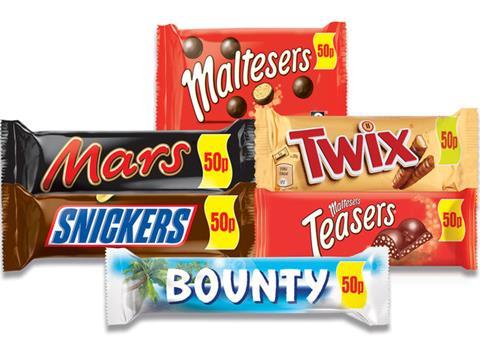 Mars Chocolate UK returned to top line growth last year as total sales grew 2.9% despite pressure on some of its key brands.

Overall sales for the year ended 2 January 2016 grew from £828m to £851.6m, accompanied by a 7.9% rise in pre-tax profits to £103.2m during the year. This marks a turnaround from the 0.7% sales decline it reported in the year to 27 December 2014.

Mars' accounts stated that the performance "reflects the investment into products, brands and consumer relationships as part of our on-going strategy to adapt to changes in consumer attitudes and behaviour."

The Grocer's recent Confectionery Category Report 2016 found that Mars-owned Galaxy was the biggest market advertiser in the year to 13 August 2016 after significant NPD last year.

However, The Grocer found Galaxy along with Maltesers and Snickers had seen value and volume sales declines. M&M's were the star performer for Mars, with value sales rising 8.4%.

Mars Chocolate UK's margins may come under pressure this year unless costs are passed on as sterling-denominated cocoa prices hit their highest level for five years this summer.
Meanwhile, globally Mars announced this week that it will combined its chocolate and Wrigley chewing gum divisions to create Mars Wrigley Confectionery.
Mars said the move would "help deliver greater value to customers, and enable the segment to address consumer trends and insights holistically in what is increasingly seen as one global confectionery category".
Mars acquired a majority stake in Wrigley in 2008 and recently acquired the minority stake still held by Berkshire Hathaway to take full control of the gum manufacturer.
Martin Radvan, current global president of Wrigley will lead the new Mars Wrigley Confectionery.
Elsewhere in the Mars group, Mars Food UK, which houses Dolmio and Uncle Ben's saw sales edge up 0.9% and pre-tax profits rise 3.4% to £41.1m.
Mars Petcare UK saw revenues slide back 1.6% to £518m, though profits rose 6.2% to £42.9m.
Mars declined to comment on the accounts.