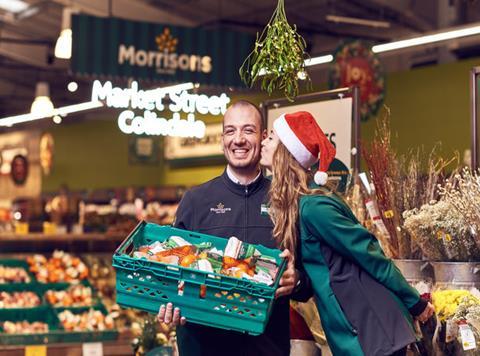 Top story
Morrisons (MRW) has reported a 2.8% uplift in group like for like sales excluding fuel over the ten weeks to 7 January and a 3.7% jump over the Christmas period.
Like for like retail sales were up 2.1% and wholesale up 0.7% during the period.
Group like for like sales including fuel were up 3%, while total sales were up 2.6% excluding fueld and 2.8% including fuel.
During the Christmas and New Year period group like for like sales were up 3.7% for the six weeks to 7 January, with retail up 2.8% and wholesale up 0.9%.
Morrisons said it "worked hard to improve the shopping trip and serve customers better". Automated ordering was live in all stores across most categories, helping improve availability and stock levels throughout the period, while customer satisfaction again improved year-on-year.
It said it also continued to become more competitive and, despite input cost pressures on many commodities, the price of a basket of key Christmas items was the same as last year with like for like volume was positive.
Like for like transactions were up 2.3% year-on-year and Morrisons.com sales grew over 10%.
Wholesale growth continues to accelerate, with performance helped by supplying some tobacco to its partner McColl's earlier than initially planned. The previously announced agreement to start supplying all 1,650 McColl's stores with both Safeway products and national brands will begin this month - a rolling programme of around 25 additional McColl's stores each week.
David Potts, Chief Executive, commented: "More and more customers found more things they wanted to buy at competitive prices at Morrisons this Christmas. The hard work and friendliness of our colleagues continues to be key in delivering our strengthening performance, and I would like to thank them for everything they do for our customers.
"Our plans to become a broader and stronger business are progressing well, with another period of positive like-for-like sales and the start of the rolling programme to supply McColl's."
Morrisons shares have jumped 4.1% to 236.2p in early trading this morning on the better than expected trading update.
Morning update
The latest grocery market share figures from Kantar Worldpanel and Nielsen suggest UK consumers shrugged off any worries about the wider economy to increase their grocery spend over the festive period.
Kantar Worldpanel found that the average household spent a record £1,054 on groceries over the three months including the Christmas period, representing an additional £1bn through the grocers' tills and a value sales increase of 3.8%.
Nielsen said it was "strong end to the year for grocery retailers" as shoppers spent almost £500m more on groceries this December than the last one.
Nielsen found that grocery spend in the four weeks ending 30 December hit £10.5bn, a 3.7% year-on-year rise. Even excluding the discounters, sales were up 2.3%, while across the whole of 2017, grocery sales rose 3.2% on 2016.
"The supermarkets did well this Christmas, particularly amid fierce price competition and shoppers starting to feel the squeeze on disposable incomes. It was in stark contrast to many high street retailers who saw less footfall and sales declines," said Mike Watkins, Nielsen's UK head of retailer insight. "The timing of Christmas day certainly helped as it was conducive to last minute indulgences and fresh foods, however, some supermarkets used private-label and branded promotions, such as money-off vouchers, to drive Christmas footfall."
Tesco (TSCO) was the fastest growing of the big four supermarkets, according to both sets of market share data.
Kantar Worldpanel found Tesco's sales rose 3.1% during the pastd 12 weeks, the fastest sales growth the retailer has seen since June helped by a 6.4% increase in sales of standard Tesco own label.
Meanwhile, Asda's sales grew by 2.2%, helped by a strong online performance, Morrisons increased sales by 2.1% and Sainsbury's (SBRY) managed to increase sales across its convenience stores, larger supermarkets and online deliveries, growing overall by 2.0
Nielsen also found that among the Big Four, Tesco had the most improved performance over the final 12 weeks of the year, with sales up 3.4% year-on-year. Asda saw the second fastest growth amongst the big four at 2.1%, followed by Morrisons at 1.7% and Sainsbury's at 1.2%.
Kantar said Aldi and Lidl were level pegging in the battle to be the nation's fastest growing supermarket, both growing sales by 16.8% year on year.
Kantar's Fraser McKevitt explained: "In some ways Christmas is a tricky time for the discounters: they tend to lose a little market share compared to earlier in the year as many shoppers return to the more traditional supermarkets in search of old favourites. Rising to the challenge, Aldi and Lidl collectively managed to attract nearly one million additional households during the past three months."
Nielsen found that Lidl was the fastest growing grocer at 15.7% followed by Aldi at 12.8%. Outside of the discounters, Iceland (up 3.9% year-on-year) and Marks & Spencer (3.6%) had the best grocery sales growth figures in the final quarter.
Nielsen estimates that the grocery market will continue to grow at around 3% for the first part of the year but Watkins says that "shopping behaviour could still be impacted by inflation shocks around oil prices and the uncertainty around the Brexit negotiations affecting shopper sentiment".
Kantar said online supermarket sales enjoyed their biggest ever Christmas: up 4.9% year on year. Ocado comfortably outpaced the online market, increasing sales by 8.4% to account for 1.3% of the grocery market.
Grocery inflation now stands at 3.7% for the 12 week period ending 31 December 2017. Prices have been rising since the 12 weeks to 1 January 2017, following a period of grocery price deflation which ran for 30 consecutive periods from September 2014 to December 2016.
Meanwhile, the BRC KPMG monthly Retail Sales Monitor found that in December, UK retail sales increased by 0.6% on a like-for-like basis from December 2016, when they had increased 1.0% from the preceding year.
On a total basis, sales rose 1.4% in December, against a growth of 1.7% in December 2016.
Over the three months to December 2017, in-store sales of non-food items declined 3.7% on a total basis and 4.4% on a like-for-like basis, the deepest since the monitor began in December 2012.
Food sales increased 2.6% on a like-for-like basis over the three month period and 4.2% on a total basis. This is the highest since June and remains above the 12-month total average growth of 3.4%.
Helen Dickinson, chief executive of the British Retail Consortium, commented: "There was both light and dark in this year's Christmas trading period. Growth in spending was in line with the, albeit modest, average for the year. However, the divergence between growth in sales of food and non-food has never been so stark.
"With inflation outpacing income growth, shoppers continued to see more of their spending power absorbed by essential items, including food, leaving less left over for buying Christmas gifts. That made this year's festive period all the more nail-biting for non-food retailers, many of whom offered deep discounts in the last weeks before Christmas in the hope of something to celebrate at the end of a year, which has seen, on average, zero growth in non-food sales.
Joanne Denney-Finch, chief executive, IGD added: "Food and grocery sales enjoyed another record breaking week in the run up to Christmas Day and the last time we saw a noticeably stronger year-on-year uplift in December was six years ago. This rounds off a steady and consistent year for the sector, despite growth coming mainly from inflation rather than volume increases.
On the markets this morning,Majestic Wine (WINE) has announced that group sales for the 10 week Christmas trading period ending 1 January 2018, increased by 3.2% versus the same period in the prior year.
On an underlying basis the increase was 4.1%. Majestic Retail delivered a good result with sales up 1.2% (1.3% like-for-like) versus tough comparatives of 6.2% (7.5% like-for-like) last year.
The Group delivers around 30% of total annual sales during the Christmas trading period. The Group's Gross Margin percentage was broadly flat year on year.
Naked Wines was up 13.0%, with the US up 13%, Australia up 33.1% and the UK up 7.4%.
Majestic Commercial and Lay & Wheeler fell back 4.6% and 4.7% respectively.
Meanwhile, Majestic Wine also announces Joshua Lincoln has been appointed retail & managing director of Majestic Retail with immediate effect. He has been customer director at Majestic Retail since 2016.
"The fact that we have been able to grow sales and maintain margins shows that our winning formula of fabulous customer service from delightful people and delicious wines at fair prices works even when times are tough.
"We are on track to achieve our £500m sales goal by 2019, on track to deliver market expectations for the current financial year, and on track to accelerate investment in new customers, new winemakers and more fantastic wines."
Elsewhere, eastern European spirits specialist Stock Spirits Group (STCK) has issued a pre-close trading update for the full-year ended 31 December 2017.
Overall trading since the half-year results announced in August, and therefore for the full-year ended 31 December 2017, was slightly ahead of the board's expectations.
Together, the markets of Poland and the Czech Republic deliver some three-quarters of our revenue. These markets continued to show growth in both volume and value terms. It Polish business has "performed well", and is making progress despite trading conditions that continue to be highly competitive. It is also "pleased" with the results of its Czech business.
The Company will announce its full-year results for the year ended 31 December 2017 on Wednesday 7 March 2018
Agriculture and engineering group Carr's (CARR) has is issuing a trading update to coincide with its AGM being held in Carlisle today this morning.
For the 18-weeks to 6 January 2018, Carr's is trading in line with the board's expectations for the current financial year and significantly ahead of the prior year in both agriculture and engineering.
UK Agriculture has begun the year positively, with improved farm incomes continuing to reinforce farmer confidence. Its retail business has had a strong start to the financial year and manufactured feed volumes are ahead of the same period in the prior year. Fuel volumes are lower due to milder weather and wet ground conditions affecting agricultural operations during the early part of the winter
US feed block sales volumes continue to recover as cattle prices for producers continue to improve.
Carr's added that it continues to review suitable acquisition opportunities whilst investing in the group's existing businesses both in the UK and overseas.
The FTSE 100 has opened the day back up 0.3% to 7,721.7pts helped by Morrisons' outperformance this morning.
Marks & Spencer (MKS) and Sainsbury's have also been boosted this morning, climbing 1.8% to 316.3p and 1.8% to 245.3p respectively.
Other risers include Carr's (CARR) after its positive trading update this morning, up 10.9% to 137.5p, Premier Foods (PFD), up 1.8% to 41.3p and Stock Spirits, up 1.3% to 269p.
Early fallers include McBride (MCB) once more, down another 2% to 191.1p after yesterday's profits warning. SSP Group (SSPG) is down 1.2% to 674.5p and Majestic Wine has slipped 0.7% to 456p despite its solid festive sales numbers announced this morning.
Yesterday in the City
The FTSE 100 fell back 0.4% to 7,696.5pts yesterday on a downbeat start to the week in the City.
One of the market's major fallers was household goods manufacturer McBride (MCB), which dropped 12.4% yesterday to 195p after issuing a profits warning as sales declined and it faces cost challenges across the business.
In wider retail, Mothercare also issued a profits warning yesterday – to join Debenhams and House of Fraser as retailers under stress in the New Year – causing its shares to plunge 27.5% to 44.95p.
Other fallers in the grocery/fmcg world included Nichols Beverages (NICL), down 3.7% to 1,500p, Greencore (GNC), down 3% to 217.7p, Fever-Tree (FEVR), down 3% to 2,154p, Hilton Food Group (HFG), down 2.3% to 846p, Ocado (OCDO), down 1.9% to 429p, Greggs (GRG), down 1.5% to 1,360p and TATE & Lyle (TATE), down 1.4% to 689p.
Tesco was one of the day's few significant risers, climbing 2.2% to 214.3p on hopes it is set to announce it has outperformed the industry over Christmas.
Carr's Group was up 2.5% to 124p ahead of this morning's trading update, while Applegreen (APGN) was up 2.2% to 511p and C&C Group (CCR), was up 1.2% to €2.95.