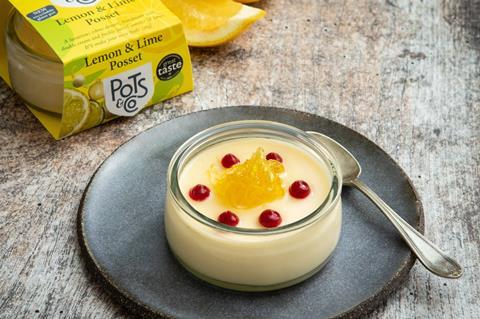 Upmarket desserts player Pots & Co is aiming to move into profitability after slashing its losses, growing sales, and expanding in the US.
The group, which has received backing from General Mills investment arm 301 Inc, posted a 32% jump in sales in 2022 from £9.9m to £13.1m.
This growth was driven by a "strong innovation and renovation strategy in the US and UK markets", it said.
While UK sales edged backwards from £7.9m to £7.8m, US sales grew by more than 200% to £5.1m thanks to the introduction of six new products.
Pots has yet to return to pre-Covid revenues of £13.9m. However, the latest results represent a turnaround on 2021, when it suffered a sharp drop in international revenues. Sales excluding UK and Europe fell from £7.6m to under £2m, as the company suffered global supply chain challenges and the pressures of the pandemic, which wiped out its trade with airlines and its club business in the US.
In the past year, the company has shifted from ceramic pots to recyclable glass containers to be more environmentally friendly. Pots & Co said the switch had also helped to reduce production costs, allowing the company to decrease the price of individual pots.
Despite high inflation, the business managed to almost halve its pre-tax losses to £2.1m from £4.1m, helped by "a laser-sharp focus on cost control" and US supply chain and account optimisations.
"We have successfully mitigated inflationary pressures, giving back to our shoppers when they most needed it, and bringing about a healthy sales uplift," it noted.
The improved bottom line picture is reflective of the two-year strategic plan kicked off last year aiming to address ongoing losses.
The business outlined expectations to reach near breakeven point this year, and is currently working on a final cost initiative going live in the first quarter of 2024, which it said would move it into strong positive cash generation in 2024 and beyond.
Pots has lost more than £10m in the four financial years since 2019.
It has yet to recover to pre-Covid revenues of £13.9m, with 2021 seeing a sharp drop in US sales amid global supply chain challenges affecting both demand for international products and supply that saw global (excluding UK and Europe) sales fall from £7.6m to under £2m.
General Mills's venture capital arm 301 Inc invested an initial £5m into Pots & Co to help fund its US expansion, with the sum potentially rising to a maximum of £15m ($20.5m).